You are reading an article from our archive, which was first published for Grocer Gold members in February 2016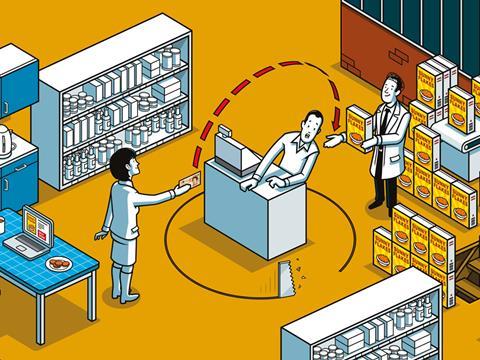 If you haven't paid much attention to the Danish grocery market to date, now is the time to develop an interest.
Later this month, Denmark will get an intriguing new online grocery service called Shobr. It'll offer a wide range of products and do nationwide home delivery, but with one crucial twist: it will be run by suppliers, who'll be selling their branded goods to consumers in direct competition with the country's retailers.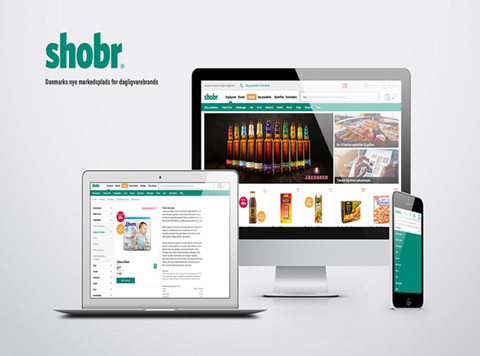 Shobr
Denmark is a tough market for grocery brand owners: discounters and own label dominate, making it hard for brands to get a decent amount of shelf space.

Shobr.com is supposed to address just that: the brainchild of Danish suppliers' association DLF, the new online grocery service will be devoted just to brands.
Launching in late February, the service promises "nationwide delivery, straight to your door" and will be run by ecommerce company ShopAll24; DLF will hold a 10% stake.
In January, Shobr received a cash injection (and valuable logistics expertise) through an investment from the founder of transport group Frode Laursen.
Much of Shobr's success, of course, will come down to the brands it'll sign up - it's made noises about wanting the likes of Arla, Nestlé and Carlsberg, but nothing is confirmed so far.
Plus, Shobr will need major investment in marketing and infrastructure, warns Daniel Johansson, a Planet Retail analyst. He nevertheless fancies its chances: "Shobr fits really well into the Danish market. Online shopping is very popular but online grocery is not yet as developed, so Shobr will almost be on a level playing field with the established grocers."
Those grocers - and brand owners and retailers far beyond Denmark - are sure to keep a very close eye on how Shobr shapes up.
Shobr is an extreme example of a trend that's popping up in grocery markets around the world. Thanks to the internet and social media, it's become infinitely easier for brands to connect directly with consumers and a growing number are choosing to sell directly to them, too, leaving their traditional retail partners out of the loop.

In the UK, the trend has barely scratched the surface, but it's picking up pace. Ecommerce providers say they are seeing more and more enquiries from fmcg brands keen to explore if they should 'disintermediate' - that is, cut out the retail middleman and sell straight to shoppers. And it's an area many major brand owners are now experimenting with.

It's not hard to see the appeal. Direct selling promises fantastic opportunities for end-to-end brand experiences and relationship building; and the chance to reclaim margin and assert greater control over pricing and promotions. Perhaps above all, it gives brand owners access to hugely valuable consumer data and shopper insight.

For retailers, this could spell trouble. Already squeezed by the discounters, new online grocery entrants like Amazon and expensive price wars, the prospect of suppliers setting up new rival channels has the makings of an almighty headache.

If, that is, these new channels are indeed a threat to the traditional retail model - and the jury remains out on that. There's little in the way of forecasts available, but a survey for The Grocer by Harris Interactive suggests about 35% of UK consumers are prepared to buy food, drink and household items direct from the manufacturer. If those results were taken as a literal indication of future online sales (something that would make any decent forecaster wince), we'd be looking at £6.2 billion out of a £200.6 billion total grocery market by 2020 [IGD] - a tiny 3.1%. The actual number is likely to be much smaller.

On the flipside, disruption in other sectors - such as music, books and travel - has shown numbers for new online models often start small but scale up quickly. "People can overestimate the risk of disintermediation in the short term and underestimate it in the long term," warns Nick Harrison, a senior partner at Oliver Wyman.

So how worried should retailers be? How big is the opportunity for brands? And how is all this changing the power dynamics in grocery?

Major brand owners

Retailers are not alone in having to figure out how seriously they should take direct-to-consumer selling. Suppliers face the exact same challenge. And they are drawing very different conclusions.

P&G's interest in transgressing the traditional boundaries between suppliers and retailers has been clear since it took a stake in Ocado back in 2008. Ever since, the company has been pushing further into direct selling and alternative channels.

Its pgshop.com site in the US sells products from across the P&G portfolio directly to consumers, offering attractively priced bundles and loyalty rewards (it has a similar site in Germany). It's also forged a famously close relationship with Amazon and has been at the forefront of the rollout of the new Amazon Dash buttons. And it's made a play for the burgeoning fmcg subscriptions market with Gillette Shave Club, which is now also available in the UK (in partnership with Amazon).

Nestlé also stands out for its bullish attitude. The success of Nespresso has set the bar for what suppliers can achieve by going direct and, like P&G, it is pursuing the concept of masterbrand web portals, where consumers can buy products from across its portfolio (though, again like P&G, this is not yet happening in the UK).
Alexander & James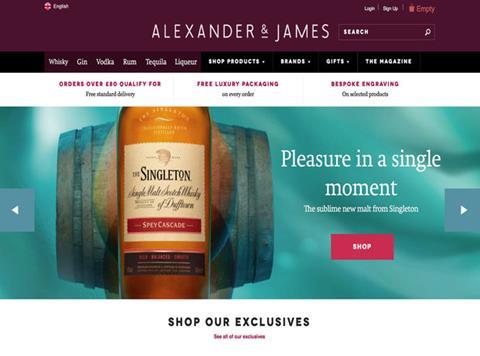 This Diageo site (launched in 2013) offers high-end spirits from brands such as Johnnie Walker and Ciroc as well as luxury accessories, glassware and gifts. Shoppers can personalise purchases, for example by having bottles engraved.
The likes of Unilever and Reckitt Benckiser, on the other hand, are being more conservative. Despite ramping up their investments in ecommerce and boasting healthy growth rates (Unilever's ecommerce sales grew 40% in 2015), both have been markedly less enthusiastic about direct-to-consumer initiatives.

RB has even made a point of using the term 'e-tailing' as distinct from ' ecommerce' to emphasise its intention to keep retailers at the core of its ambitions (it is, however, also dipping its toes into disintermediation in the UK with a web shop for Durex, see box, below).

Even in the exact same category, attitudes among brands vary wildly. Diageo raves about the "rich and interactive" brand experience it's created through its Alexander & James web boutique (see box), and how the venture is bringing it important new insights about consumer behaviour. Pernod Ricard, on the other hand, pulled its Sipstor drinks e-boutique in March 2015 barely two years after launch.

"The consumer just isn't there," says Chris Shead, channel director for off-trade at Pernod Ricard UK. "It's very hard to get consumers to switch to an entirely new channel. We found the best way is to use existing fulfilment channels rather than try to disintermediate."

It's clear 'one size fits all' doesn't work when it comes to direct-to-consumer selling, so brands and their ecommerce providers all emphasise the importance of experimentation and "test to learn".

But significantly, not even the gutsiest among them currently see direct-to-consumer channels as an actual alternative to traditional retail in the UK, because much of grocery simply isn't suited to direct-to-consumer selling in the way other sectors are.

Shoppers may be willing to go to a specific website and enter their payment details for a special pair of trainers or a nice bottle of fragrance, but they won't do it for a chocolate bar or a box of cereal (nor would most be willing to then await multiple deliveries at home).

"Shoppers want our products as part of a basket of items if they are doing a main shop online," says Chris Drumey, head of ecommerce at United Biscuits, which has gone direct in China (see box, below) but is limiting direct activities in the UK to low-volume special editions, such as personalised Jaffa Cake packs.

"They may possibly want an emergency pack of biscuits as a convenience shop replacement, but we could never make the economics work for something like that and it would be very niche."
Durex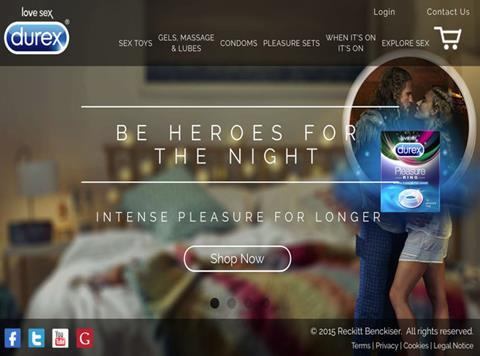 RB went direct with Durex in December 2014 with this dedicated web shop that sells condoms, lubricants and sex toys. Deliveries arrive in plain brown boxes without branding. Standard delivery is £2.95, and free for orders over £30.
For direct selling to work in fmcg, the use case for shoppers has to be particularly compelling. Experts see two types of products where this is the case: luxury items, such as spirits or high-end health & beauty products; and regular purchase items that are either bulky (such as nappies or household items) or items like razor blades, where hassle-free replenishment adds real value for the consumer.
The latter is precisely the market Amazon is targeting with its new Dash buttons. It also explains why a company like P&G has been so keen on direct-to-consumer selling (and similarly keen to build its relationship with Amazon) because a large proportion of its portfolio falls into the regular purchase category.

Cost to serve

Even then, it's hard to make the figures stack up given the cost and complexity of grocery fulfilment.

The key metric is 'cost to serve' - the cost and profitability involved in getting a product into the hands of a consumer. "Direct to consumer really challenges 'cost to serve' for big consumer goods companies," says Elaine Parr, EMEA leader for consumer products at EY.

This is partly to do with a loss of scale. "There are significant synergies around having a full range of SKUs stocked," says Liz Claydon, head of the UK consumer markets practice at KPMG. "If you go direct on some and not on others, the numbers may not add up."
"At a single brand level, it only works if sales are at scale or the cost of product falls in line with the cost of infrastructure," adds Andy Smith, enterprise sales director at Constant Commerce.
The equation becomes especially tough if fresh, chilled or frozen items are involved, which is why these sectors have seen very little direct-to-consumer selling.

Icelandic Seachill's web shop for The Saucy Fish Co (launched in November) is a rare exception, and although the company charges consumers £5 for delivery it does not currently recover the full cost of sending out products.

However, MD Simon Smith is hopeful he'll be able to negotiate better delivery terms as the shop grows, and says the experience of going direct has been overwhelmingly positive so far. "Being directly engaged with consumers is very powerful for staff. The buzz everyone gets when a big order comes in is fantastic - there's a palpable sense of excitement."

But even those who manage to offset their logistics costs with reclaimed margin might not end up with the end result they'd hoped for.
Ella's Kitchen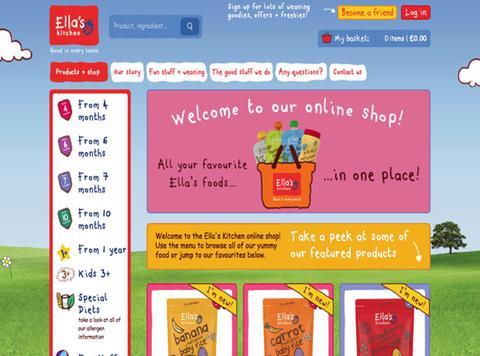 Parents have been able to buy Ella's Kitchen products and merchandise direct since 2013. Order fulfilment is handled by ecommerce specialist Promotional Handling and standard delivery is £2.99.
Customers have the option to personalise delivery boxes for their child.
"If you do disaggregation well, you should be cheaper than the traditional retail model," says Ray Gaul, vice president for research and analytics at Kantar Retail. "But that sets a new price perception in the market, which ends up being price-matched by retailers. So you can actually end up with lower prices overall."

Company culture and organisational structure are often further stumbling blocks.

"It takes a massive change for a brand owner to become a retailer," says Neil Collins, head of retail consulting at online retail specialist Summit. "It goes far deeper than saying 'we need a shiny new website with a shop'."

The success of direct-to-consumer start-ups like Graze, Pact coffee or Splosh.com, which sells eco-friendly household products, can lead suppliers in similar categories to conclude there's a case for them to go direct, too. But taking an existing product and trying to turn it into a direct-to-consumer proposition is very different from creating a product specifically for online.

"There's a huge advantage in starting online," says Graze CEO Anthony Fletcher. "I'm not surprised it's more difficult the other way round. It's a different ethos. Traditional manufacturers are used to doing a few innovations a year whereas we have an online-only factory that can cope with a lot of SKUs, and we are innovating constantly."

To be successful at direct-to-consumer selling, brand owners need to emulate the mindset of start-ups like Graze, adds Parr at EY. "But if you're a big CPG with critical mass and scale, it's very difficult to experiment in this environment. Companies have to think 'how do I disrupt before I end up getting disrupted?' and that means taking a new idea and allowing it to develop outside standard business constraints, without the same demands on return on investment and KPIs."

All the potential obstacles for brands suggest retailers can afford to be fairly relaxed, but direct selling can be damaging even if it's limited to a few brands and product lines, says Harrison at Oliver Wyman. "The danger for retailers isn't losing the whole basket. The danger is that shoppers will cherrypick higher-margin items out of the basket and buy those direct."

This is something retailers can ill afford given online baskets are already shrinking. Over the past five years, the size of the average UK online grocery basket has fallen by 12%, according to Kantar Worldpanel, from £77.16 in 2011 to £68.07 in 2015. At the same time fulfilment costs have remained largely fixed, meaning retailers are making less margin on smaller orders.
Saucy Fish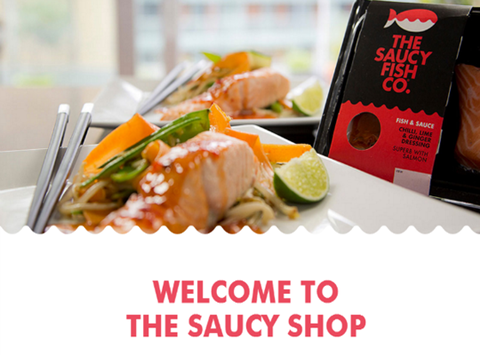 Icelandic Seachill decided to go direct in late 2015, selling the Saucy Fish range through its website. Shoppers are offered regular promotions, such as 25% off deals. Picking and packing are in-house, with deliveries through TNT for a £5 fee.
Plus, while direct sales volumes are low overall, they can spike at certain times of the year. "Christmas is always good and more than justifies the overall effort and return," says Michael Clarke, UK sales director at PFSWeb, whose ecommerce clients include Diageo.

Retailers could be looking at serious basket erosion despite direct sales not accounting for more than a few per cent of sales for individual suppliers. "It's death by a thousand cuts," says Harrison.

There are implications for the power dynamics between retailers and suppliers, too. Even if brands use direct selling only as a 'fun' brand extension or as market research, the supplier that gains first-hand experience of dealing with customers, can access reams of shopper data and roadtests their NPD through a direct-to-consumer site is a very different negotiation partner to a supplier that hasn't.

Indirect ecommerce

Even if they are still getting the sale, retailers risk a rebalancing of power in favour of suppliers.

The most common ecommerce model in fmcg today is 'indirect ecommerce', where suppliers engage shoppers through brand websites, adverts, branded digital content and apps but send them to retailer sites to actually buy the product (see box, above).

As suppliers become bigger online traffic drivers through their branded content, some will take a much closer look at who does the best job of converting their traffic into sales - and, in turn, decide which retailers to send their traffic to. Poor online availability and stock management, inconvenient delivery options or awkward user interfaces could all see retailers lose out on valuable digital footfall in the future.

So far, brands are keen to highlight the opportunities this creates rather than talking about potential tensions. "I guess you could say it changes the power relationship, but I don't really see it as something that I'm going to use in a negotiation," says Stijn Demeersseman, general manager for commercial operations at L'Oréal UK, who lists "driving massive traffic" as one of his ecommerce ambitions. "I think it just opens up more discussions for growth and co-creation."

John Beckett, co-founder and CEO of ecommerce company ChannelSight, adds: "Do brands consider which retailers to send traffic to based on how good those retailers are at converting sales? Yes, with one caveat. With grocery, consumers are actually not very likely to change retailer based on the availability of one product."
Maille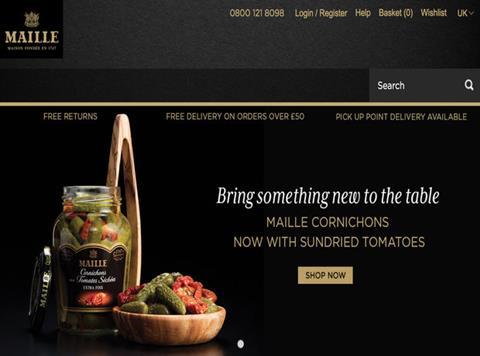 Unilever's first foray into direct-to-consumer, this web shop (launched 2014) sells premium Maille mustards not available in retailers. Products include a Black Truffle and Chablis mustard in a stoneware jar (£25/125g). Deliveries via UPS cost £2.99.
Fighting back

That last point is crucial when it comes to how retailers can protect themselves from disintermediation and other forms of online power play.

Consumers are reluctant to change their online shopping habits - it's one of the reasons 'favourites' lists are so popular - and retailers have to make the most of that, says Gaul at Kantar Retail. "Retailers need to understand the cost of switching and understand why people aren't switching if they can help it. Then they really need to focus on their loyal shoppers and figure out what makes them happy."

There are signs this is moving up retailers' agendas. With good reason: they don't just face disintermediation from brand owners but also from new online aggregators like Hubbub, Farmdrop and Hello Fresh as well Google, which has started experimenting with grocery aggregation through Google Express in the US.

"Disintermediation wasn't really part of the conversation for a long time, but the arrival of Amazon and the effect it had on the supermarkets' GM business changed all that," says Adam Kirk, former Tesco head of trade planning and now an independent retail consultant. "They are all trying to respond, but it's tough."

Responses so far have included the launch of marketplaces (such as Tesco's third-party seller platform on Tesco Direct) and trials of fmcg subscriptions in the vein of P&G's Gillette Shave Club. Tesco tested the market with tescosubscriptions.com last autumn (though it ended its trial at the beginning of February), and Asda is open-minded about following suit.

"Initially this felt like quite a niche area with smaller players entering the market, but there does seem to be scope for this to work," says a spokesman for Asda, though he stresses any future launches will come down to customer demand.

Retailers are also working hard to leverage their network of physical stores more effectively in a bid to create ecommerce offerings pure online players can't easily complete with (Sainsbury's play for Argos is an example). Convenient click & collect and faster delivery options are all important weapons in retailers' arsenals when it comes to fighting the risk of disintermediation.

Continued investment in technology more generally will be crucial, not least because suppliers have increasingly high expectations. Demeersseman wants 20% of his sales to come from ecommerce by 2020, preferably all in partnership with retailers, but says he might have to go direct if retailer platforms don't meet his needs, particularly in areas like personalisation.

"None of the main players are doing this right at the moment," he says. "That is an area where I'd say, if in three to four years they are still not doing it, maybe I'll start doing it myself."

Most importantly, retailers must resist the temptation to think the odds are too heavily weighted in their favour. Of course, the traditional retail model won't be brought to its knees overnight - even an online native like Graze is now listed in a host of retailers. And it's equally likely a Danish-style supplier revolt is some way off in the UK: most brand owners wouldn't risk alienating their retail partners with an aggressive direct sales strategy. Fulfilment also remains a tough nut to crack. But the goalposts are moving fast.

The rise of Uber and the so-called gig economy is giving suppliers new logistics options; and range reviews that squeeze out brands may result in suppliers feeling less loyal towards retailers in the future.

Direct selling does not look much of a threat today, but retailers clearly cannot afford to be complacent.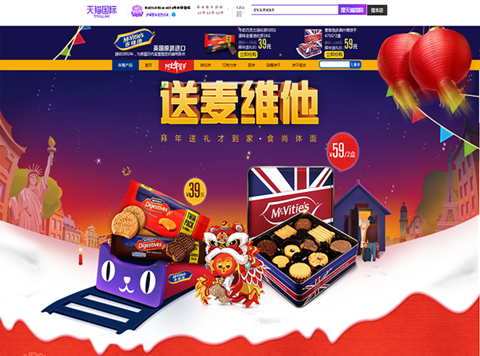 Direct selling lessons from China
Direct-to-consumer selling is still in its infancy in the UK, but grocery brands (and the odd retailer) are getting a taste of the future right now in Asia.
Direct-selling platforms like Gmarket and Alibaba are the dominant ecommerce players in markets such as Korea and China - and Alibaba in particular is signing up Western fmcg brands at breakneck pace. Recent deals have included Unilever, Nestlé and United Biscuits as well as Sainsbury's for own-label lines.
Companies are using Alibaba's Tmall Global shopping site as an easy, low-commitment springboard into the burgeoning Chinese online grocery market.
The site allows suppliers to set up branded 'shopfronts' to sell directly to Chinese consumers but ship from overseas - there's no need to have a physical presence in China. "Via our Tmall Global store, we are making the brand accessible to another 386 million potential consumers across China, who all now have the opportunity to buy the Original McVitie's Digestives in British packaging, directly from the source," says Marcel Willems, UB regional general manager for Greater China.
The potential prize on offer to brand owners is enormous: Alibaba generated a staggering $14.3bn (£9.9bn) through its annual Singles' Day sales event last November.
The Chinese group - whose own $25bn IPO in 2014 was the largest IPO in history - is also winning favours with brands for the degree of autonomy it gives them. "One of the reasons Alibaba works so well for brands is it allows them to have total control over the brand experience," says Ray Gaul, vice president of research and analytics at Kantar Retail.
It's an approach retailers in the UK might want to take inspiration from, not least because online rivals like Amazon already give brand owners more freedom on their platforms - and suppliers are getting a taste for it.
"Because they are pure play, they probably have greater flexibility in how they work with brand companies," says Chris Shead, channel director for off-trade at Pernod Ricard UK, which works a lot in partnership with Amazon. He cites the ability to add tasting notes and information about heritage as one of Amazon's strong points. "The ecommerce sites of the traditional retailers can sometimes be quite functional."
How 'buy' buttons make it easy to sell on social media
While more brand owners are exploring direct-to-consumer selling, most fmcg ecommerce still happens in partnership with retailers.
This often takes the form of 'buy' buttons, which then link to retailer sites where the consumer completes the purchase.
Examples include most brand websites but also sites like thebar.com (run by Diageo), which offers cocktail recipes, and P&G's supersavvyme.co.uk, which offers magazine-style content on lifestyle and household while also linking to retailer sites.
Increasingly, 'buy' buttons are also appearing on social media platforms like Facebook, YouTube and Pinterest, allowing brand owners to convert eyeballs into sales.
In grocery, Mondelez has been at the forefront of embracing this. The company has struck a global partnership with Facebook and recently started trialling shop-able ads and 'click to buy' functionality on branded digital media in the UK.
"These tools are a great way to translate interest and intent directly into buys," says Lucy Freeland, head of online and digital at Mondelez. "We are still in the early stages and are building up a knowledge base to guide how we progress these initiatives over the next 12 months."
The big draw for brands is that consumers can save a specific SKU straight into their online basket once they click the button: this removes a lot of the distractions that can otherwise clutter up the online 'buying path' and result in shoppers not going through with a purchase.
Plus, every click generates valuable data. "If the user clicks a 'buy' button and then makes a purchase with a retailer, we have complete visibility of that purchase," says John Beckett, co-founder and CEO of ChannelSight, which works with Mondelez on ecommerce. "We don't just know when the purchase goes through, but we can connect that data back to the source content, so we can tell exactly what advert generated the sale, and that can then be fed back to the creative process and inform decision-making there."