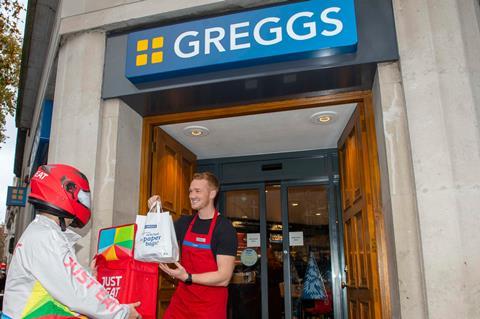 Greggs has signed an exclusive deal with Just Eat to list and deliver a range of its products nationally.
The partnership follows a trial in London, Newcastle and Glasgow. Availability will be extended to Bristol and Birmingham from this week.
Manchester, Leeds, Sheffield and Nottingham will be added in the spring, with national coverage expected by the end of the year. The order of locations in the further rollout will be determined by customer demand, the companies said.
The choice of cities has been informed by a Just Eat-led campaign asking which locations should be prioritised for coverage, to which more than 38,000 people responded.
Greggs first became available for delivery on Just Eat last year, with the first order placed in June from Byker in Newcastle.
"Since then it's been an immediate hit," Just Eat said.
Orders can be placed from 7am, with no minimum spend. The deliveries are made by couriers engaged by Just Eat.
Top-selling delivery items to date are Greggs Sausage Roll, Vegan Sausage Roll, Steak Bake and the breakfast deal which includes either a bacon, sausage or omelette roll with a hot drink, water or orange juice.
"We know from the trials we have carried out that our customers love the idea that they can get Greggs delivered directly to their door and we're delighted to now be working with Just Eat to provide that service to our customers across the UK by the end of this year," said Greggs CEO Roger Whiteside.
The partnership signals Just Eat's continued expansion beyond the traditional takeaways that allowed the platform to rise to prominence, the company said. The likes of KFC, Subway, Wagamama, Toby Carvery and Creams have all signed up to the platform in recent years. Pizzas from around 50 Asda supermarkets can also be ordered via the app.
"We're proud to be the only food delivery app that can bring you the likes of the Greggs Vegan Sausage Roll wherever you are," said Andrew Kenny, Just Eat UK MD.
Last week, Dutch online meal ordering firm Takeaway.com won its £5.9bn all-share bid to merge with Just Eat, to become one of the world's largest meal ordering and delivery firm. Just Eat Takeaway.com – being referred to internally as 'Jet' – will be the market leader in 15 of the 23 countries in which it operates.