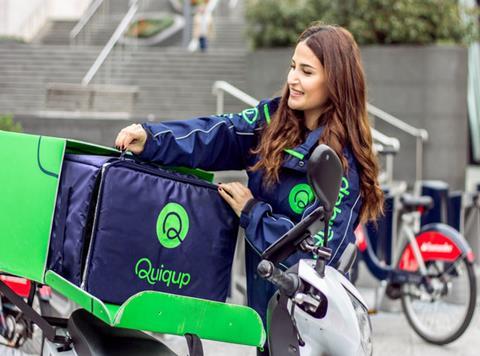 Hellmann's is delivering ingredients for burgers, wedges and fish skewers to Londoners within an hour in a bid to attract a younger audience.

The condiment brand is targeting "impulse shoppers" with an express service run through third-party courier Quiqup, which counts Burger King, Tesco and Whole Foods Market among its partners.

Using the Hellmann's page on the Quiqup app, customers in the London coverage area can choose from five recipes: a burger, quinoa salad, el cubano sandwich, fish skewers and dukkah-dusted wedges.

The recipes all include Hellmann's products and the rest of the ingredients are sourced from Tesco. The burger order, for example, includes Hellman's mayonnaise and a variety of other Tesco own-label products such as beef steak mince, bacon and tomatoes on the vine. All recipes come with cooking instructions and a YouTube demonstration.

Quiqup already has a partnership with Tesco to run its one-hour express delivery service, Tesco Now, in London. The service charges a flat delivery fee of £7.99 for all orders, which can be for up to a maximum of 20 items.
Hellmann's global brand VP Joanna Allen said the company was "very excited" to partner with Quiqup. "We recognised that consumers are looking to technology to help make their cooking and eating habits quicker and easier.

"By offering consumers the opportunity to directly shop the Hellmann's recipes, we free up consumers' time to focus on what they enjoy most - the pleasure of eating great-tasting food," she added. "As a brand that originated in a deli, it's an important opportunity for us to return to direct-to-consumer servicing."

Quiqup CEO Bassel el-Koussa added: "Partnering with Hellmann's has provided us with an entry route to collaboration with a well-established big brand. Our technology enables Hellmann's to remain relevant to new audiences and adapt to changing digital consumer lifestyles."

Earlier this month, Quiqup revealed grocery accounted for 20% of all orders and was the second fastest-growing category for the business, behind fast food.