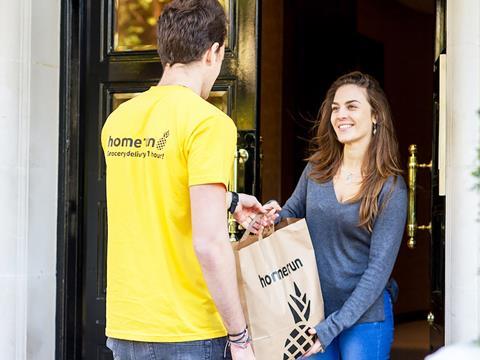 Home Run appears to have halted its rapid delivery service in every area previously served by the business.

The on-demand grocery specialist, which offered to deliver from London branches of Tesco, Waitrose, M&S, Whole Foods and Aldi, has also removed a list of areas served from its website.

The list previously consisted of 20 areas in London spanning from Marylebone to Wandsworth and Shepherd's Bush to Westminster. But entering a postcode within each of the 20 areas this week led to the message 'We don't deliver to your area yet'.

Entering an example postcode provided by the site, near a Tesco Express in Fulham, led to the same message.

Home Run has operated largely without collaboration from retailers, using its own contracted store pickers as well as couriers to promise delivery in as little as an hour.

M&S, the only retailer to publicly recognise Home Run as a partner, confirmed that the trial from its High Street Kensington store had ended.

Home Run CEO and founder Takis Malavetas did not explain the changes to the website, telling The Grocer he was "bound to a non-disclosure agreement".
Home Run launched in 2016 as Convibo, short for convenience box, delivering from Waitrose and Whole Foods to 12 postcode areas in Kensington, Chelsea, Fulham and Paddington. In 2017 it added Tesco and changed its name to Home Run.

In July last year it exceeded a £450k Seedrs crowdfunding target to fuel expansion across Europe with a new service, 'Powered by Home Run', offering retailers an e-commerce website under their own branding as well as delivery.

In October the business announced its London territory had expanded to add around 15,000 new individual postcodes, bringing the total to about 50,000. It also added Aldi to the list of retailers it delivers from.

The delivery fee has been raised since August last year, from between £3 and £7 to between £3 and £10, depending on distance and time of day. There is also a mark-up of between 10% and 20% on shelf prices and an added £4 'shopping fee' for orders under £35.

In November the business launched a meal planning service under a different name, Pat, recommending recipes at the website shoppingwithpat.com and automatically compiling ingredients into users' Ocado baskets.

A Seedrs spokeswoman said investors were entitled to quarterly updates from portfolio companies, who were encouraged "to keep an open line of communication".

"Where disclosing ongoing business developments could be commercially sensitive, for example a new raise, a potential acquisition, or pivoting business model, then businesses may keep Seedrs updated until the time is right to make a public announcement," she added.