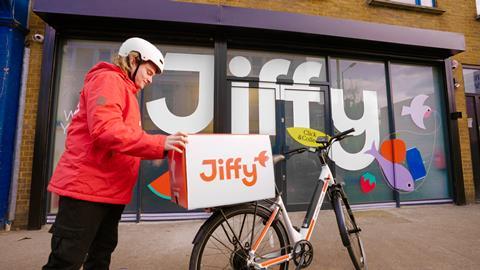 Rapid grocer Jiffy is to cease all consumer-facing operations this week, as it makes a "major strategic pivot" to become a dedicated rapid delivery software company.
"It will become Jiffy's complete focus," the company said.
Click & collect from dark stores will continue "for the coming week or so", with deliveries to customers ending even sooner.
The quick commerce player, which launched in April last year, offers grocery delivery within around 20 minutes from 14 dark stores in London.
Jiffy said it will consult with riders and warehouse operatives about their future at the company and will "gradually downsize" its store estate and staff over the coming weeks.
"That was the toughest part of the decision, obviously," company CEO Vladimir Kholiaznikov told The Grocer.
"This was a difficult decision to make, and one that was only made after careful consideration, but it is a decision that will ensure Jiffy continues to build sustained, long-term growth in the future – to the benefit of our customers, suppliers and investors," he added.
The ultra-fast player – which set itself apart from its rivals by being the first to launch an own-label range, click & collect, bakeries within dark stores and, as of last week, hot pizza delivery – said as a software business it expected to turn a profit within a "shorter horizon" than as a rapid grocer.
Kholiaznikov said the company had 20 strong leads and a "strong pipeline" of retailers and brands wanting to use its software to offer customers their own rapid delivery service. As dark stores and staff are reduced Jiffy's cost-base will reduce, Kholiaznikov added, making the "break-even journey" much shorter.
Several customers around the world are running q-commerce operations based on Jiffy's proprietary technology, including one major rapid grocer in Asia.
Its software "integrates thousands of q-commerce nuances" and consists of 20 micro-services such as customer mobile apps, distributed warehouse management and real-time inventory management, and allows brands to service customers who have "become accustomed to receiving goods to their homes within minutes of ordering" Jiffy said.
Jiffy's 'Quick-Commerce as a Service' (QCaaS) offering launched in January, enabling brands and retailers to offer sub-15 minute delivery of their products via their own DTC site, but using Jiffy's ordering system and fulfilment network. The first partner of the service was BrewDog, which used it to launch an ultra-fast beer delivery service, BrewDog Express.
Whereas currently BrewDog stock is delivered to Jiffy dark stores and then by its riders on to customers, it is expected QCaaS customers would typically use their own physical stores as mini distribution sites, with deliveries made by third party couriers.
As well as food and grocery, the company expects retailers from other categories to take up its technology, including small electronics and mobile phones.
The change of strategy was approved after a three-hour board discussion on Friday, it is understood. Its head office and technology team will continue to mostly be based in London.
Kholiaznikov told The Grocer he remained a "massive believer" in rapid grocery.
"This renewed strategic focus will capitalise on Jiffy's core strengths – tech, product and operational excellence – in a B2B space that we expect to experience significant growth around the world," he said.