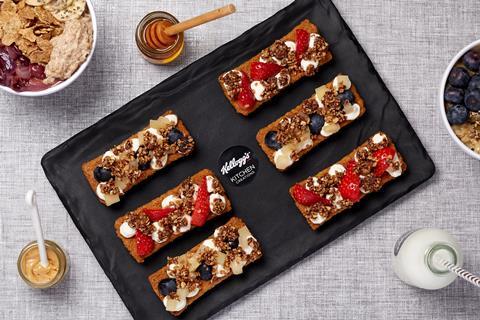 Kellogg's is the latest brand to launch a delivery-only meal service through Deliveroo, with food inspired by the business' cereal and snacks.
Kellogg's Kitchen Creations has opened in East London on a six-month, with potential for further sites in 2020.
The menu includes meals based on Kellogg's cereals and snacks, including Coco Pop Bubble Crepes, Crunchy Nut Shake and Nutri-Grain Cheesecake Bar.
It comes as the global giant tries to maintain momentum in the UK after returning to revenue growth in 2018 for the first time in four years. The business has struggled in recent years with faltering sales of its cereals as consumers turn to healthier alternatives or on-the-go snacks.
"In our 97-year history of selling food in the UK, this will be the first Kellogg's kitchen delivering meals inspired by our cereal and snacks directly to people in their homes," said manager of Kellogg's Kitchen Creations Ben Ellis.
"We're excited to see how people react to the food we are offering and if it's something we can continue to do in other parts of the UK in the future."
Deliveroo Editions launched in April 2017 and now has 16 sites in the UK, with more than 40 partners in total operating out of more than 100 kitchens. It hosts a number of well-known restaurants that have recently moved into the delivery-only sites, including Wagamama and Chipotle in Battersea in London and Honest Burger in Swiss Cottage in London.
The 'dark' kitchens allow businesses to reach new customers in areas where they don't have a presence without the start-up costs of setting up a more traditional bricks-and-mortar site.
Yannis Alivizatos, general manager of Deliveroo Editions, added: "We're really excited that major brands such as Kellogg's are recognising the value of Deliveroo Editions.
"Our delivery-only kitchens will help them test new menus, reach more customers and grow their business. Deliveroo is proud to lead on innovation in food delivery to champion our restaurant partners and drive their growth."