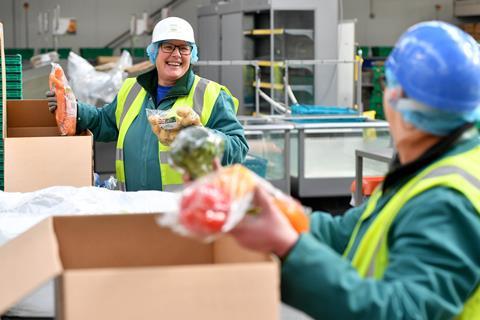 Morrisons aims to build capacity to more than 200,000 boxes per week

The packages include a £45 British Meat Box, filled with enough meat for over 38 meals
Morrisons has announced plans to ramp up its coronavirus food box initiative to 200,000 deliveries per week within the next few weeks.
It said the food boxes were aimed at vulnerable and self-isolating people and were being delivered by courier service DPD.
Morrisons started producing 10,000 Food Boxes, priced from £30, just over two weeks ago. They are sent via next-day delivery to customers' homes.
Today it revealed the number will have increased to over 100,000 per week, with production having started at three new sites.
It aims to build capacity to more than 200,000 per week over the coming weeks.
The boxes include the Morrisons Market Kitchen Meal Box, which includes delivery and provides eight ready meals. The Square Meals box includes recipes such as Shepherd's Pie or Cauliflower Mac Cheese, while the Meal Makers box allows customers to add their own sides to dishes like Chicken Tikka Masala or Kerala Vegetable Curry.
The Morrisons British Meat Box is filled with enough meat for over 38 meals and costs £45 including delivery.
"These food boxes are a lifeline for many customers at this very difficult time and are providing essential food to people that either cannot leave their home or struggle to reach the supermarket," said Morrisons CEO David Potts. "They are one of the ways we are playing our full part in feeding the nation."
Yesterday Morrisons signed a deal with Deliveroo to start deliveries by bicycle and motorbike from more than 130 stores, as retailers look to tackle the gridlock in grocery home shopping caused by the coronavirus outbreak.