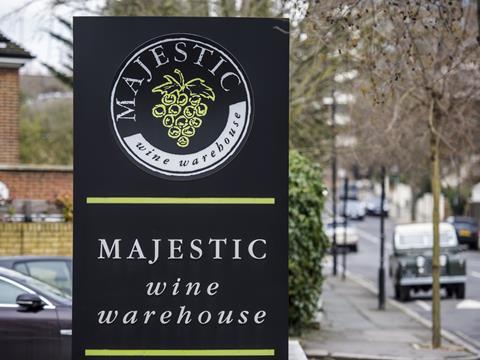 Majestic Wine has launched Naked Wines' Click & Collect service across the UK in the wake of its £70m acquisition of the online crowd-funded wine retailers in April.
The announcement is expected to be the first step of what analysts at Liberum believe will be many of the positive integration benefits that will arise from the acquisition.
The Click & Collect service will enable 150,000 "Angel" customers – those who have crowd-funded the business – to collect their wine free of charge from their local Majestic outlet. Customers can also choose home delivery and a preferred day for each option.
Majestic has been testing the service in 22 stores across the UK for Naked Wines' customers and 2,900 orders have been placed in just three months using the facility. Liberum said it accounted for an extra 132 visits to Majestic Wine stores that otherwise would not have occurred.
Majestic said the service would be rolled out across the country to all 213 stores because of the trial's success and positive feedback. However, Naked Wine's stock will remain separate from Majestic's, so wines that have been crowd funded by Naked Wines "Angels" will still be exclusively available to them.
Rowan Gormley, Majestic chief executive, said that access to a national store network was one of the clear benefits for Naked Wines following the acquisition by Majestic.
"It is obvious to me that both businesses have much to offer one another and we are working on optimising even more of the complementary strengths between the two."
Eamon Fitzgerald, Naked Wines' UK managing director, said that Angel customers invested in the company's wines up-front, and deserved to receive their wines when it suited them.
"We've seen a strong take-up from customers - particularly for those living in city centres and work full time. We have been looking for a solution for some time, and Majestic's national footprint and logistics expertise are ideal," he said.
Analysts Wayne Brown and Adam Tomlinson at Liberum said the ability to leverage Majestic's physical store presence would prove "a key support" in building substantial more market share in the UK.