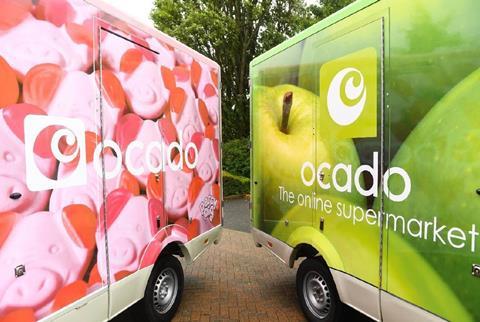 Ocado has announced a capacity growth target of 40% by the end of 2021 as its partnership with M&S goes live.
The online retailer wants to increase its capacity through "significant" investment next year, and is looking to boost it even further in the coming years.
It currently claims to have the ability to serve almost 74% of the UK's population.
The online specialist's tie-up with M&S launched today. Customers can choose between M&S's 6,000-strong range of food lines and 800 of its clothing and home products, which have been added to Ocado's range of more than 50,000 own-brand and branded SKUs.
M&S products have been listed on the site since last month, while today marks the first deliveries.
Ocado has also added 10 Percy Pig branded vans to its fleet to mark the link-up, which has already seen 20,000 bags of Percy Pig sweets ordered.
M&S revealed the top five of its products ordered most so far on Ocado.com as Select Farms British Semi Skimmed Milk, Select Farms Whole Cucumber, Select Farms Salad Onion, Chopped Italian Tomatoes and Sweet Crunchy Carrots. All are in the M&S Remarksable range.
M&S invested £750m in a 50/50 share in Ocado, and has a long-term focus on adding to its online business. This has already seen it plan to open a 365,000 sq ft distribution centre in Milton Keynes this month to modernise its supply chain, and add 750 new grocery products to its existing range.
Ocado ended its two-decade long partnership with Waitrose for the joint venture with M&S.
"Today, Ocado Retail are bringing the best to your door with the launch of M&S products exclusively on Ocado.com," said Melanie Smith, CEO of Ocado Retail.
"This marks the culmination of over a year of hard work by everyone involved and I am so proud of everyone at Ocado Retail and our friends at M&S for such a collaborative partnership. We are excited to be bringing the greatest range of products to loyal and new customers across the UK with the winning combination of the country's fastest-growing grocer and the nation's most beloved food brand. We know this is the start of something special and as shoppers continue to move online at pace, we look forward to what the future holds."
Stuart Machin, MD of M&S Food, said: "Taking our full food range online for the first time is transformative for M&S food and brings to life our strategy to protect the magic, the delicious, quality food and trusted sourcing standards customers love, whilst modernising the rest.
"This is a long-term partnership and in preparation for go-live we have listened intently to customers to deliver an even bigger, better range – with more family pack sizes, more scratch cooking ingredients, household staples and organic options. As more families shop for M&S products online, they will see the breadth that M&S food has to offer and we're confident they will find we remain serious on quality whilst also being serious about value."