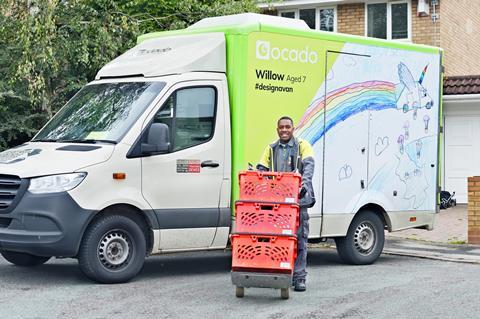 Ocado Retail's CFO has said the company has seen "practically no sign of any loss of customers" to Waitrose or elsewhere, following the switchover to M&S at the beginning of this month.
Duncan Tatton-Brown told The Grocer any movement from Ocado.com shoppers to rivals had been "very, very low indeed" and might be accounted for by shoppers being on holiday.
Of those that haven't continued buying from the site since the switchover from Waitrose on 1 September, "actually we're not even certain they have switched", the departing finance chief said.
"We can obviously see who was shopping with us before and who is shopping with us now and amongst our loyal customers it's tiny numbers who aren't. And as yet we don't really know whether they're just one of the lucky few who have gone away for a holiday for a couple of weeks and they'll still shop when they come back," Tatton-Brown explained.
While some shedding of customers had been expected, any drop-off has been far less than Ocado Retail predicted, which is "testament to the quality of the product that [Waitrose products have] been replaced by and people's warmth and love for the M&S brand".
In its third quarter results today, Ocado Retail – the joint venture between Ocado and M&S – reported growth in orders per week on the previous year due to a combination of strong demand, a reopening of the website to more customers, and a return to regular shopping patterns. Average order size is beginning to "normalise" from pandemic peaks to £141 but remains above pre-crisis levels.
However, data provided by Ocado to suppliers indicates a more than 11% drop-off in the number of shoppers using the site in the first week of switchover.
Ocado Retail said the weighting of M&S products in the average basket was higher than Waitrose prior to the switchover.
While most of Waitrose's 4,000 lines available on Ocado.com have been replaced with an M&S equivalent, not all have been. In The Grocer's Online 33 earlier this month, Ocado was ranked second from bottom due to availability issues. Five items were either out of stock or, in the case of the own-label chicken goujons and carbonara sauce, could not be found, suggesting residual issues with product-matching against Waitrose lines.
Waitrose products not replaced were "the very low sellers", Tatton-Brown said.
"Effectively we replaced everything that mattered, plus more. There are more products coming from M&S now then there were from Waitrose and there's more to come," he added.
The current 4,400 SKU strong M&S range – which will eventually expand to 6,00 SKUs – will change over time, Tatton-Brown added. "Because customers demand change and we keep changing the range to meet demand," he said.
On the day of switchover Ocado.com experienced several teething issues that left some customers having deliveries cancelled with less than 12 hours' notice. Those issues have since been ironed out, the company said.
In a bid to draw more Ocado customers to its own offering, Waitrose earlier this month said it will lower its online minimum spend to £40, down from £60.