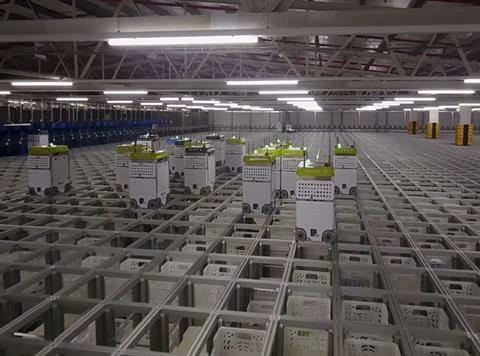 Ocado is ploughing an extra £2m into its high-tech Andover fulfilment centre as it forecasts continued double-digit sales growth.

The online retailer has doubled capacity at its Andover site since July and is investing extra money in hiring engineers and developing software, it revealed in a media call this morning.

Ocado did not say how many orders were currently going through Andover, which has been up and running for 10 months, but the centre is expected to process 65,000 orders a week once at full capacity.
The robot-powered warehouse will be followed by a similar site in Erith next year. Once that is open and at full capacity, it will process 140,000 orders a week.

Together, Andover and Erith will mark significant expansion for Ocado, which today delivers 270,000 orders a week.

The news came as Ocado announced its results for the 13 weeks to 27 August 2017, in which group revenues rose 14.3% to £344.5m. Retail sales, which do not include its partnership with Morrisons, were up 13.1% to £312.7m.

Average orders per week strengthened in the quarter, with a 16% bump to 254,000, but average order size declined 1.2% to £106.25.

Ocado chief financial officer Duncan Tatton-Brown warned the Andover investment would hit profit forecasts. But he was confident sales and profits would continue to be healthy, despite the fall in UK consumer confidence.

"If you're in the supermarket industry and costs are growing, this is a real concern for you. But we're growing at 13% and becoming more efficient," he said. "The second point is the cost of cooking yourself a real high-quality meal at home is a fraction of the cost of getting Deliveroo to deliver to you.

"So I don't think grocery will suffer that much and within that, I don't think Ocado will suffer hardly at all."

Analysts delivered mixed reactions to the update. Bernstein said the extra £2m going towards Andover showed the market had "underestimated the margin impact of setting up the new facilities", and expected net debt to reach about £150m by the year end.

But Citi said the Andover site was a "structural winner in an online grocery channel" and Merrill Lynch remained confident in Ocado's prospects despite the investment "weighing on profitability in the short term".