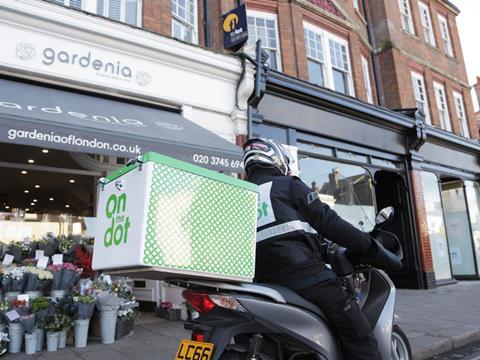 Courier firm On the Dot has secured £8m funding but a new delivery operation for a major supermarket is taking longer than expected to launch, the company has said.

On the Dot's CEO Santosh Sahu said in June that the firm would begin making same-day deliveries for an unnamed "major supermarket" from July, but the service has yet to launch.
Sahu confirmed today that the operation had been "pushed to early September".

"It just hasn't moved as quickly as we'd hoped," a spokeswoman said of the expected announcement of the service.

The £8m cash injection is from On the Dot's private equity funded parent company City Sprint. It will pay for product development, international expansion and senior appointments, the spokeswoman said.

It has already enabled two senior appointments. Ben Nowlan, former founder and CEO of Australian last-mile firm Sherpa, is now On the Dot's chief revenue officer.

Taher Khaliq, previously director of e-commerce platform for online printing company Photobox, has been recruited as On the Dot's technical director.

"Achieving the combination of scale and market traction in the dynamic market of on-demand delivery, whilst delivering a great customer experience, has proven difficult for many, large and small," said Sahu as the funding and appointments were announced.

"Born out of City Sprint Group, our heritage in the delivery space means we're uniquely placed to win. While our rivals are using data gained from pilots and early stage commercial activities, On the Dot enters with decades of expertise in managing final-mile collections and deliveries, more than 10 years' worth of delivery data, and national and local scale through a fleet of more than 5,000 couriers.

"The additional £8m in funding means we can more aggressively hone our already unrivalled offering and focus on international expansion. The UK is just the beginning."

On the Dot delivers for non-grocery retailers and takeaway restaurants nationally, with partners including Dixons Carphone, fulfilling orders for each of the electrical chain's 250 branches. Other partners include Wickes.

The company has the infrastructure to deliver groceries within 90 minutes to 88% of the UK with sufficient store partners, according to Sahu.

The partnership with the unnamed major supermarket is set to be On the Dot's first move into grocery.

It will see the firm making one-hour deliveries for a "few branches" in three postcode areas in Central London, Sahu said in June, adding that he hoped it would lead to a national rollout.

"We can bring Amazon Prime-type rapid delivery experiences to the grocery market in the UK," he added.