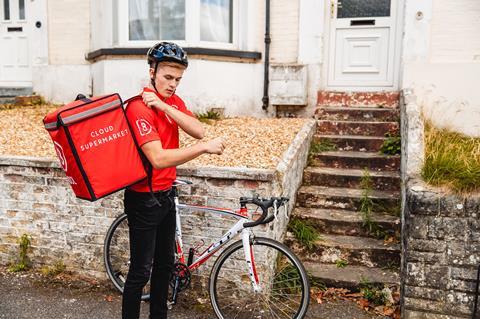 A new online grocer promising delivery in an average 28 minutes has revealed ambitious expansion plans to be in 25 UK cities within a year.

8Dol uses its own warehouses and cycle couriers to offer a range of up to 600 products, including fresh, ambient and frozen, ordered via an app.

The business arrived in the UK from China in September last year, launching as a pilot in Bournemouth before extending to Southampton and Oxford by April. It's now aiming to accelerate its expansion by adding London, Bristol, Bath and Portsmouth in the next two weeks and Exeter and Canterbury in October. That is to be followed by the Midlands and north, with a target of operating in 25 UK cities by September 2020.

The company has been operational since 2013 in China, where it serves a claimed three million users across 600 cities.

Key investors in the UK business include packaging manufacturer Solent Group, headquartered in Dorset with offices in Shanghai and Hong Kong. 8Dol's UK managing director is Solent founder Roderick Hung. Other 8Dol directors listed on Companies House include Solent CEO Richard Porter.
8Dol currently uses a central warehouse in Southampton to supply a smaller warehouse in each of the cities it serves. There are plans for a second central warehouse to serve the north.

Major brands are sourced from wholesalers including Bidfood, and prices closely matched to those of the Co-op, according to Alfie Porter, Richard Porter's son and 8Dol UK head of buying.
Orders are picked manually and then delivered within a three-mile radius by cycle couriers employed by 8Dol on zero-hour contracts, said Alfie Porter, who helped bring the operation to the UK after working for the company in China. The delivery charge is £1 and the minimum basket value £5.

8Dol's current focus is students, who it has reached through marketing on social media and account for 80% of orders. As a result, the service closes for four weeks in the summer and one at Christmas, when orders drop during university holidays.

But business from other households as well as offices was growing at a rate that should enable 8Dol to operate continuously next year, according to Alfie Porter.

The name is short for 'eight days online'. It represents "going the extra mile" in a seven-day week and was also chosen to include the lucky number eight in China, said Alfie Porter.

He said the UK business currently had 10,000-12,000 users in each of the cities it operated in, ordering an average £12 basket. Delivery charges were kept low and waiting times down to an average 28 minutes by strategically locating warehouses in built-up areas, favouring commercial units of just 400 sq ft. "We get our radius concentrated to where our customers are and riders might take out four or five orders at once to a couple of streets nearby, rather than single drops and then back to a restaurant or supermarket.
"We have someone sat in the warehouse picking the goods and then probably around six to eight cyclists, depending on how busy we are.
"We are looking at having two warehouses in bigger cities. In London we've already signed off two and will probably have four or five."