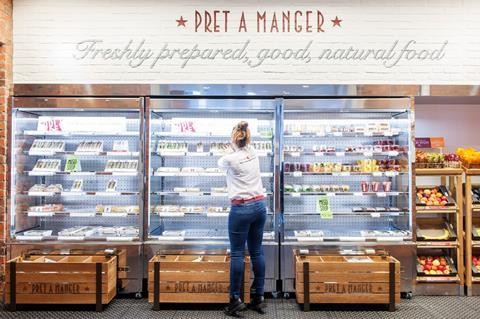 Pret a Manger has launched delivery from 120 of its restaurants with Deliveroo.

The service goes live today, offering sandwiches, baguettes, wraps, salads, hot food and cold drinks.

It's available from 8am to 8pm, varying according to location.

More Pret restaurants are to join the 120 this year.

Pret Sweet Treats will also be among the giveaway food from Deliveroo's promotional double-decker 'Roobus' as it tours the UK this summer. It's due to be in London Westfield on 19 July and Liverpool on 28 July.

"Exclusively partnering with Deliveroo not only allows us to bring Pret to even more people across the UK, but also makes it easier for our loyal customers to enjoy their favourites from our menu, wherever they are," said Pret head of e-commerce Lucy Revill-Darton.

"Everything from our salads to our sweet treats can travel directly from our shop kitchens to our customers, meaning our freshly prepared food is also freshly delivered."

Deliveroo VP of restaurants Susana Voces said: "Working with Pret exclusively across the UK is amazing news, we couldn't be happier to offer their amazing food and drinks to our customers around the UK."

The Competition & Markets Authority last week intervened in an Amazon investment in Deliveroo, ordering the two companies to pause any integration. An initial enforcement order said there were grounds to suspect the two had 'ceased to be distinct' or that arrangements were in place that would cause them to no longer be distinct.