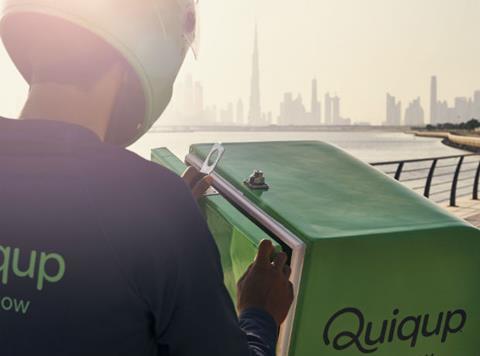 London-based courier Quiqup, which aims to help retailers fend off the threat of Amazon by providing third-party one-hour delivery, has expanded to Dubai.

The logistics company announced the international expansion this morning while also providing more detail on a recent move into Manchester, revealed by The Grocer last week.

It comes after the company raised £20m in private funding to fuel geographical expansion and to fulfil its grocery delivery ambitions in May last year.

Partner businesses in Manchester, where Quiqup began delivering this month, included New York Diner, Hempology, Salut Wines and Italian Express, the company said. In Dubai the list included Level Shoes, Virgin Megastore, Pizza Express, NKD Pizza and Just Salad.

Quiqup is offering two services in the cities, the first allowing businesses to schedule deliveries via a web app and the second incorporating Quiqup's delivery service into retailers' e-commerce channels, so customers can order directly from their websites.

"Launching in Dubai and Manchester is a significant moment for Quiqup and a key part of our mission to bring on-demand, same-day delivery to the mass market," said the company's CEO and co-founder Bassel El Koussa.

"We chose these cities for our first expansion outside London because of their strong local retail environments and their huge potential for growth. While online retail in Manchester and Dubai may not be as mature as in London, consumers are tech savvy and there's pent up demand for more convenient and faster delivery options."

He added: "We believe the last-mile delivery space offers huge potential for retailers, regardless of size, sector or geography, and we're excited to be working closely with retailers in both cities to improve the service and experience they provide to their customers."

Grocery makes up about 20% of Quiqup's business in London, with partners including Tesco, for which Quiqup provides the one-hour Tesco Now delivery service in the centre of the city.

A Quiqup source last week said talks were underway with Tesco over rolling out the service in Manchester, and several other large enterprise grocers had also expressed interest.

The Tesco Now service allows customers to order up to 20 items for delivery within one hour, but is currently available in London transport zone one and part of zone two only. Orders are placed using the Tesco Now app, which was developed by Quiqup.

Quiqup has experienced 170% year-on-year growth since launching in 2014, delivering over a million orders, the company said.