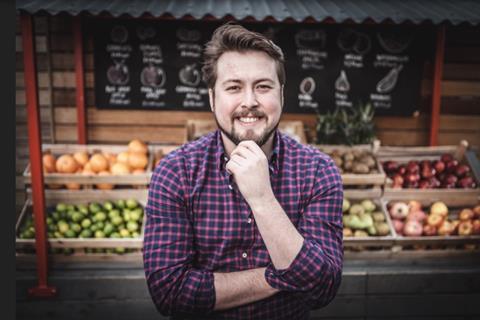 The flurry of supermarket deals with courier companies to provide rapid grocery deliveries through the pandemic have been signed "in a panic" and suffer from a "massive conflict of interest" the CEO of personal shopper platform Buymie has claimed.
"A lot of deals happened very quickly because 'holy crap we need to figure something out immediately now'," Devan Hughes told The Grocer.
But the partnerships don't align to the long-term interests of grocers and "won't last", he said.
This year has seen a significant ramping up of fast grocery delivery services offered by retailers. Asda last month partnered with Uber Eats to offer baskets to the door within 30 minutes from stores in Leeds and Birmingham. Sainsbury's in April revived and expanded its Chop Chop service. But it is Deliveroo that has won the most delivery deals, signing up Aldi, Morrisons, M&S and McColl's and extending its Co-op partnership. The Competition and Markets Authority this week approved Amazon's 16% stake in the courier company.
"Grocers are not a strategic partner for the likes of Deliveroo and Uber Eats and Amazon. That is a fact. There's no arguing. So why are retailers signing deals with platforms which are in most cases significantly larger than them already and thinking that's going to be a long-term play?" Hughes said.
Amazon especially was not being considered the threat it truly is to grocers, Hughes explained.
"I feel like the industry has a bit of Stockholm syndrome with Amazon. They can't recognise it for what it is. Maybe they're standing too close to it," he said.
Buymie is positioning itself as an alternative to the courier companies, which serves as a "shared infrastructure" for offering same-day delivery.
"There is no need to have multi-vertical platforms with external interests in other categories. Grocery has enough transactional volume to support a platform in and of its own right," he said.
He compared his company – which raised €5.8m in a June funding round and is eyeing expansion into 15 cities after launching with Co-op in Bristol in May – to US personal shopper platform giant Instacart, which in June was valued at $13.7bn.
The hundreds of retail groups using Instacart had succeeded through "indirect co-operation" to "create a competitive moat against Amazon" Hughes said.
Buymie's backers have significant fmcg expertise – they include Keith Weed, former chief marketing and communications officer for Unilever; Scott Weavers-Wright, former MD of Morrisons.com; and Eamonn Quinn of grocery chain Superquinn fame – and the company operates only in grocery, Hughes added.
"A lot of retailers today are still trying to go it alone. Decades on I still find it so strange that grocers feel they're in a position to compete on their own against a company [Amazon] that is six times larger in size than the entire marketplace, it really astounds me," he said.
"It's mainly psychology. Grocers share the same road networks to stock their shelves, they share the same electricity grid to refrigerate their goods. But they've decided to build their own individual networks for distribution that everyone needs and everyone is trying to do profitably and in a commercially viable way," Hughes said. "And not a single one has managed to do it. Shared infrastructure is really the only way."