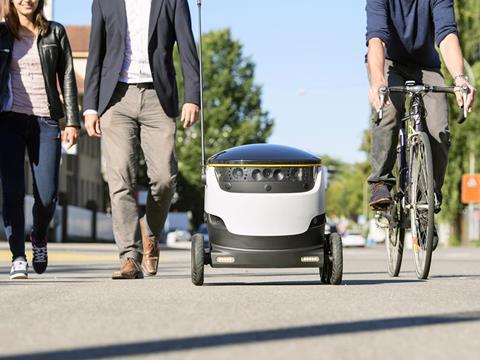 A robot delivery company has launched a service offering to despatch orders for any online retailer.

Orders from 'Amazon, Asos or any other online store' can now be delivered by Starship Technologies' autonomous robots, the company has told customers in a trial.

The tech startup has been delivering groceries locally in as little as half an hour for a Co-op branch in Monkston, Milton Keynes, since April.

A new 'Packages' section was added to Starship's app this week, inviting customers to request an access code by clicking on a link.

Along with the code, they are emailed a message saying: 'This unlocks the new 'Packages' section of the Starship Deliveries App, which allows you to arrange parcel deliveries on-demand by our robots! You can use the service with any online retailers. The first month is totally free and you can cancel anytime.'
After they've entered their unique code, a message in the app tells customers: 'When you shop from Amazon, Asos or any other online store, simply ship your purchase to the address below. Be sure to include your four-digit customer indentifier… We'll notify you when we receive your package.'

The address given is a Starship one in Milton Keynes. It's thought the intention of the trial is to enable customers to arrange the last mile of an online delivery at a time that's convenient for them. It's not clear how Starship would respond to packages that may be unsuitable for the robots, for example by being too large. The firm may be relying on the trial service being taken up by existing customers who are famliar with the machines' capabilities.

"We haven't launched the service to the public yet," said Henry Harris-Burland, VP of marketing at the San Francisco-headquartered business.

"We have a selected group of beta users in the local area that we trial new features with including this one. We're looking forward to sharing more information in due course."

For Starship orders from the local Co-op, customers pay a £1 delivery charge and the usual store prices for products, which are bought by a human picker working for Starship and placed into the robot for its unaccompanied journey.

The goods go in a compartment that unlocks when the customer confirms arrival using the app.