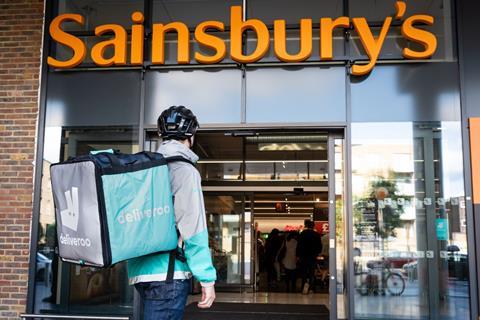 Sainsbury's has partnered with both Uber Eats and Deliveroo to offer rapid delivery from a combined 20 stores in coming weeks.
The supermarket's Camden superstore is the first to offer the Uber Eats service, giving customers the choice of around 1,000 own-label and brand SKUs. The range on the platform includes Taste the Difference ready meals, fresh fruit and vegetables, free-from products and store cupboard essentials. A further nine stores will be added to the platform in coming weeks. If successful, the partnership "may be extended" Sainsbury's said, pointing to the 120 town and city coverage of Uber Eats.
For Sainsbury's Deliveroo trial, 10 stores will join the platform, beginning with its North End Crescent Local store in Hammersmith which went live on Thursday. The same selection and number of SKUs are being offered.
"Complementing our Chop Chop fast delivery service, which delivers groceries to customers within 60 minutes, working with Uber Eats will offer another way for customers to get Sainsbury's groceries delivered to their door quickly, conveniently and safely," said Nigel Blunt, Sainsbury's director of ecommerce.
"We're always on the lookout for how we can make our customers lives easier and we know how much they value being able to get groceries delivered to their doors quickly, conveniently, and safely. Since March we've more than doubled our grocery online capacity and by working with Deliveroo we can serve even more shoppers this way," he added.
Sainsbury's becomes the second major grocer to partner with Uber Eats. Asda in July offered the service from stores in Leeds and Birmingham, offering around 300 SKUs.
Uber Eats rival Deliveroo, meanwhile, has forged partnerships with Waitrose (which extended the service earlier this month), Aldi (which more than doubled the number of stores on the platform this month), Morrisons, McColl's, M&S and Co-op.

"I am delighted to be partnering with Sainsbury's in the UK, which will enable customers to quickly and conveniently order more than 1,000 items including fruit and veg, store essentials, and even flowers. This partnership will offer even more choices for customers using the Uber Eats app," said Toussaint Wattinne, Uber Eats general manager.
Earlier this month Uber Eats revealed orders had grown 150% in the UK year on year and that 12,000 new restaurant partners had joined the app since the start of the year.
"We are delighted to announce this new trial with Sainsbury's," said Ajay Lakhwani, Deliveroo's vice president of new business.
Sainsbury's first partnered with Deliveroo last year, on a two month trial of a pizza delivery service from five stores.
"Deliveroo's on-demand grocery partnerships have proven vital for so many people during this difficult period, allowing families to get the food and household items they need and want quickly. We are excited to develop this trial in the weeks ahead and offer Sainsbury's amazing products to customers across the UK," he added.