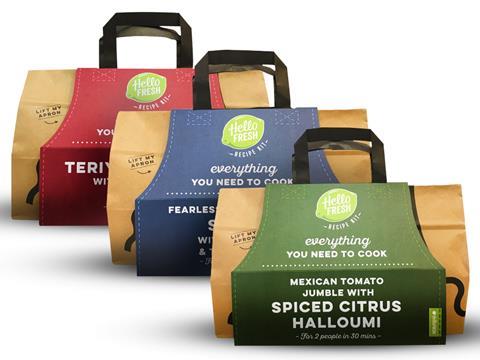 Sainsbury's has begun selling HelloFresh Go kits online for £8, undercutting the price of the recipe box delivery service by as much as a third.

The supermarket ran an introductory price of £8 per two-person meal last week, compared with HelloFresh's upper price of £13, with the same benefit of delivery.

The HelloFresh Go kit has since gone up to £10 but will still undercut many subscription prices, which range from £8 to £13 for a two-person meal depending on quantity and access to 'premium' meals.

The listing of the kits online comes four months after they launched into 35 Sainsbury's in London and the South East, amid plans for a wider rollout across the entire Sainsbury's network.
Toasties through the post in £1.5m crowdfunding bid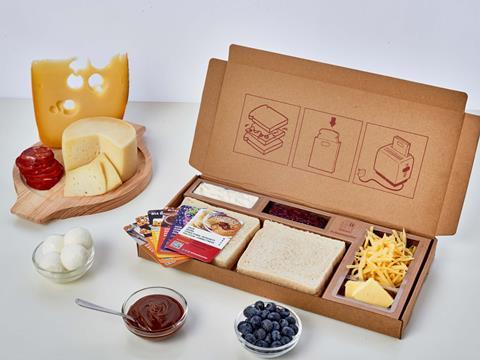 Cheese toastie subscription box service Cheese Posties is seeking £80,000 in a crowdfunding campaign that values the startup at more than £1.5m.
The business was launched in mid-2015 by Dave Rotheroe, filling the gap between meal kit subscription boxes such as HelloFresh or Gousto and snack subscription business Graze.
Customers are sent the ingredients via 1st class post for £4.65 a week.
It needs cash to help handle rapid growth, it said, with the crowd money to be used to improve the website and boost packaging speed and capacity and increase storage space. Cheese Posties also plans to break into the next-day personalised gifting market.
HelloFresh said its subscription model was "clearly differentiated" from the Sainsbury's proposition, with free delivery and more variety. Sainsbury's delivery fee starts at a minimum of £1 and there are only three meal options available on its site - prawn tagliatelle, chicken & chorizo paella, and teriyaki chicken with coconut rice & bok choy - while HelloFresh subscribers have a choice of eight meals every week.

HelloFresh played down the impact of online. "As part of our relationship with Sainsbury's, they have listed our product on their online store. However the priority remains bricks & mortar," said a spokeswoman. "The price of £8 was a promotion to drive trial and visibility of the new range and by default was extended to online."

But Bryan Roberts, analyst at TCC Global, forecast HelloFresh could gain greater traction with Sainsbury's online. "It makes a lot more sense than the in-store solution as it gives customers more convenience," he said. "Unlike with the HelloFresh service, you can also get your other grocery requirements."

This week, Amazon dealt a blow to Hello-Fresh in the US with the launch of its own-brand recipe box service. Recipes such as falafel patties with tomato and sumac salad and a salmon niçoise salad are available to a limited number of customers at $15.99 to $19.99 for a meal for two. The trial will represent a threat to HelloFresh, which gains half its revenue in the US, and US firm Blue Apron, which is set to go public this year.