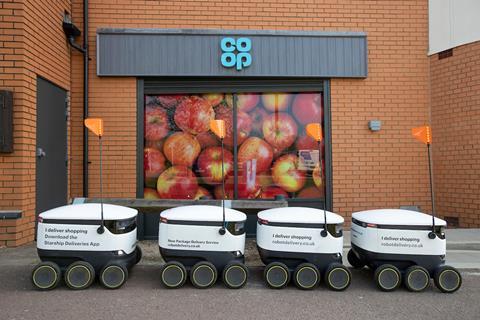 Grocery delivery robots are rolling out on the streets of Northampton today, as Co-op brings its partnership with Starship Technologies to a second UK town.
The service will serve customers within a three miles radius of Co-op's Wootton Fields store, some 5,000 households.
Co-op said it is seeking further towns to partner with Starship in, with an ambition to use 300 of the robots by the end of 2021.
"We continue to look for new ways to innovate and expand access to our products and services to deliver a truly compelling offer for consumers," said Chris Conway, Co-op head of ecommerce.
"Our partnership with Starship enables Co-op to offer further availability, flexibility and choice to meet community shopping needs for on-demand convenience," he added.
Co-op became the first convenience retailer to offer same-day robot deliveries in the UK when it teamed-up with Starship – which was launched in 2014 by two Skype co-founders, Ahti Heinla and Janus Friis - in early 2018 to offer the service from two stores in Milton Keynes, serving the town and surrounding areas including Newport Pagnell and Bletchley. A further eight stores have this year been added to the service.
Demand for the service has soared during the pandemic, Co-op said, with deliveries tripling in recent months.
Several Tesco and Budgens stores in Milton Keynes also offer Starship deliveries.
"We are thrilled to expand our service in the UK and bring robot delivery to neighbourhoods across Northampton. We have been humbled by the fantastic reception to our robots from local communities in Milton Keynes over the last two and a half years," said Andrew Curtis, head of UK operations at Starship.
"This is the next step in our growth ambitions as Starship looks to further roll out our services across the UK following increasing demand during the pandemic," Curtis added.
Northampton residents use the Starship app to shop a range of more than 1,000 SKUs at the Wootton Fields. Staff pick the order and place it in the robot. Users drop a 'pin' where they want their delivery to be sent and can watch in real-time as the robot makes its journey via an interactive map.
When the robot arrives the customer receives an alert, and then can unlock the robot through the app, giving them access to their shopping.
The most popular items ordered for Starship delivery in Milton Keynes are: milk, eggs, bread, bananas and cucumber.