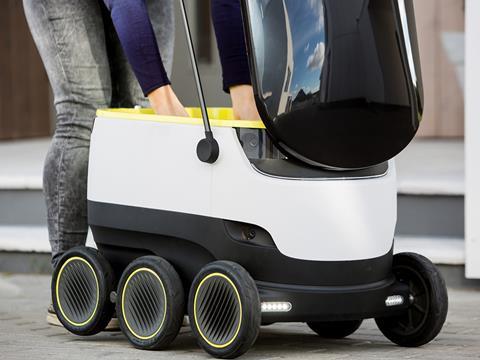 Robot startup Starship Technologies is asking the public where the machines should offer their rapid delivery service next.

Since April the six-wheeled autonomous robots have been delivering groceries in as little as 15 minutes within a two-mile radius of a Milton Keynes Co-op branch.

Last month the firm added a service offering to complete the last mile delivery of any online order. Users must have orders despatched to a Starship address and let the firm know when they want to take delivery.

The San Francisco-based company also delivers in two locations in California, including an office park.

Last week Starship launched a new feature on its app, asking customers: 'Where do you think our robots should deliver next?'
Users can type in the name of towns or cities across the world along with their email address to vote.

"Anyone can vote for their neighbourhood," said a Starship spokesman. "We're interested to know where the public think we should come to next."

In June the business raised $25m (£19.6m) for expansion in seed funding and appointed former Airbnb business development lead Lex Bayer as CEO. Bayer said at the time the funding would "allow us to deploy our robots in neighbourhoods as well as corporate and university campuses in the US and Europe".

The current frontrunner in the vote is Düsseldorf in Germany, followed by Palo Alto, California.

In Milton Keynes the robots deliver from a range of about 200 Co-op products. Customers pay a £1 delivery charge and the usual store prices for products, which are brought by a human picker working for Starship and placed into the robot for its unaccompanied journey. The goods go in a compartment which unlocks when the customer confirms arrival using the app.