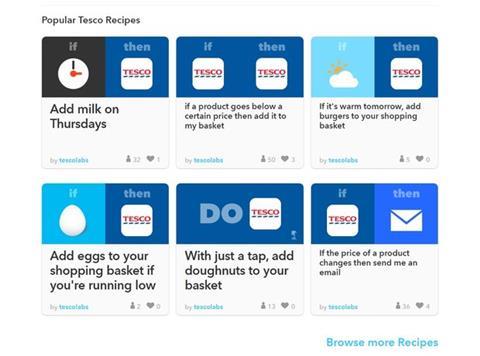 Tesco shoppers will be able to automatically order burgers if sun is on the horizon, or get in the Chateâuneuf-du-Pape if it's a bargain, with the launch of a new online service by the retailer.
It has become the first supermarket to go live on the IFTTT (If This Then That) platform, which aims to encourage greater connectivity between popular apps.
This will now be extended to Tesco grocery shopping and other services from the retailer, after it announced a raft of automated options that shoppers can sign up to for free.
Created by its tech arm, Tesco Labs, options available at the click of a button uploaded so far include adding soup to a basket if it's cold, place eggs in a customer's basket if they're running low, and send SMS messages to shoppers to remind them to buy milk.
'If it's warm tomorrow add burgers to your shopping list' is one of the 'recipes' added by Tesco so far, along with 'notify me if Chateâuneuf-du-Pape changes price'.
The channel also paves the way for consumers to monitor price changes and automatically add items to their basket if the cost drops below a certain level.
"We're always on the lookout for new and exciting ways for people to shop," said Tesco Labs head of technology research Paul Wilkinson.
"In the past this has led to Tesco.com as well as the first barcode scanner in a mobile app. We've created our own channel on IFTTT with two triggers and a single action. You can now trigger any other action on IFTTT if the price of a Tesco product changes or if it goes below a certain price. On the action side, you can use any of the triggers to add a specified item into your basket."
The move also sees Tesco responding to services such as Amazon Dash, a physical device that re-orders groceries at the push of a button.