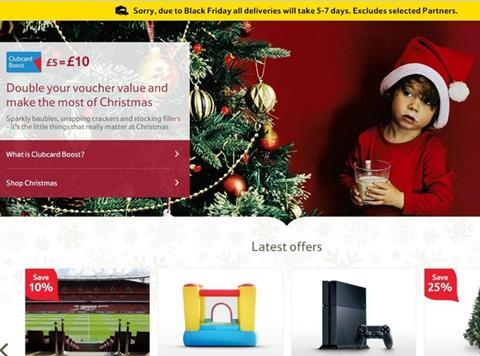 Tesco has issued a new apology to online customers as delays worsened on its non-food website, with the supermarket this time laying the blame on the impact of Black Friday.
The Grocer revealed more than two weeks ago that Tesco Direct's delivery system had buckled under the strain of orders, with the retailer saying it was down to "unexpectedly high demand" caused by its Clubcard Boost promotion, which runs up until the end of December, enabling customers to double the value of their Clubcard points.
With delays on the site in some cases now understood to be up to be almost weeks, Tesco has been the subject of some angry complaints on social media.
@Tesco when will the delivery delays be over? 11 days late so far…still waiting

— Pamplemoose (@Pamplemoose_x) November 20, 2015
@BenArfaChance We've had a very large number of delays recently, with delivery times sometimes exceeding 9 working days. (2)

— Tesco (@Tesco) November 27, 2015
A new message on the Tesco Direct site reads: "Sorry, due to Black Friday all deliveries will take 5-7 days," although Tesco said some selected partners were still offering express delivery.
However, the retailer has admitted on its social media feedback that in some cases delays have exceeded nine working days.
Asked whether the delays were down to Black Friday or as originally claimed due to the Boost promotion, a spokesman said the original explanation still stood.
"Due to the popularity of our Clubcard Boost event, we put in place a five to seven day delivery period for all click & collect and home delivery orders on Tesco Direct to guarantee timely delivery for customers.
"We've kept this delivery option in place over the course of our Black Friday event," she added.
The spokeswoman said she could not comment on whether the delays would last right up until Christmas or beyond.