As Amazon and Walmart battle it out for territory in the US, we analyse how they measure up on the key tactical areas
If Amazon were an army, it would undoubtedly use stealth as its biggest weapon. Its guerilla attack on US grocery began in 2000 with the subtle creep of fmcg products on to its website via the launch of Amazon Marketplace. Few people panicked. Then in 2007 it sent out an invitation-only beta test for its new online grocery service in Seattle, Amazon Fresh. Eyebrows were raised but so slow was the rollout it caused little concern, reaching just 20 US cities in 10 years.

But with Amazon's June acquisition of more than 450 physical grocery stores in a landmark $13.7bn deal with Whole Foods Market, panic has now well and truly set in, with the tie-up set to deliver instant national scale and a platform from which to build up its logistics network at the same time. In fact, so virulent is Amazon's assault on the grocery sector, it is now tipped (admittedly by former Amazon executive Brittain Ladd) to surpass Walmart as the top US grocer by 2030.
Amazon vs Walmart: a year in grocery's biggest arms race
August 2016
Walmart buys Jet.com for $3.3bn and makes Jet CEO its head of e-commerce
October 2016
Walmart announces $50m investment in Chinese grocery platform New Dada
January 2017
Walmart buys online footwear retailer ShoeBuy for $70m and launches free two-day shipping, lowers minimum order to $35
February 2017
Walmart buys online outdoor retailer Moosejaw for $51m
Amazon lowers free shipping minimum to $35 to match Walmart
March 2017
Walmart buys online fashion retailer ModCloth for $45m
April 2017
Walmart introduces discounts for online orders collected in store
June 2017
Amazon announces plans to buy Whole Foods Market for $13.7bn
Walmart buys online clothing company Bonobos for $310m. It also tests out its associate delivery scheme with staff dropping off orders, and self-service click & collect kiosks
Still the biggest retailer by sales (if not by market cap), Walmart is all too aware of this rapidly emerging threat. Facing down a tech giant, the established bricks-and-mortar grocer is scrabbling to up its game in multichannel commerce too, testing out everything from 24/7 click & collect to a new scan and go app to improve the in-store experience. So what are the key battlegrounds in this clash of the grocery titans? And who is likely to emerge victorious?
---
Battleground One: stores
---
The fight to gain ground
Walmart beats Amazon hands down when it comes to bricks and mortar. Amazon may have acquired the Whole Foods Market network but that still leaves it with only 450 branches, compared with Walmart's 4,692. And Amazon's own-brand physical presence is limited to just three concept stores in Seattle.

In the US, where online-only accounts for around 3% of the market, this remains a crucial point of difference between the two. And it's unlikely to change any time soon, believes Bryan Roberts, analyst at TCC Global. "E-commerce faces an uphill climb as in-store shopping remains popular thanks to low gas prices, high auto ownership levels and relatively low credit card penetration," he says.

There are chinks in Walmart's armour, though. Three-quarters of its branches are superstores, with only 698 of its smaller "neighbourhood market" formats. This could leave the door open for Amazon to gain ground with its own state-of-the-art convenience concept Amazon Go (see box above). Plus, as Roberts points out, Walmart is typically more popular in the southern states of the US and outside major cities. Northern states and urban areas - parts of the country where Whole Foods and Amazon tend to over-index - could be a ripe battleground. Even so, Amazon will have a lot of catching up to do.


---
Battleground two: click & collect
---
Winner: Walmart
Flexing pick-up pectorals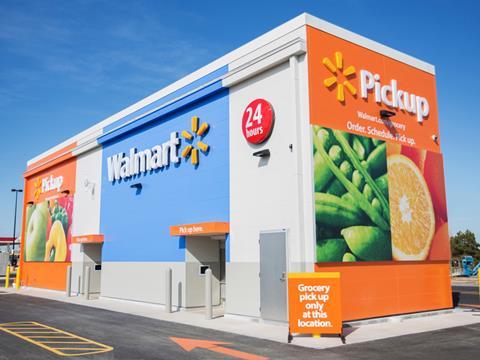 Both Amazon and Walmart are rolling their sleeves up when it comes to click & collect. This March heralded the launch of two Amazon Fresh pick-up sites in Seattle, which enable Prime members to order their groceries and pick them up in as little as 15 minutes free of charge. Open 15 hours a day, seven days a week with no minimum order requirement, they tick plenty of boxes on convenience and Amazon is now looking to roll out the format more widely.
But where Amazon has innovation, Walmart has scale. The grocer had 400 Pickup locations across the country at the end of 2016, and plans to double this number by the end of this year. Plus the retailer is testing out experimental ideas of its own.

In June, it launched a 24-hour automated click & collect site in Oklahoma that can hold up to 30,000 products - including frozen and refrigerated items. To access their order, customers need only a five-digit pick-up code. "One of the key benefits of the model is the service is available when the store is closed," says Stewart Samuel, programme director of IGD Services Canada.

Samuel says Walmart is keen to build on this with the launch of 100 similar 'pick-up towers' across the US.

Roberts believes Walmart's extensive physical estate gives it an advantage over Amazon in the click & collect arena too. "Walmart has an important advantage over Amazon because it has ready-made click & collect locations," he says. "Rather than being a downside, Walmart's network of stores is a very strong upside."

"Click & collect has waxed and waned - lots of US grocers haver tried kerbside pick-up - but I think over time it will become more significant," Roberts adds.

And there's plenty of potential for it to take off in areas where home delivery simply isn't viable, adds Chris Baker, US retail partner at Oliver Wyman. "Some of the suburban markets are really great candidates for click & collect," he says. "Having drive-through points will be much more efficient than a full home delivery service in those areas, where the last mile is so costly," he says. So far, Walmart has the edge.


---
Battleground three: home delivery
---
Winner: Amazon
Delivering a knockout blow
A rapid delivery network is the founding principle behind Amazon's entire business. So it stands to reason that the retailer is a leader in grocery delivery in the US. Its full online grocery service, Amazon Fresh, is up and running in 20 cities, with a same-day delivery option. Add to that thousands of ambient food & drink SKUs eligible for free Prime delivery across the US. In some cities US customers can even take advantage of its express one-hour Prime Now service.
The battle for the smartphone shopper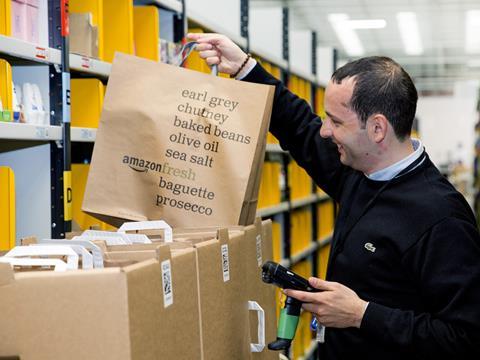 Amazon grabbed loads of headlines in December when it tested out its checkout-free convenience concept. The 1,800 sq ft Amazon Go store enables customers to grab their groceries and walk out, using an app that tracks everything they pick up and charges their Amazon account accordingly. Despite the press fanfare, though, the early 2017 opening date has been quietly pushed back amid reports of technical problems during the employee testing phase.
Walmart, meanwhile, has been testing its own less technical, but arguably more practical alternative. The Walmart Scan and Go app is currently only available in four stores, but offers a similar experience to Amazon Go, with shoppers able to scan items, pay on the app and show a phone receipt on the way out. With the app plagued by its own tech challenges too, though, victory could go to the retailer with the best in-house whizzkids.
Granted, many of these benefits require a hefty $99 annual Prime membership fee, on top of the Amazon Fresh fee of $15 per month, but Roberts sees this as a benefit rather than a downside. "I think Prime is Amazon's route to growth," he says. "If people have invested in the Amazon ecosystem, it will become a more common way to buy groceries."

Walmart, on the other hand, does not yet have a home delivery service across the country and instead relies on click & collect. It isn't ignoring the potential of home delivery in the future, though. It's trialled express deliveries with Lyft, Uber and Deliv in selected locations, and also used store associates to make deliveries at the end of their shifts in New Jersey and Arkansas. But these remain small-scale regional trials, rather than heavyweight nationwide initiatives.

To hold on to its title, Baker believes Walmart will need to seriously assess its potential in the home delivery market. Although online accounts for only 3% of the US grocery market today, he believes this figure could rise to 20% by 2025. Click & collect might satisfy some US shoppers but home delivery will "eventually work for a big proportion of the population". And Amazon looks best placed to capitalise on that growth.


---
Battleground four: acquisitions
---
Winner: A tie
Buying up the competition
Both Walmart and Amazon clearly see acquisitions as a key means of building their US presence and beating the competition. Walmart has gone on an acquisition spree over the past year, building up its e-commerce portfolio through companies such as clothing company Bonobos and online footwear retailer ShoeBuy.

Its most significant acquisition, though, came in the form of its $3bn bid for Jet.com in August 2016 - an online retailer with two-day delivery across the US, and free shipping over $35 with no membership fee. Amazon has clearly taken note already, having lowered its free shipping threshold from $49 to $35 in February, and Samuels believes this is a particularly clever move on Walmart's part as it will give it "access to a platform that appeals to younger, urban-based shoppers".

Amazon may not be able to compete with Walmart on acquisition numbers but it certainly made up for that in impact when it bought up Whole Foods Market in June for a whopping $13.7bn. The bid not only gave it a physical presence, but also access to a credible own-label and logistics network, and analysts hailed the acquisition as a potential game-changer. The move showed "a real ambition to take on grocery retailing in a way it hasn't before" said Kantar Worldpanel.

And Roberts believes there are likely to be more acquisitions on the cards for both retailers. "One name that has been linked to both companies is Ocado," he says. "That kind of technology and best practice from a pureplay online grocery would be useful in the States."
---
Battleground five: international expansion
---
Winner: Walmart - for now
Building a global empire
The US may be the prime focus for both Walmart and Amazon, but both have ambitions beyond their home turf too. Amazon has rolled out its Fresh service to Japan, Germany and the UK - and is set to enter Australia soon. It also has full-scale Marketplaces in 11 countries, including India and China, though it has struggled in some. Its performance in China in particular is rumoured to be underwhelming as it struggles against Alibaba, Taobao, Tmall, JD.com etc.

Walmart has a far bigger and more established presence worldwide. It has stores in 28 countries, including key markets such as India, China and Brazil, and it seems keen to expand its online presence in China, buying up shares in JD.com in February. The partnership means Walmart has its own presence on the vast online store, which enables customers to order fresh food from its outlets with two-hour home delivery. In the future, though, Walmart's emphasis on physical stores could hold it back as agile Amazon will need only a DC to be up and running in foreign markets.
---