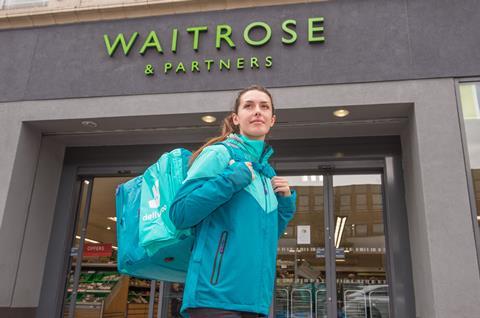 Waitrose is expanding its trial with Deliveroo to 24 new locations, taking coverage to 3.1 million UK households.
The supermarket has added 150 products to the range available via the delivery platform, meaning customers can now shop more than 650 products to be delivered in as little as 30 minutes.
The partnership was proving "hugely popular" Waitrose said, with sales through Deliveroo at the trial's initial five stores – in Bracknell, Clifton, Surbiton, Cambridge and Notting Hill – growing continually since launch in September. A sixth store, in Bayswater, was added at the start of this month.
Half of orders are now being made by repeat customers, the supermarket revealed, with lemons, avocados and strawberries proving the most popular products.
The ramped-up range includes a wider selection of ready meals and health & beauty lines.
The extended trial will continue until the end of November "in order to understand the potential for future growth" Waitrose added. The new stores will all come online by Tuesday.
Read more:
"This trial has made a very promising start in attracting customers to Waitrose through an entirely new channel, and is already contributing to significant sales growth in all of the branches where it is up and running," said Waitrose chief James Bailey.
"We know that our customers are continually looking for more convenience and flexibility and, at the six shops so far, they are really appreciating the chance to get what they need when they need it," Bailey added. "Expanding the trial will test the potential for an on-demand service in a much broader range of locations."
The supermarket said it was in discussions with Deliveroo regarding "joint community initiatives".
The supermarket said the Deliveroo trial "complements" its own Waitrose Rapid service, which promises orders within a two-hour timeframe. Latest figures shared by Waitrose show Rapid now has more than 37,000 customers, a fourfold increase compared with pre-Covid. That's a 14,000 increase in customers since last reported in late August.
The Deliveroo tie-up is part of John Lewis Partnership's strategy – set out in July – to "look at commercial partnerships to allow Waitrose to grow efficiently and give customers more convenient access to its products".
The stores being added to the Deliveroo platform are:
Canary Wharf
West Hampstead
East Putney
Southampton
Clapham Common
Balham
Parkstone
Woodley
Hereford
Cheadle Hulme
Welwyn Garden City
Farnham
Byres Road
Clerkenwell
Southsea
Trinity Square
Caversham
Harborne
Wimbledon Hill
Brighton
Bloomsbury
Winchester
Stratford City
Solihull