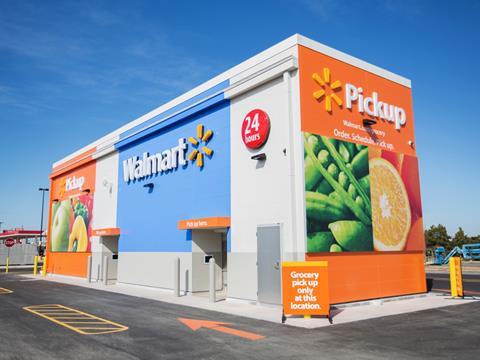 Walmart has opened its first 24-hour click & collect grocery facility in the US.

The 20ft by 80ft automated facility in Oklahoma will enable customers to order online and pick up their groceries in as little as 60 seconds, according to Walmart.

The Asda owner eventually hopes to process hundreds of orders per day through the click & collect building, which opened at the beginning of the month.

Customers can use the facility by ordering their groceries online and choosing the click & collect option, which will provide them with a five-digit pick-up code.

Walmart staff will pick the order from the store and take the groceries to a refrigerated hatch in the click & collect grocery site.

Customers can use their code to unlock the hatch and collect their groceries at any time of the day.
The new facility puts Walmart one step ahead of Amazon Fresh, which opened its own pick-up facility in Seattle in May. The site opens between 7am and 10pm every day and is not automated. Instead, staff bring out shopping bags to customers' cars.
Click & collect is tipped for significant growth both in the US and the UK, with Asda operating 538 pick-up sites in store locations and third-party petrol stations.