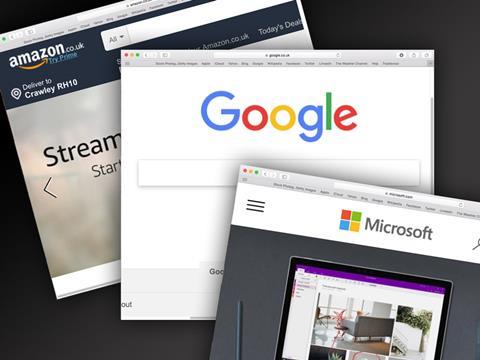 Amazon's agreement to buy Whole Foods last year sent shockwaves through the grocery industry, setting off a chain of speculation that the company would revolutionise the sector. Since then, we've seen several other tech giants start to explore the market, with Microsoft only last week reportedly looking to develop checkout-free stores.
The entrance of these tech giants into the grocery market has been spurred on by a common theme: to ensure the experience for the customer is as convenient as possible. But the way that plays out will depend on the different strengths that these companies can bring to the table.
One of the most obvious consequences of the growing presence of Big Tech relates to logistics and fulfilment. Amazon is hardly a newcomer in terms of managing a rapidly growing logistics chain, and we should expect more and more food manufacturers to partner with Amazon to take advantage of its direct-to-consumer fulfilment platform, despite the margin impact.
In a similar way, Amazon will likely seek out players that can offer up cold storage facilities – something that has historically hindered its entrance into the market. The acquisition of Whole Foods is the best example of this so far, but it won't be the last.
However, we will also likely see more manufacturers create their own direct-to-consumer businesses, as we have seen in the example of Beerwulf. The economics of this may prove problematic though, especially during any startup, given that a manufacturer will need considerable scale and delivery density before it is able to benefit from any notable contribution to profits. It is, however, one potential option to avoid the so-called 'Amazon effect'. We will also see the growth of specialist distributors that provide collective platform for smaller food producers.
The entrance of Big Tech is also set to impact the customer experience within the supply chain. Arguably, it is this area that Microsoft will look to exploit, carving out its own niche as a major in-store technology provider. The company already has AI capabilities, a knowledge of retail, and an ability to integrate several different technologies to make an automated or semi-automated store function. In a future where we will see much more automated retail, driven by both challenging retail economics and the desire to improve the in-store experience, a handful of leading in-store technology providers will emerge, and this may well be Microsoft's role.
But perhaps most significant of all is the impact that tech is set to have on the industry's relationship with the consumer. As the world's leading tech giants, Google and Amazon both bring an unprecedented level of in-depth consumer access that has the potential to revolutionise the industry perhaps beyond anything we've seen thus far. Google does not have its own fulfilment capability but Carrefour's recently announced partnership with Google is an interesting pointer to the future.
With the on-going drive towards improving consumer convenience, the impact of the conversational ease with which consumers will be able to shop in their own home should not be underestimated. Technologies like Alexa and Google Assistant will be incredibly important to food manufacturers as they look to enmesh themselves in the conversational supply chain.
This leaves the sector with some tough choices. With major multiple retailers increasingly competing on price, manufacturers' ability to reach the consumer directly could be blocked by tech giants who are offering a far greater range and level of services, as well as end-to-end supply chain integration. They therefore need to decide how they play in an environment where tech giants are increasingly entering the homes of their customers. But above all else, both retailers and food manufacturers need to make sure that they are prominent in the supply chain of Alexa and Google Assistant. Ultimately, the power will lie in ownership of the relationship with the consumer, and manufacturers need to recognise this before they are left behind.
Lawrence Hutter is co-head of Alvarez & Marsal's corporate performance improvement team in Europe