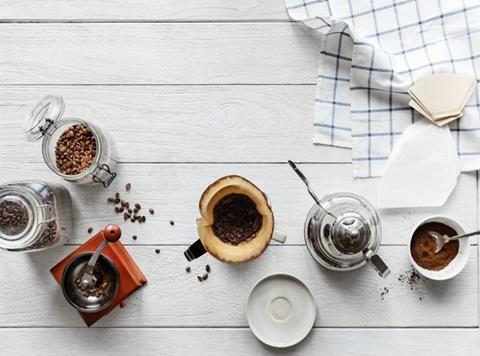 Amazon has been busy ramping up its own-label grocery offering in the UK.
Its range now includes:
One category where it has added own-label lines especially aggressively is coffee. Since April, Amazon has added 30 own-label coffee lines to its UK range, including nine different coffee pods.
So why is coffee – and pods in particular – such an attractive category for Amazon? What exactly is it selling? And how do these own-label coffee launches fit in with its wider online grocery strategy?
Range overview
Amazon uses two own brands to sell coffee in the UK: Solimo and Happy Belly.
Solimo is positioned as a basic, entry-level brand that is highly price competitive. Happy Belly is a more premium offering, targeted at ABC1 shoppers.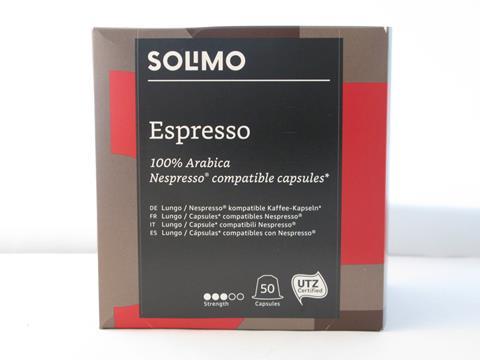 There are 12 coffee products in the Solimo range, nine of them pods:
four for Dolce Gusto machines
three Nespresso-compatible
two for the Tassimo Senseo system
The remaining three are beans and ground.
The standout attribute of the Solimo pods is that they are extremely cheap.
The Nespresso-compatible lines work out at 16p per pod, making them cheaper than Aldi's own-label coffee pods, which cost 17p (£10.14 for 60). If shoppers opt for Amazon's 'subscribe and save' option, the price comes down to as little as 15p a pod.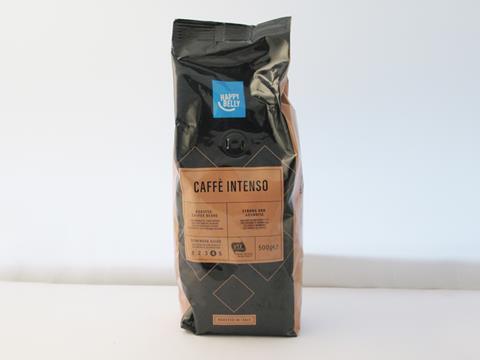 Meanwhile, the Happy Belly coffee range comprises ground coffee and whole coffee beans in nine flavours.
Prices range from 81p/100g for a Soave blend of roast ground to a decidedly premium £2.59/100g for single-origin beans from Brazil, Ethiopia and Colombia.
By comparison, Waitrose 1 ground coffee beans cost £1.55/100g.
Solimo and Happy Belly coffee lines are available as part of Amazon's general grocery offering (as opposed to Pantry or Fresh) and are currently sold only as bundles or in bulk: Happy Belly coffee is sold as two packs of 500g or four packs of 250g; Solimo pods come as two packs of 50.
Why so much focus on coffee?
Let's start with the obvious. Like all retailers, Amazon likes making money – and coffee is a booming market.
Value sales are up 9.2% year on year and now stand at £1.3bn [Kantar Worldpanel 52 w/e 12 August 2018]. Coffee pods in particular are going gangbusters, with sales up 32% over the past two years.
Add to this the considerable premium pods can command, and the financial appeal of an own-label push is obvious.
"With its own brands, Amazon can widen margins without raising prices," says Natalie Berg, retail analyst and founder of NBK Retail. "It also gives them greater leverage over suppliers."
On top of that, coffee is eminently suited to the Amazon model, as it's:
lightweight
easily shippable
ambient
consumption is predictable and consistent year-round
and pods over-index with online shoppers under 40
"Amazon wants to disrupt store cupboard replenishment, and coffee pods are the perfect products to do that with," says Viv Craske, CEO of MySupermarket.
"It's a relatively new addition to grocery shop, with Nespresso subscriptions, grocery retailers, and online fighting for the market. The demographic is a great fit for Amazon, and it's a light and small product with high margins."
Consumers are already searching for and buying coffee online
This is critical, as Amazon is a new player in UK grocery and needs to build trust with consumers around its offering.
It's much easier to do this in a category that's already been disrupted.
Thanks to the success of Nespresso's direct-to-consumer model, coffee is already bought extensively online and outside the big supermarkets. It's no coincidence that (excluding its wine range) the one grocery product Aldi currently sells via e-commerce is coffee pods.
What's more, shoppers are already buying coffee via Amazon – lots of it.
Take a look at Amazon's list of the 100 bestselling grocery items, and on any given day nearly half the products on there will be branded coffee lines.
Coffee brands also currently account for six of the 10 food & drink brands available through Dash in-home devices, including Nescafe Dolce Gusto, Tassimo, L'Or, Illy and Azera.
For Amazon, all this points to an opportunity to get its foot in the door with mainstream grocery shoppers.
If it can persuade consumers to try out its own brands, coffee, in essence, becomes a gateway into the wider Amazon grocery offering, including AmazonFresh.
"The idea is to build trust and progress from there," says Andrew Pearl, director of strategy and insight at Profitero.
"Grocery is one of the core areas where they want to win, so they are testing and learning in a category they have decided is important to their target shopper."
Steering shoppers towards own label
To do this, Amazon has two powerful tools at its disposal: data and visibility.
"With the sheer amount of customer data Amazon holds, no one is better positioned to understand customer needs and then develop ranges specifically for them," says Berg.
This is supported by a highly granular approach to customer profiling. Whereas supermarkets typically work with five or six customer profiles, Amazon has 20, says Ray Gaul, VP of research and analytics at Kantar Consulting.
"What they learned in the US is that national brands don't reach about 10% of their customer profiles," says Gaul. "So what they do with their own-label brands is fill that gap."
Coffee is well suited to this, given the sheer variety and scope for personalisation and differentiation it offers through formats, flavours, blends, origins and coffee machine compatibility.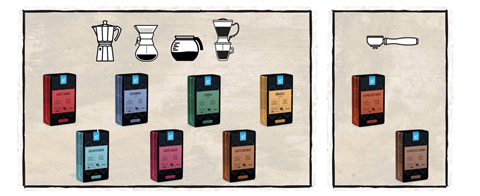 Amazon is then able to drive traffic to these personalised ranges using several levers:
Strategic placing on search pages: As well as displaying banner adverts from brands, Amazon can run banners for competing own-label products on key search pages.
Badges: Products can be given special prominence with badges flagging them up as Amazon's Choice. Products are eligible if they are popular and well-priced, have strong customer experience metrics and a strong supply chain, according to consultants OC&C.
"OC&C's research has shown that brands are finding these criteria difficult to meet."
Amazon also highlights its own products with a special Our Brand badge.
A+ Content: Amazon uses special templates and enhanced product pages containing extra information and attractive visuals to boost conversion. Both Solimo and Happy Belly coffee lines are presented on A+ product pages. (Brands can use A+ content too – at a cost.)
Reviews: In the US, Amazon has used its invite-only Vine review programme to ensure its own-label products have lots of customer reviews to build trust and awareness, according to Berg.
All this is helped by the fact that about 70% of all word searches on Amazon are for generic items rather than brands, says Berg.
"For these unbranded or attribute-led searches, Amazon is becoming increasingly comfortable steering shoppers toward its own-label items."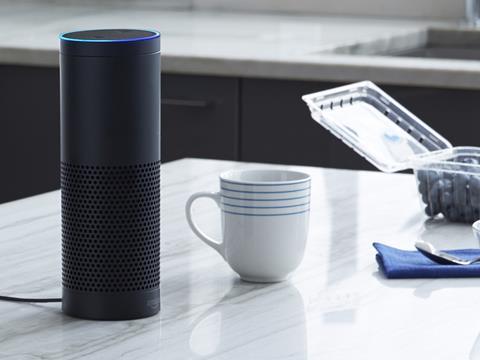 Amazon's ability to steer shoppers towards its own brands could increase further with the advent of voice shopping.
User uptake is too low currently to draw firm conclusions. Just 2% of people with Alexa-enabled devices use them for shopping, according to a report by The Information.
Still, it's easy to see why brands fear voice assistants could prioritise own label.
When responding to commands such as 'Alexa, buy me some coffee pods' in the future, the iconic Amazon assistant could well be opting for Solimo and Happy Belly as a matter of course.
What Amazon says
"One of the things our customers love about Amazon is the vast selection of products and brands we carry. Solimo and Happy Belly are part of the great selection that's already available from vendors and sellers across Amazon. We will continue to be committed to delighting customers with a wide range of quality products.
"The customer response has been really positive. Both ranges have products with many 4+ star reviews."