Super-strength drinks reduction would be welcome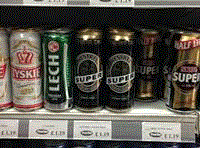 Sir: The drinks industry is to be congratulated on taking steps to tackle the problems being caused by 500ml cans of 9% super-strength beer that contain four-and-a-half units of alcohol and are in excess of government daily guidelines for alcohol consumption ('cider 'could be next' as 9% ban hits lagers', 24 January).
The Portman Group ruling presents an opportunity for the drinks industry to address the problems by reducing the strength of these drinks to sensible levels.
We recognise that the UK has a rich beer and cider drinking culture. Super-strength drinks are, however, a breed apart. Poor Health and a low life expectancy are the norm among the people drinking them. Ninety-six per cent of the homeless people using Thames Reach services who have a drink problem consume them.
Police forces, local authorities, health bodies and homeless charities are increasingly getting behind 'reduce the strength' campaigns. The drinks industry should listen and focus on its more reputable regular and premium-strength drinks in a bid to end the misery caused by super-strength drinks.
The Portman Group decision will significantly reduce the impact of these drinks on the health of the men and women who use our services and ultimately reduce the number of alcohol-related deaths that we experience. It is a move that will be welcomed by professionals across the country working with alcohol-dependent men and women.
Jeremy Swain, chief executive, Thames Reach