Waitrose has launched its new own-brand Japanese range, Japan Menyū, featuring 26 new Japanese products. However, there's not a sushi roll in sight.
The range has been curated in consultation with Japanese food experts Yuki Gomi and the Asian Leadership Collective, and includes ready meals, centrepieces, sides, and snacks. Half of the range is vegetarian and 10 of the products suitable for vegans.
"I'm particularly excited about our new Japan Menyū range, having enjoyed so much of it growing up as my mum is Japanese," says Charlotte Di Cello, Waitrose commercial director. "So much care and consideration has gone into each dish to ensure we're offering the very best Japanese-inspired selection."
Centrepieces
Pork Tonkatsu
£6/350g
Waitrose is giving the likes of Wasabi, Itsu and Yo a run for their money with its new range of Japanese-inspired meals, ready to take home and cook. This tonkatsu pork has a crumb coating, ready to shallow fry and serve with rice.
Katsu Chicken
£5.50/500g
The staple entry point for many Brits into Japanese cuisine is the katsu curry. This take uses British chicken breast in a panko crumb coating with katsu sauce.
Read more:
Slow Cooked Chilli Miso Beef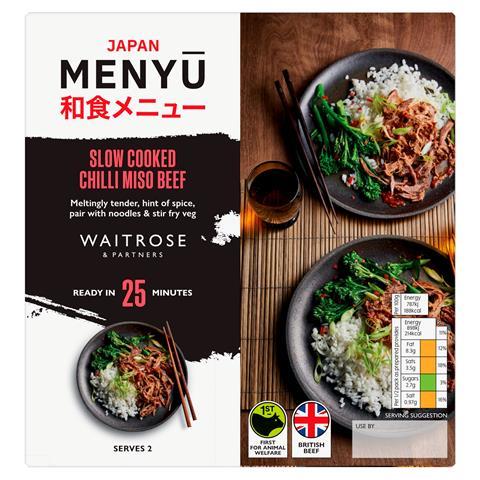 £7.50/318g
Miso flavours have permeated restaurant cuisine, but are less likely to be seen in the average kitchen. Waitrose is providing an accessible entry to the flavour profile with its British beef slow-cooked for 10 hours with chilli miso flavours to infuse.
Miso Cod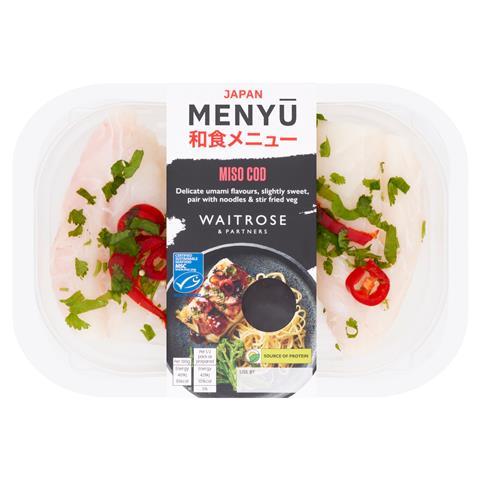 £6.50/274g
Skinless and boneless cod fillets (MSC certified) topped with red chilli and coriander with a soy and ginger miso sauce sachet.
Slow Cooked Chilli BBQ Jackfruit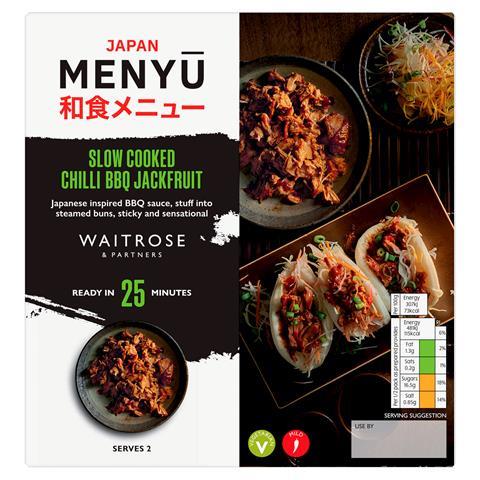 £6/314g
The first of 10 vegan products. They feature slow-cooked jackfruit with a Japanese-inspired barbecue sauce. Serving suggestion is to stir through rice, or stuff into steamed buns.
Teriyaki Pork Belly Slices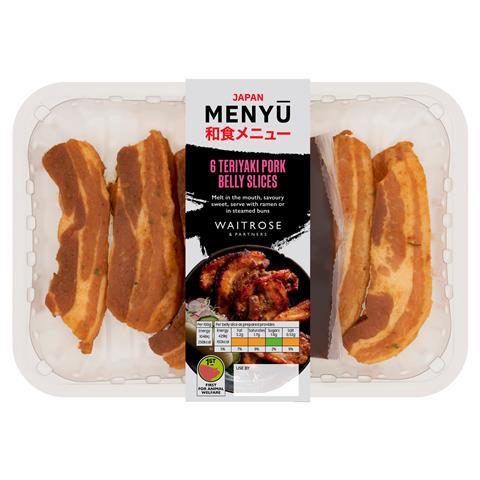 £6/380g
Waitrose is capitalising on familiar flavours like teriyaki with a range of proteins to entice customers. These marinated pork belly slices come with a teriyaki glaze.
Teriyaki Salmon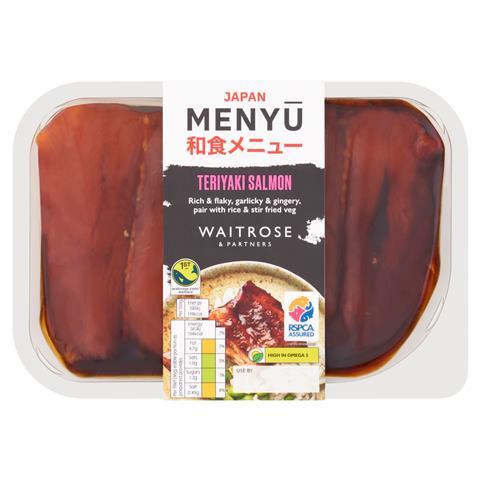 £6.50/235g
Two skin-on salmon fillets in a soy, ginger and garlic marinade.
Ready meals
Chicken Katsu Curry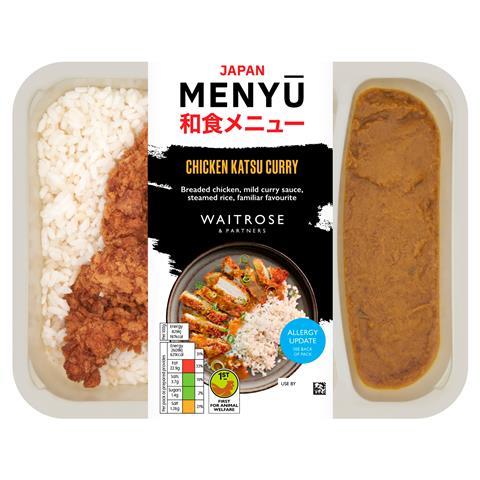 £5/350g
Making the range even more accessible is a series of ready meals, taking the feast from fridge to table in minutes, with minimum fuss. Crispy breaded chicken with steamed rice and a mild curry sauce.
Chicken Yaki Udon Noodles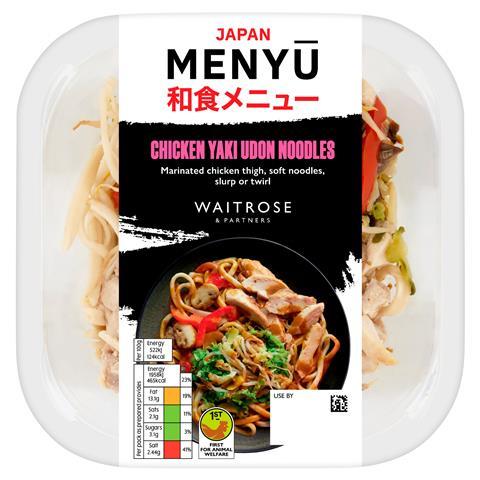 £5.50/375g
Cooked udon noodles with vegetables and marinated chicken thigh slices in a miso, sesame and garlic sauce.
Chicken Teriyaki Rice Bowl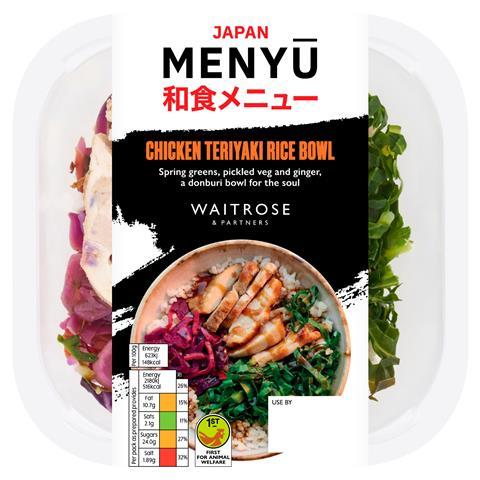 £5.50/350g
Cooked rice, marinated chicken thigh slices, spring greens and pickled vegetables in a sweet soy, mirin, rice wine and sesame sauce.
Sweet Potato Katsu Curry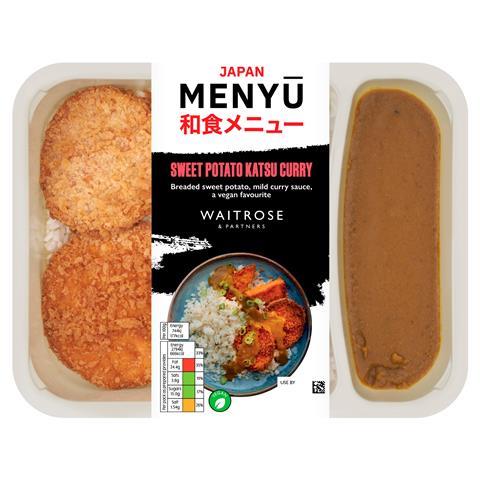 £5/390g
Breaded sweet potato, served with steamed rice and a mild katsu curry sauce.
Miso Aubergine Rice Bowl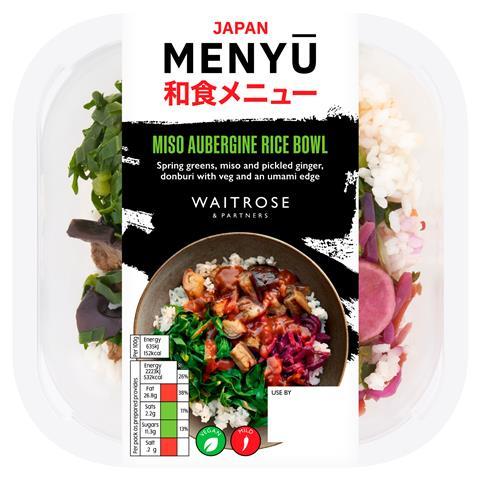 £5.50/350g
Cooked sushi rice, miso roasted aubergine pieces, pickled vegetables and spring greens in a miso and black bean sauce with leek, garlic and ginger.
Sides & snacks
Chicken Karaage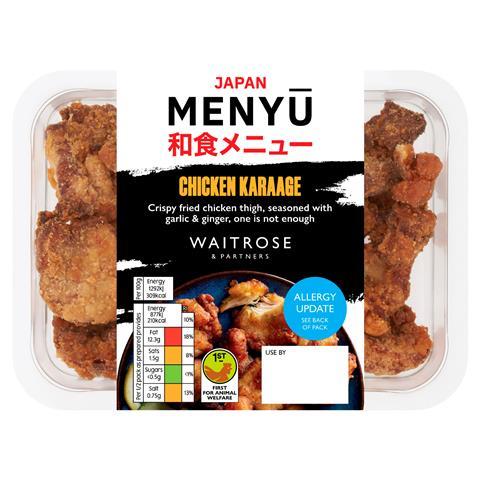 £3.60/150g
Crispy fried chicken thigh, seasoned with garlic, ginger and pepper.
Chicken Yakitori Skewers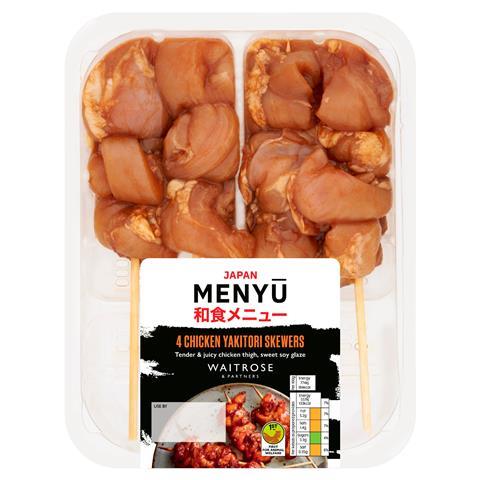 £4.50/350g
Skewered skinless British chicken thigh strips in a sweet soy glaze with a sachet of yakitori sauce.
Tempura King Prawns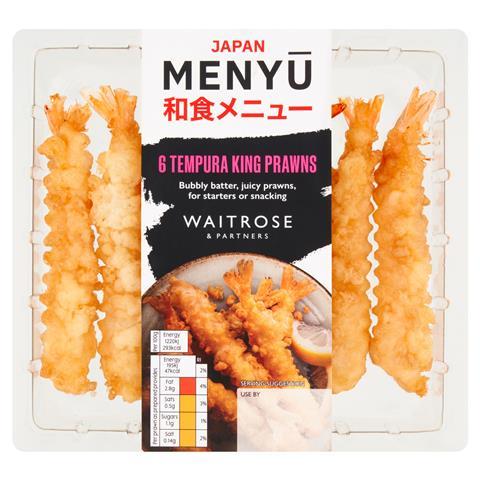 £3.50//96g
Tail-on king prawns in a tempura batter.
Cauliflower Tempura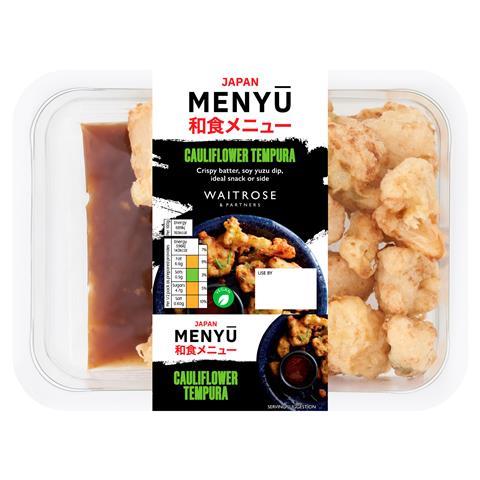 £3.40/180g
Cauliflower florets coated in crispy batter, with spring onions and a soy yuzu dip.
No Chicken Drumsticks
£3.75/170g
Tender jackfruit drumsticks coated in a crunchy panko crumb, served with a spicy soy glaze.
Mushroom Gyoza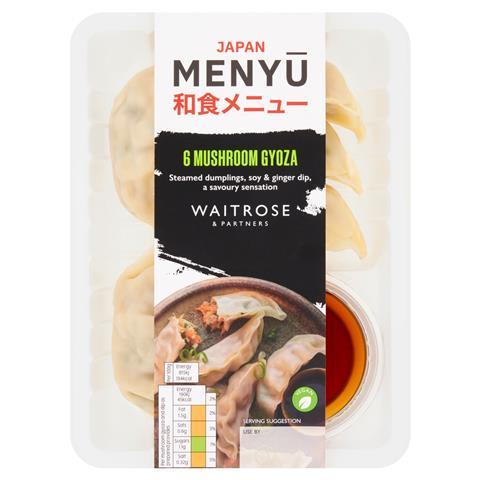 £3.75/140g
Steamed pastry parcels with oyster mushrooms, vegetable filling and a soy, ginger and lime dip.
Prawn Gyoza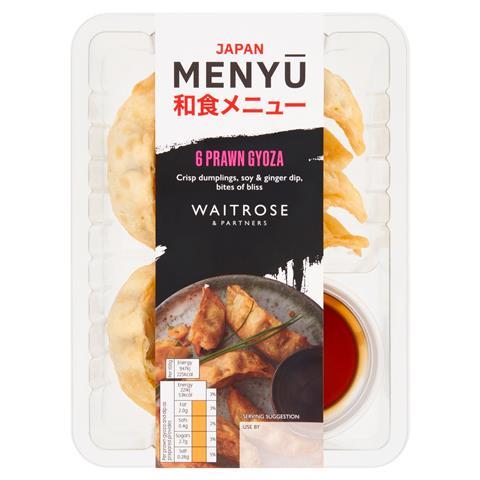 £4/140g
Fried pastry parcels with a king prawn and vegetable filling and a soy, ginger and lime dip.
Steamed Buns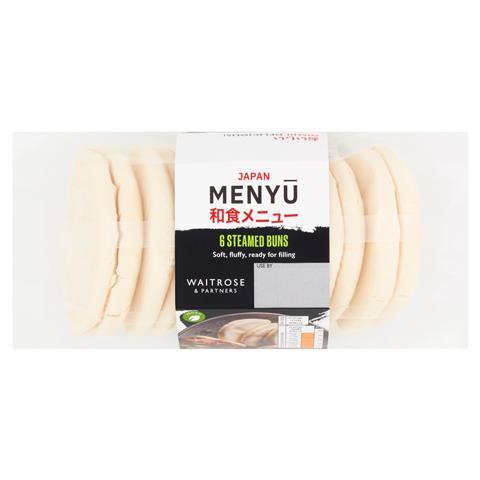 £2.50
Steamed pocket-shaped buns.
Katsu Curry Vegetable Steamed Buns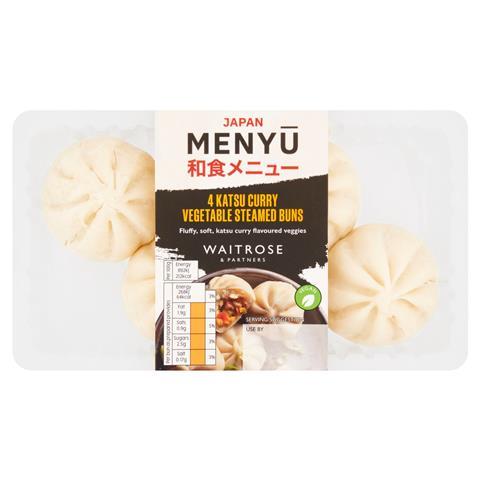 £3/120g
Steamed buns with a katsu curry-flavoured vegetable filling.
Shredded Cabbage & Edamame Slaw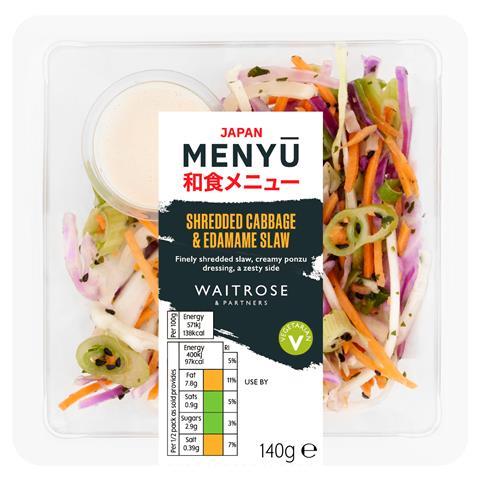 £2.50/140g
Finely-cut pink and white cabbage with coriander, carrot, edamame beans, salad onions and black onion seeds, with a creamy ponzu dressing.
Dip selection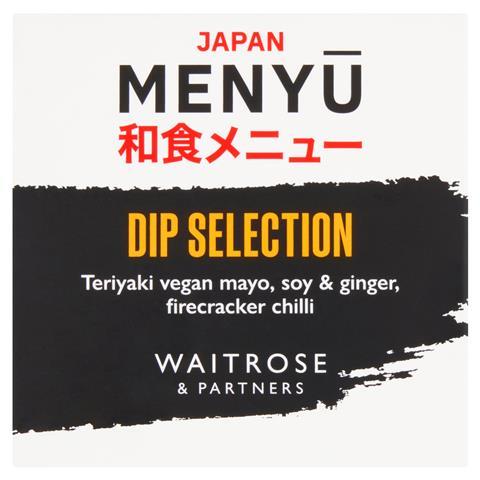 £2/90g
Selection of dips: teriyaki vegan mayo with soya and mustard; soya, ginger and lime; tomato and chilli firecracker.
Tenderstem, Sugar Snaps & Greens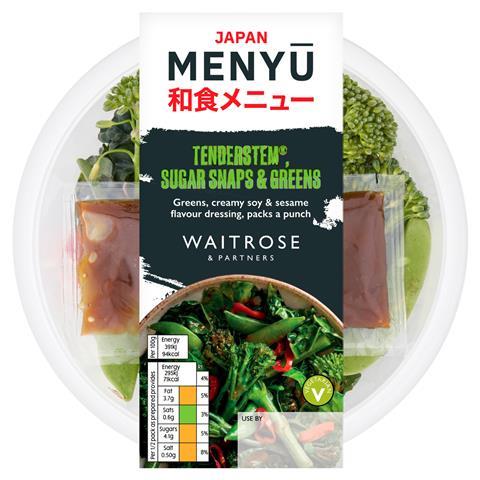 £4.50/165g
Tenderstem broccoli, sugar snap peas, cavolo nero kale and spring greens with a miso and soy dressing sachet.
Edamame Beans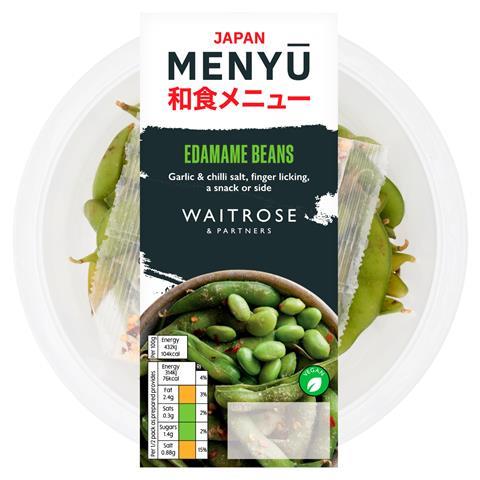 £3.50/200g
A staple side served with sushi: whole edamame beans with garlic and chilli salt.
Steamed Rice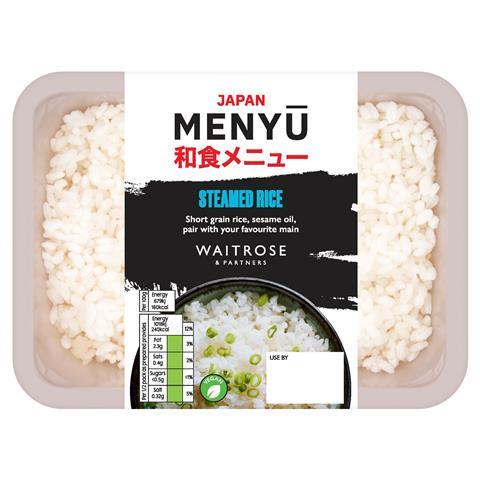 £2.30/300g
No Japanese meal is complete without steamed rice. This option is seasoned with toasted sesame seed oil.