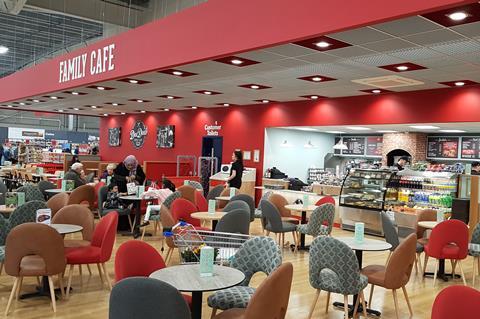 The Range has begun selling cooked Iceland ready meals at its in-store café to encourage sales at its frozen food shop under the same roof.

The home and garden chain has introduced Iceland Luxury frozen ready meals to the café menu at its Paignton branch in Devon, which is around the 30th Range to get an in-store Iceland.

Iceland ready meals on the menu include pizzas and lasagne. The same meals can be found in a freezer in the café itself, so shoppers who like what they've tried can add it to their trolley straight away.

"We are really excited about this new concept and you can now actually try before you buy," said The Range owner and founder Chris Dawson. "With the Brexit deal still looming I suggest you stock up on frozen food quick."

He added: "It is new ideas like this that keep the business fresh and moving forward, and our customers will love it."

In-store Icelands were first introduced to The Range last summer, in a "strategic alliance" between the two retailers. Iceland gets around 3,000 sq ft in each branch, offering its complete food range.

In February this year it was announced the move was to be rolled out across The Range's estate of around 170 stores.

The chain favours out-of-town locations and sells around 65,000 products - not including Iceland's - in separate departments such as homewares, furniture, DIY and garden.

It's a growing competitor for B&M, which is also increasingly exploring frozen following its acquisition of Heron Foods in 2017. As well as converting Heron Foods branches to the new 'B&M Express' banner, the variety discounter launched frozen ranges in a handful of its own larger stores last year. The measure could be rolled out soon, following the opening of a one million sq ft multi-temperature B&M warehouse in Bedford.

B&M CEO Simon Arora told The Grocer in August the decision would be based on "the financial performance of each category, be that DIY, homewares, indoor furniture, versus frozen foods".