Luxury retailer Harvey Nichols is set to elevate festive celebrations and gifting with the launch of its Christmas 2023 food range.
With dulce de leche biscuits, spiced preserves and honey, cognac butter, Christmas puddings, and chocolate gifting, this range goes all out on opulence.
Harvey Nichols is bringing back its festive hamper range, featuring an array of artisanal products. Scroll down to check out the difference between the 'Festive Fancies' hamper priced at £60 to the enormous 'Christmas Cheer' hamper costing £1250
Harvey Nichols has gone all in on its blue and pink colour scheme, which you will see on all its own label Christmas food packaging, with motifs of baubles.
"We've designed our new packaging to be beautifully bold and distinctive, ensuring we're offering a range of luxurious, indulgent festive gifts to help get Christmas celebrations underway," says the retailer's food & hospitality director Lucy Menendez.
Alcohol & Gluten Free Christmas Pudding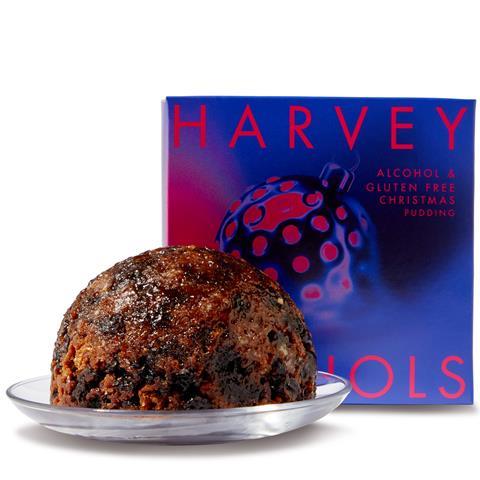 £12/454g
This Christmas pud for those with dietary restrictions is packed with raisins, orange and lemon peels, glacé cherries, pecans and almonds, but without the addition of alcohol, dairy or gluten.
Luxury Chocolate Coated Medjool Dates Selection Box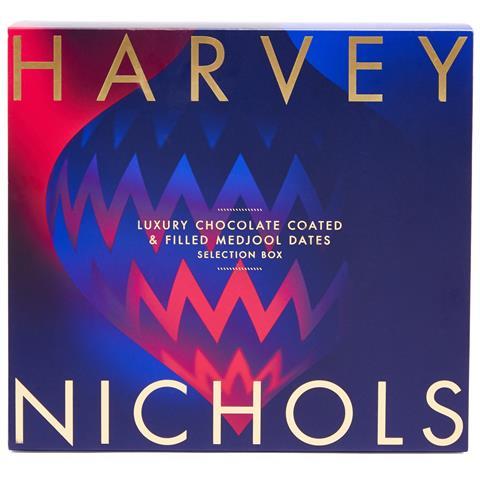 £80/2.3kg - 70 pieces
A hand-decorated collection of medjool dates from Jordan, dipped in white, milk, dark, or ruby chocolate and filled with caramel, coconut, dried apple and raspberry
Assorted Chocolate Batons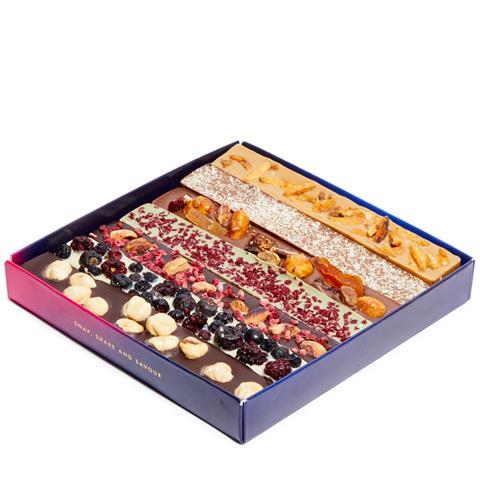 £22.50/315g
Slices of white chocolate with blackcurrants, blackberries, and blueberries; Japanese inspired matcha white chocolate with sour cherries; milk chocolate with tropical toasted coconut; milk chocolate with nuts, figs and candied orange peel; dark chocolate with pistachio and raspberry; and, dark chocolate slices with roasted hazelnuts.
Peppermint Malt Balls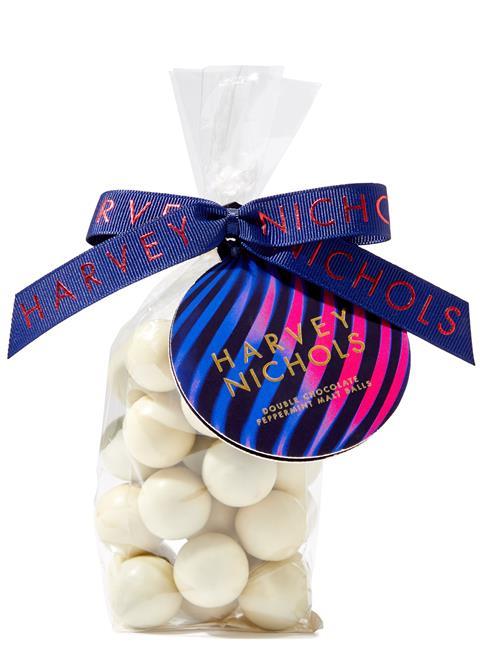 £9.95/150g
Layers of dark and white chocolate wrapped around a crunchy malt centre, infused with peppermint.
Caramelised Blonde Chocolate Cinnamon Hazelnuts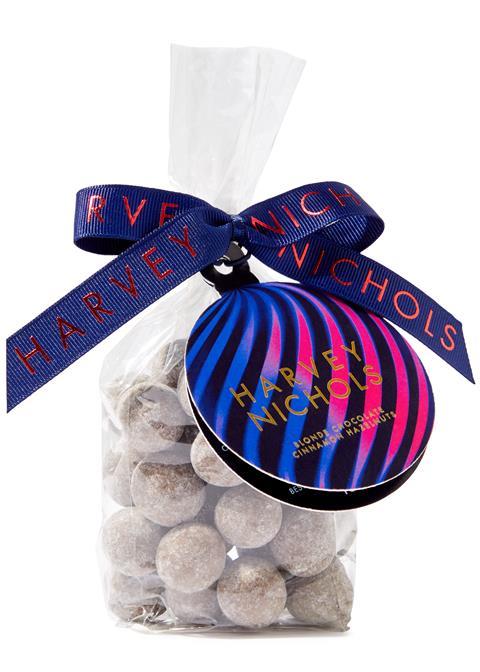 £9.95/150g
Crunchy, roasted and caramelised hazelnuts, in creamy blonde chocolate and infused with a subtle hint of cinnamon and dusting of icing sugar.
Dulce de Leche Biscuits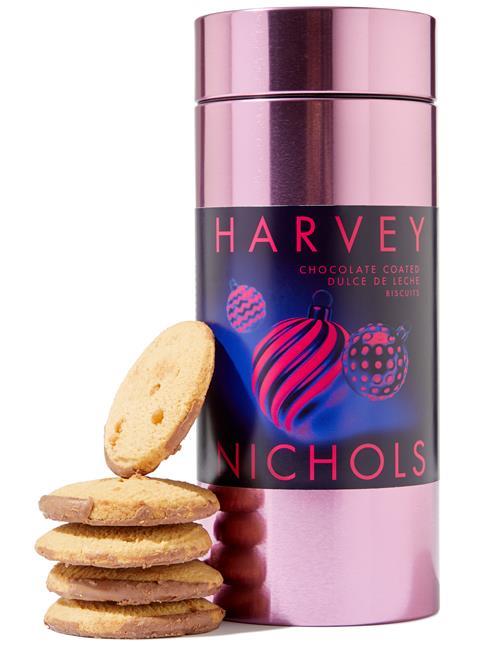 £12.95/200g
Smooth, rich and creamy half enrobed milk chocolate biscuit with the sweetness of dulce de leche. Studded with toffee pieces.
Italian Biscuit Selection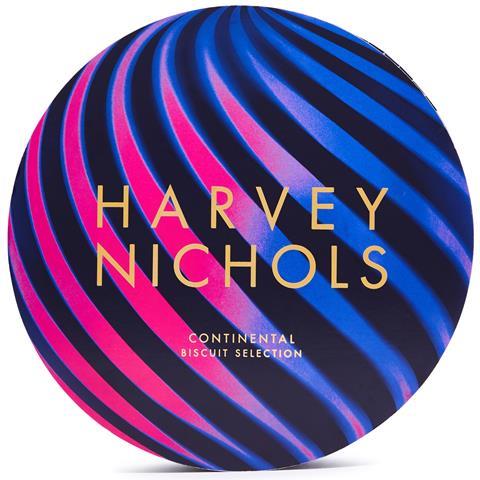 £28/560g
Italian biscuit assortment: Amaretti, fiery ginger and ripe orange, both with rich dark chocolate, crunchy Amaretti Croccanti, a pair of Baci di Dama, hazelnut and zesty lemon and Dolcetti con Crema Pistacchio.
Zambian Forest Honey with Nuts, Cranberries and Stem Ginger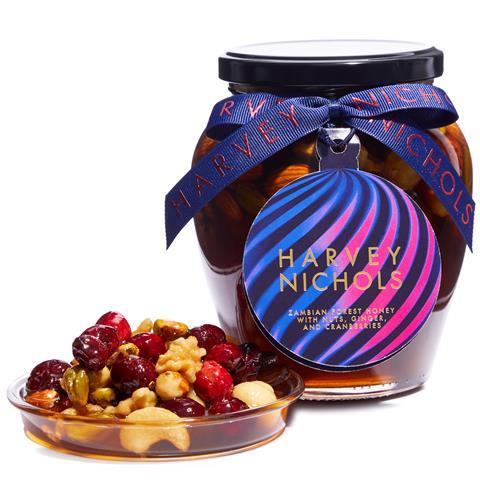 £24/870g
A treacly honey with Zambian forest flora, nectar produced by wild bees in traditional treetop bark hives. Combined with ginger, mixed nuts and plump cranberries, the retailer says it is the perfect partner to cheese or drizzled over yoghurt.
Clementine & Thyme Marmalade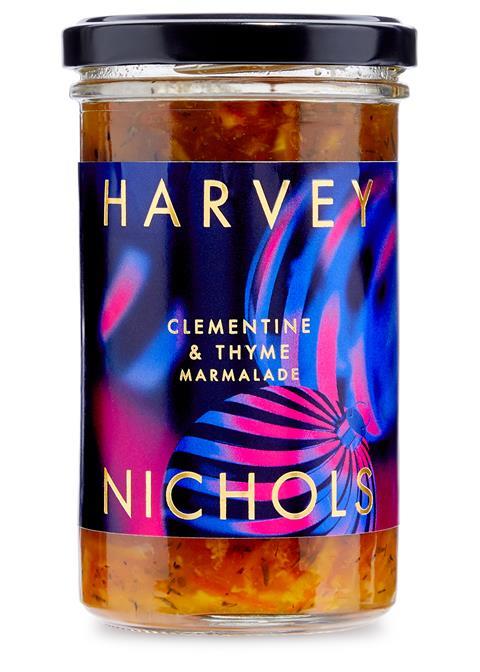 £5.95/325g
Thyme and clementine marmalade. Spread on a charcuterie plate or spread thickly on hot buttered toast or croissants.
Brandy Butter with V.S.O.P Cognac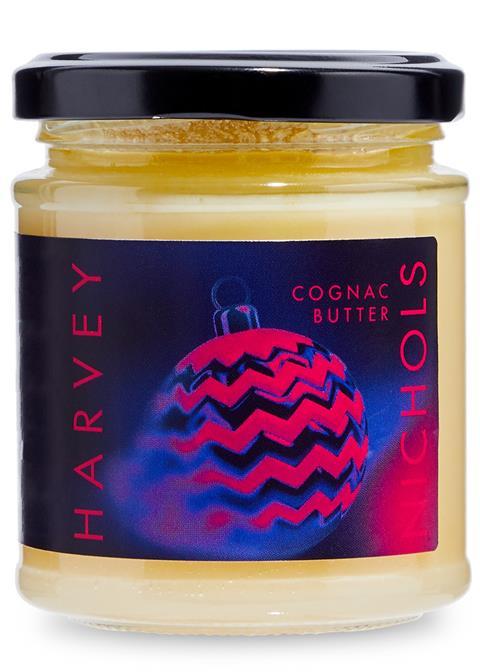 £6.95/210g
Butter infused with 9% Harvey Nichols x Hine V.S.O.P. Pair with a Christmas pudding or warm mince pies.
Olives Sundried Tomato, Rosemary & Garlic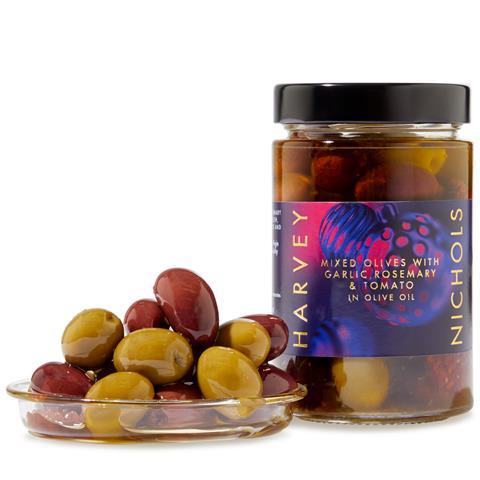 £8.95
Whole mixed olives in extra virgin olive oil with rosemary, garlic, and sundried tomato.
Festive Fancies Hamper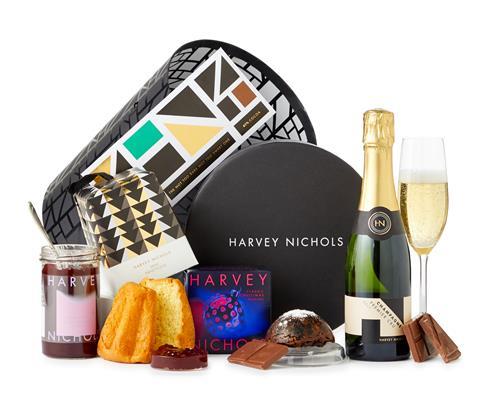 £60
"Small but mighty," says Harvey Nichols. Its entry level hamper comes with with champagne, panettone, Christmas pudding, a bar of chocolate and strawberry & champagne preserve.
Winter Warmers Hamper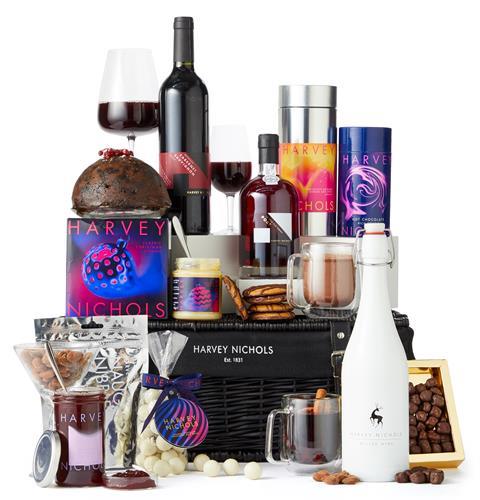 £150
Nothing says Christmas like booze in chocolate and chocolate on fruit. This hamper contains port, smooth wine and mulled wine paired with classic pudding, boozy cognac butter and chocolate cherries.
Christmas Greetings from Italy Hamper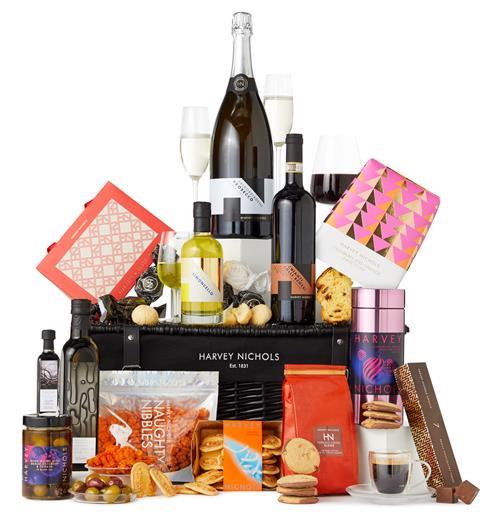 £175
The retailer suggests an "escape to the Italian hills" with this hamper, filled with a selection of Italian prosecco, crisp wine, and a traditional panettone.
A Very Harvey Nichols Christmas Hamper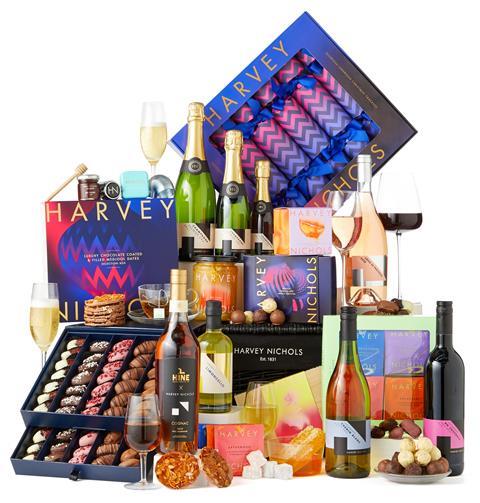 £475
A collection of traditional Harvey Nichols festive food, such as chocolate sekections and truffles, as well as luxury crackers, champagne and gold label wines.
Christmas Cheer Hamper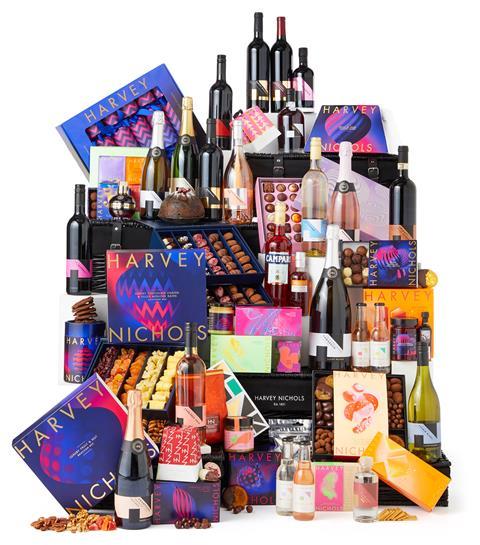 £1250
This is sure to keep you going into 2024, at least. Harvey Nichols says this hamper is "for the ultimate host", and includes a veritable wine cellar's worth of drinks from a host of well known brands like Campari, as well as high end vinyards. It also features plenty of its own label nibbles to last you through the entire festive season.