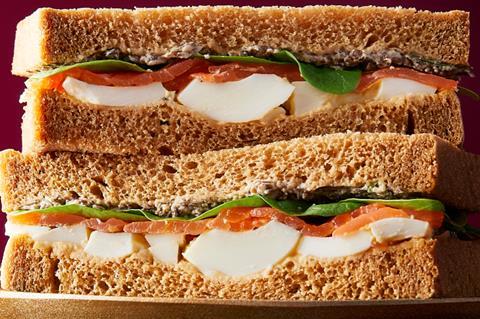 Waitrose has hiked the price of its entire range of Essential value sandwiches.
The upmarket retailer has added 15p to the cost of its Essential Cheese & Onion, Egg Mayo, Roast Chicken & Mayo, Smoked Ham and Tuna Mayo sandwiches.
The rise means the sandwiches, previously £1.40, now cost £1.55 – just under an 11% increase [Assosia 8 w/e 7 March 2022].
No other prices across the rest of its on-the-go sandwich range have changed in the last eight weeks.
The retailer was "working hard with our suppliers to ensure our sandwiches are really good value", a spokeswoman told The Grocer. "Our Essential Waitrose range still provides our customers with great quality at affordable prices."
The news makes Waitrose' sandwiches the latest in a long line of goods getting pricier over past months, with grocery price inflation hitting a nine-year high in February, of 4.3% – the highest level since 2013.