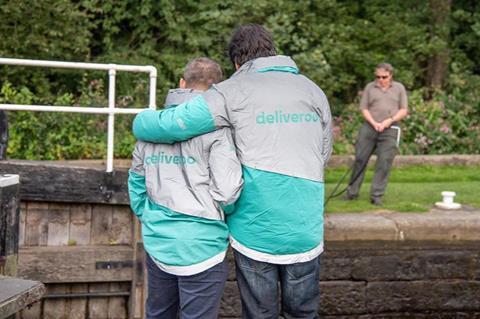 Deliveroo has established a fund to support riders that contract Covid-19 or are told by doctors to isolate themselves.
It will pay out to impacted delivery riders in excess of the equivalent of UK statutory sick pay for up to 14 days.
The firm has issued couriers guidelines on how to keep safe during the coronavirus outbreak, based on official government advice. Riders have been told to regularly wash their hands and thermal delivery bags, and not to log in to accept orders if they feel unwell.
Deliveroo has also ordered hand sanitiser for riders to use while on the road.
"Riders' safety is a priority and we want to make sure those who are impacted by this unprecedented virus and cannot work are supported," a spokeswoman said.
"We will continue to explore other ways in which riders can be supported," she added.
The multimillion-pound support fund will be used to pay affected riders across all regions where Deliveroo operates.
The company has called on the UK government to convene a meeting with rival food delivery firms to support those riders that deliver orders from multiple platforms.
Deliveroo has also said it is exploring no-contact delivery options – where food is left on a doorstep or safe place.
Uber Eats in the US said yesterday it had introduced the option. Uber US said it would "suspend the accounts of riders or drivers confirmed to have contracted or been exposed to Covid-19" and provide them financial assistance for up to 14 days.
"We've already helped drivers in some affected areas, and we're working to quickly implement this worldwide," the company said.
Central London food delivery startup Supper said in a message to customers on Monday that it was briefing drivers on hygiene and disinfecting all equipment daily, with a weekly deep clean "to maintain the upmost cleanliness, which is paramount at this time".
Ordering takeaways and groceries online is proving popular as coronavirus spreads. Supper said it had noticed "higher than average numbers of customers ordering in". Barclaycard consumer spending data released last month showed takeaway expenditure grew 8.7% compared to February 2019.