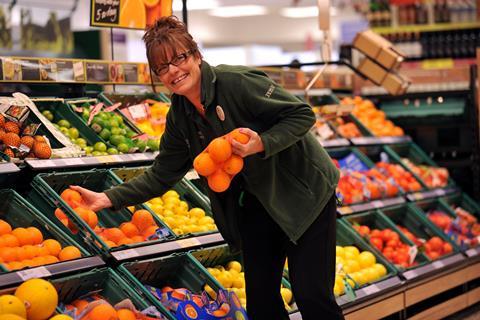 Tesco to give staff 10% pay rise to recognise their efforts

The rise is backdated to Monday 9 March

Tesco has recently rationed products per customer and culled promotions to help maintain stock levels
Tesco is giving its workers a 10% pay rise as they face up to "unprecedented" demand on the front line of the outbreak.

The supermarket giant said the boost was to recognise their efforts so far and the task that lay ahead, as Tesco staff worked "round the clock" amid continued bulk buying by shoppers.

The hike applies to the hourly rate for colleagues across its stores, distribution centres and customer engagement centres.

For front line salaried managers, it means a 10% bonus on actual hours worked.

The rise is backdated to Monday 9 March, and all permanent colleagues currently in work with Tesco will receive the increased hourly pay rate until 1 May, when the situation is to be reviewed.

"It's been an extraordinary couple of weeks and despite the enormous challenges, it's been incredible to see how colleagues have stepped up and responded, doing an outstanding job during this uncertain and difficult time," said Tesco's UK & ROI CEO Jason Tarry.

"This pay bonus is just one way we are saying thank you to our colleagues and recognising that they are on the front line, helping to feed the nation.

"Colleagues across Tesco in both ROI and Central Europe will be similarly rewarded, with announcements being made locally."

The move comes after Tesco CEO Dave Lewis appealed for shoppers to stop panic-buying and said it was making huge efforts to adjust to the crisis, including rationing of all food products to three items per person and a cull on most promotions.
Read more

Along with other supermarkets, Tesco is also slashing its range to concentrate on core lines, including removing single pints of milk in favour of larger pack sizes.

"We've introduced restrictions that the majority think is fair," said Lewis. "Where pressure is particularly high, we're simplifying our range to get more of the most popular products on shelves."

In an appeal to shoppers, he said: "Maybe at the end of each aisle ask yourself: 'Next week, do I need everything in my trolley or basket?'

"If the answer is 'no', then please consider putting some things back on shelves. If all of us do just a bit of that, then every little will help."

Usdaw welcomed Tesco's move to increase staff pay.

General secretary Paddy Lillis said: "Usdaw members working in supermarkets, distribution, home delivery, pharmacies, food and drug manufacturing and funeral workers are delivering essential services to help communities through the coronavirus emergency. They all deserve our appreciation and support through these difficult times.

"So, we very much welcome Tesco leading the way by providing this bonus. Staff are working long hours in busy stores, putting themselves at risk from customer abuse and of course increasing their potential exposure to the virus and contracting Covid-19.

"In these difficult circumstances it is absolutely right that retailers recognise their staff are going more than the extra mile. We hope other companies follow suit and that customers treat shopworkers with the respect they thoroughly deserve."