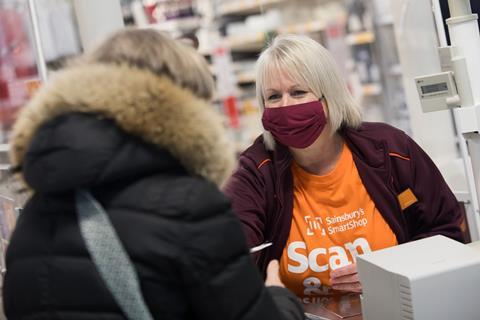 Sainsbury's is raising its basic hourly pay rate for all store colleagues to £10 an hour.
The retailer is upping all Sainsbury's and Argos store colleagues' wages from £9.50 "in recognition of the extraordinary work they do for customers".
Staff working in inner London will see their pay increase from £10.10 to £11.05, while those in outer London will see their basic rate of pay go up from £9.75 to £10.50.
"We are making this significant investment to show our colleagues how much we value the brilliant job they do for our customers every day," said CEO Simon Roberts.
"It also reflects the significant progress we are making against our plan and to save money we can invest in lower prices, offer fantastic colleague service and make shopping convenient for customers.
"We have also listened to our colleagues and are enhancing our colleague discount scheme to help them plan their grocery spend and manage their shopping budgets better, which could save colleagues hundreds of pounds a year."
Additionally, Sainsbury's drivers will also receive additional increased rates as a way to retain employees for longer and tackle the labour crisis.
Following the changes, Groceries Online drivers will get £11.50 per hour, with a basic rate of £10 per hour plus an extra £1.50 per hour.
And Argos Fast Track Delivery drivers will receive £11 per hour based on a base rate of £10 per hour plus an extra £1 – up from 75p.
The new wages will come into effect from 6 March, with the first payday being 8 April.
The move represents a £100m investment from the grocer, which has risen hourly colleague pay by 25% over the past five years.
Chief secretary to the Treasury, Simon Clarke MP, said: "The government is on the side of working people – which is why we're increasing the national living wage in April, giving a full-time worker an extra £1,000 a year.
"Our Plan for Jobs will continue to ensure hard work pays and I fully welcome Sainsbury's decision to invest in its staff and give them a well-deserved pay boost."
The announcement follows Aldi's decision to raise minimum hourly pay for store staff from £11.07 to £11.55 within the M25 and from £9.55 to £10.10 elsewhere in the country from 1 February.