Working in your pyjamas isn't quite the dream it seemed pre-Covid. Salaries in sales, marketing and NPD have remained stagnant while teams work longer hours, finds the latest industry survey
Turning up to a sales meeting wearing pyjama bottoms used to be the stuff of anxiety dreams. In the era of Covid, it's a dream come true, at least in principle, with the promise of better work-life balance, no commute of course, and a suite of new tools and technologies to make contact with clients and colleagues easy.
The reality is proving rather different. If you're lucky enough to still have a job, the blurring of work and home life has resulted in teams working longer hours – especially as headcounts have dwindled. "The clock in and clock out scenario has gone," says Steve Simmance, founder of fmcg recruitment specialist The Simmance Partnership. "People are starting at 8am and finishing at 7pm, and will be saying 'you can't still pay me the same wage'."
Yet that's exactly what's happening as employers look to deliver more with less. The Simmance Partnership's latest salary guide, which analysed sales, marketing and NPD pay packages across 18 roles at over 300 fmcg organisations, paints a picture of stagnation. Across the nine key sales roles, pay went up by just 3.9% from 2017 to 2020, according to its Sales & Marketing Salary Guide 2021. That's well below the 7% rate of inflation as calculated by the ONS. In some roles, pay has actually fallen.
So who's earning what? Is anyone doing well? And what other longer term employment trends are at play?
The concept of extracting more from less is nothing new. A similar picture emerged when The Simmance Partnership looked at salaries back in 2017. The pandemic has simply added an extra dimension.
"Previously it was about getting more value by reducing labour costs. So getting more output by paying less money because you're buying less experience," says Simmance. Today, headcounts are falling at the same time. "There has been a massive swathe of change that has gone on over the past 12 months," he adds. "Most organisations do not want to be seen to be making redundancies during a pandemic but there has definitely been shrinkage going on."
"You think you can probably get a bit more time back in the evenings because you're not travelling, but probably I log off some days later than I would leave the office"
Some of the big names in fmcg are reviewing their structures and headcounts, he says – especially if they have been exposed to the gruelling losses seen in the hospitality sector. The Coca-Cola Company, for example, announced global job cuts last year. Heineken similarly unveiled a 'streamlining' process.
And for those who haven't been affected by job cuts the result is often to work harder. That's partly because, in grocery, "the teams are smaller but the workload is if anything greater due to extra sales," says one national account manager, who wishes to remain anonymous. A marketing graduate adds: "It's harder to switch off when you're already at home. You think you can probably get a bit more time back in the evenings because you're not travelling, but probably I log off some days later than I would leave the office."
It's a point echoed by Benjamin Smith, channel manager for e-commerce and private sector at Performance Health. During his career, he has been used to an element of home working, which used to offer a respite from meetings. Covid has changed all that.
"The big challenge I've found is the demands on your time," he says. "Previously when working from home, you were normally left to it. However, because everyone went online and started using video rather than telephone calls, the diary filled up a lot quicker."
'Lucky to be in a role'
At the same time, asking for a pay rise to reflect these new demands can feel almost insensitive. Smith has only just started a new role but, if he was in the market for a pay rise, he would feel uncomfortable. Covid has essentially changed the mentality of the workforce. "It's not necessarily explicitly mentioned but there's been a consensus that one is lucky to be in a role, rather than being furloughed or in a position where your role is at risk," he says.
The marketing graduate is similarly new to her role, but would feel the same reticence even if she warranted a salary increase. "I think it would be a tricky conversation to have, especially as people are still on furlough or companies are making redundancies," she says.
Simmance believes this lies at the crux of the stagnation uncovered in his company's latest research. In some cases, employees are taking on almost double their previous workload, as two roles have been merged into one amid Covid cutbacks. Even then, there is a sense that employees "treat it almost as a privilege" to be working.
Granted, some areas of the market have suffered more than others. While the average pay of a sales director, for example, has actually fallen over the past three years as top salespeople battle with the dual pressures of coronavirus and a surplus of senior talent, the average salary of a trade marketing manager has grown by a substantial 18.8%, as teams are reduced in size and companies place more importance on the skill of the individual.
Still, regardless of role, Simmance believes most employees feel in a weak negotiating position. "I can't imagine any employee being courageous enough to ask for a pay rise beyond inflation," he says. "We're underpaying our workforce anyway so it's unfair. But how can employees ask for a pay rise in a Covid environment, when everyone is being told it's tough out there?"
It's not tough for all though. Freixenet Copestick, for example, has reaped the rewards of its strong presence in the off-trade. The resulting growth in revenue meant it was able to make salaries "slightly higher", says MD Damian Clarke, and to stay ahead of inflation. Similarly Mizkan Euro has offered salary increases for head office and factory staff as part of the annual pay review process, says its sales and marketing director Bryan Carroll.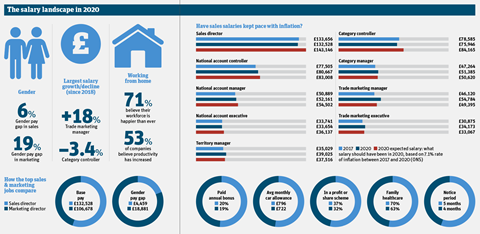 Employee wellbeing
But even the most successful companies are aware of the relentlessly tough economic environment. So rather than focusing on base pay, they have instead sought to motivate and reward teams with employee wellbeing programmes and other so-called 'soft' benefits.
Some of these are simple steps. Take Mizkan, which is encouraging employees to maintain a work-life balance, rather than racking up lots of extra hours at home. "Managers are trying to monitor and intervene by prioritising workloads to ensure people are not working longer hours on a sustained basis," says Carroll.
"One of the bigger issues is not so much the total length of day, but the intensity of it," he adds. "Being sat on close-up screens for much more of the day is exhausting and makes you feel like the day is longer. This is something all employers have a duty of care to watch and help support teams with managing."
Steve Kearns, MD of Cawston Press, has taken a similar approach at his business. "One of the things we actively promote is people getting away from the screen, and I sent out information with little hints and tips and advice on what has worked for me in lockdown," he explains. "One of the things I do is, rather than having a conversation on Teams, I'll go for a walk and talk away from my desk. It helps me think, and gives me a bit of exercise and fresh air."
Like Carroll, he is discouraging the team from working longer hours than they would at the office. "I hope they are taking my advice and putting the pen down and turning the computer off so they don't get that time creep," he says.
"I think that's counterproductive because you get a tired and weary team rather than one that is invigorated. And I hope they are using the extra time they have because they don't have to commute for good – doing exercise or reading a book, rather than working more."
That wellbeing element is particularly important for teams that have suffered a difficult year. Cawston Press knows this all too well, having been one of the many fmcg businesses forced to make redundancies due to the impact of Covid-19.
For that reason, Kearns felt it would have been "somewhat disingenuous" to hand out salary increases to the remaining staff. "It's a difficult balance where you have a situation like that and you have a team you need to look after," he says. "You can't afford to improve salaries when you're going through such a tough period."
So Kearns has instead tried to motivate his team by instilling a feeling of togetherness in the home working environment. A big part of this has been using the expertise of the team to create group sessions.
One employee drew on her experience as a yoga instructor to hold a virtual class, for example, while another showed the team how to make mince pies. The company has also laid on some perks, such as sending out craft beer samples to employees for a virtual Oktoberfest event, and cocktail ingredients for a mixology class. It has "all added up to make a really nice environment", says Kearns.
These more informal 'soft' benefits have taken on a new importance in the pandemic, according to The Simmance Partnership's report. "Added sweeteners that have kept staff satisfied in their job may now include having broadband paid for, a monthly hamper of home comforts, health and wellbeing products and edible goodies delivered to their door," it says. Essentially, one-off benefits that don't cost much for the employer but can make a big difference to employees.
The more formal 'soft' benefits – those that are written into the employee package – have also remained crucial during this period. As The Simmance Partnership's research shows, there are a broad array of perks on offer. Nearly half of large companies allow employees to buy extra days of holiday, and 53% offer a mental and physical health support programme. That's slightly less common among smaller companies, of which 43% offer a similar programme.
Flexible working
But the smaller operations have taken the lead in one key area: flexibility. Prior to the Covid-19 outbreak, 61% of companies with a turnover of less than £50m offered flexible working as a formal benefit. Only 33% of companies with a turnover of £250m or more offered the same.
That is all changing in the wake of the pandemic. The sudden closure of offices and disruption to the nine-to-five working structure has forced employers to be more flexible – especially as many employees are juggling work with childcare.
In fact, many businesses are actively embracing flexible working as a benefit they can offer employees at a stressful time. Freixenet is one of these. "Many are juggling multiple things at once so flexibility is one thing employees have wanted and needed," says Clarke.
In some cases, this ability to stray away from the established nine-to-five structure has outweighed the downsides of home working, says Mizkan's Carroll. "In many cases the working day is longer, but many of my team have also expressed that they enjoy the flexibility to build their working days around personal commitments," he says.
The lack of travel has emerged as another key benefit. "The home-based sales team has shared they are happy to have fewer long days travelling to the office or customers across Europe, and the marketing team has not missed over an hour on a crowded Tube each day," Carroll adds.
Even once Covid restrictions disappear, employees are unlikely to go back to the daily grind. Most employers anticipate moving towards a hybrid model in which they spend part of the week in the office, and part of the week at home. Many sales teams were already working this way before Covid – but this time, how they split their week will largely be their decision, rather than their employer's.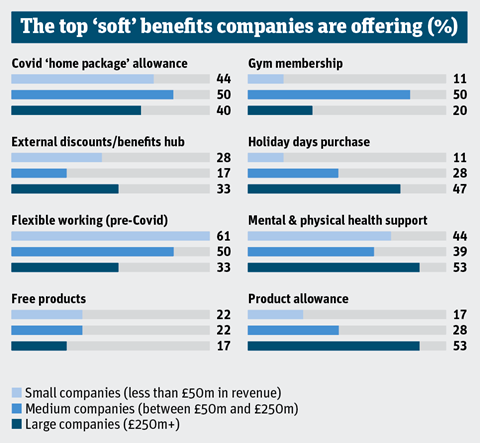 Employee preferences
Take Mizkan, which is currently consulting with employees on what they want the workplace to look like in future. "We are certainly unlikely to go back to the way things were," says Carroll. "I think there will be a role for the office, just probably not as often. Like most other businesses, we need to define the purpose of the office, and the purpose of the home office. This will then drive the frequency of home versus office working."
Freixenet is taking a similarly open approach. Clarke says it's all about employees getting the most out of their time, wherever that may be.
"I still attach value to time in the office for professional interaction," he explains. "Thinking about new employees who've just left university, I know their line managers will be working hard to make sure they are getting all the learning and development they can, but I think they will be missing something from seeing how another head of sales does it, for example, and the ability to pick things up from being in that office environment.
"So there's definitely a balance between the ability to get your head down and get work done at home, versus the value that comes from the interaction of the office," he adds. And he'll rely on employees to do what is right for them. "I don't think there's ever been an issue of trust for us – it's about what's most efficient and effective for the business."
As companies seek to strike the right balance, there will also be an element of catering for individual preferences. While some employees may want to return to the office full time, others would prefer to work from home with very little time in the office.
Employers should be ready to meet either need, says Alex Christen, employment associate at Capital Law. "The old school 'nine-to-five, Monday to Friday in the office' culture has to change," she says.
Staff have demonstrated they are just as, if not more, productive at home, she points out. "So when we're able to go back to the office, if someone wants to work from home, it's going to be hard to rely on the statutory reasons for refusing that request. If it worked really well for a year, what's changed?"
Businesses could argue that this flexibility is yet another staff benefit. Indeed, many of the employers who spoke to The Grocer highlighted that staff are no longer spending hefty amounts of money on commuting – a particularly pertinent point for those who have to make their way into central London offices – or wasting time on travel.
But Simmance stresses that this shouldn't be an excuse for keeping salaries stagnant in the year ahead. "We don't want people saying, 'You don't need to ask for more money because you don't commute every day.' That's not the answer and that's not acceptable."
"If someone wants to work from home, it's going to be hard to rely on the statutory reasons for refusing that request"
Even before the pandemic, he has seen employers use benefits to justify a lack of movement in base pay. That has resulted in a "stealth-like" reduction in spend on the workforce, Simmance says.
"Employers are spending more on benefits probably to distract candidates from asking for higher base salary," he says. "Most benefits tend to be variable – for example, a bonus only pays out if the company performs well. Gym memberships relatively speaking have no material impact on a P&L. Giving out free bananas at reception or allowing staff to bring their dogs to work doesn't really cost them anything."
So for him, working from home shouldn't deter employees from asking for a pay rise. In fact, he believes there is a case for extra pay, in the form of a working from home allowance. A large proportion of the companies in his survey – 40% of large organisations and 50% of medium-sized organisations – have given out some form of Covid home package allowance, to recognise that employees have had to spend money on equipment and basics such as heating.
For him, that could be taken one step further. "I know of one particular organisation that has made an extraordinary payment called a Covid bonus. It made a generous offer to its workforce of £312 per person for 4,000 people," he says.
That was simply down to the costs they saved from the new working environment. "Expenses are at an all-time low, and no one is in the office," he explains. "When you imagine all these offices are now standing empty, you don't have that fuel that needs to be expended, and there has to be some form of benefit from the employer to say thank you."
Implementing that kind of scheme in the long term could be tricky, as some employees opt to work from home and others don't. There are potential legal pitfalls, says Christen of Capital Law. "People might not see the correlation, that if you work from home you get an allowance you don't get if you come into the office. You could get discrimination arguments," she warns.
Plus, she can see "both sides" of the argument. While employees may argue they are saving the company money by working from home, it is likely that most businesses will reopen their offices when the Covid restrictions are eased. And even if fewer people are there, that still comes with its own running costs.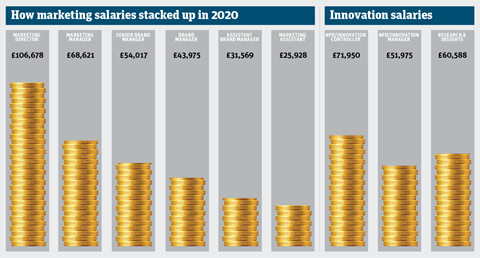 An open culture
Either way, the pandemic has certainly opened up a new way of working and thinking about salaries. Christen believes employers will have to talk more honestly about pay in the wake of Covid-19.
"There's got to be more transparency and engagement with staff so they're on board and understand that if they're not just getting a pay rise, it's not because the company doesn't want to, but because they don't have the funds," she says. "It's a different landscape and I think employers are not afraid of being honest with their staff and saying: 'We can't give you a pay rise this year, but we want to in years to come.'"
This new openness will go hand in hand with a more caring approach towards employees, Christen believes. Mental health has taken centre stage amid the stresses and strains of Covid, and she sees it becoming an even more crucial part of the employee benefits package in the longer term. "Staff could be burned out or feeling isolated, or feeling removed from the company," she says. "So there are a lot of mental health issues bubbling away that are coming to the fore now.
"Employers should be ready for that and ready to support their employees through occupational health, employee assistance programmes, and mental health first aiders," Christen adds.
"I think that will be important going forward. Lots of companies are already doing that, but it needs to become more of a focus alongside other benefits like being transparent and engaged with staff and explaining pay decisions."
Indeed, Freixenet's Clarke believes wellness as a whole will become more important in the aftermath of a global pandemic. "Common sense would say, given that we've been through a health scare, wellness benefits like health insurance or the confidential access to counselling we've put in place are likely to become more important," he explains.
It's a view that is backed by The Simmance Partnership's research, which has already seen health-related benefits grow in importance. "Be it face-to-face counselling, group exercise, yoga classes, or 24/7 GP services, employers are doing more than ever before to ensure their employees are physically and mentally fit for work," it says.
Simmance sees this as a positive move, but he stresses that it must not detract from the core wish that unites the workforce. That is perhaps the most important, yet most elusive, one of all: "To be paid a fair wage for a fair day's work." Because long working hours are long working hours – even if they are completed in pyjama bottoms.

Emma Weinbren is managing editor at The Grocer. As second-in-command to the editor, Emma is responsible for the day-to-day running of The Grocer in print and leads The Grocer's features desk.

Emma won the PPA New Talent Award for New Section Editor of the Year in 2016. Prior to joining The Grocer in 2016, Emma was deputy and features editor at Chemist+Druggist, a weekly magazine and website for UK pharmacists.

Follow Emma on Twitter: @EmmaWeinbren