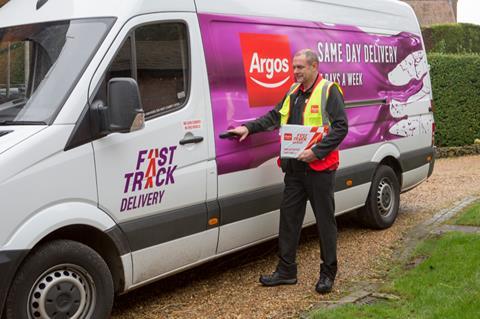 UPS drivers at an Argos distribution centre in Staffordshire have voted to strike for more than two weeks during the Christmas period over a pay dispute.

HGV and shunter drivers at Argos' Barton facility - which ships electrical items to regional DCs for delivery to stores - are to commence 15 days of strikes on 17 December.

Their union Unite said the more than 50 UPS drivers had been "treated with contempt and have had enough" after a pay claim was "continually disregarded".

The union said Argos "spent months" saying the drivers' pay claim could not be lodged since they were midway through a previously agreed two-year pay deal, but later acknowledged the claim was valid. Unite said it has had no engagement from the company apart from an offer of a voucher scheme.

"Our members do not want to cause disruption for Argos customers over the Christmas period, but they have been left with no choice but to strike," said Unite regional officer for the West Midlands, Rick Coyle.
"The treatment of these Barton workers has been disgraceful. The reputations of UPS and Argos are at risk during the peak Christmas period because of this refusal to meaningfully engage with the pay claim," Coyle added.
A spokeswoman for UPS said the company remains hopeful a "mutually satisfactory" agreement can be reached.

"Operational contingency plans will be put in place to minimise disruption for our customers should labour action go ahead," she added.

A spokeswoman for Argos said the matter was between UPS and its employees and that the company "has plans in place to maintain continuity of supply".

Last month, Argos' parent company Sainsbury's was forced to consider ways to "minimise any disruption", it said, after DHL drivers working at its Dartford distribution centre who deliver to Sainsbury's stores in London and the south east also threatened to strike over the Christmas period.

Unite member drivers voted in favour of strike action after asking for a 3.5% pay rise and for their redundancy packages to be brought in line with Sainsbury's drivers working at other locations "who carry out the exact same role" the union said.

A 24-hour strike set to begin on December 6 has since been cancelled following talks mediated by the conciliation service Acas last week. Further strikes beginning on December 13 "will still go ahead if talks fail", the union added.