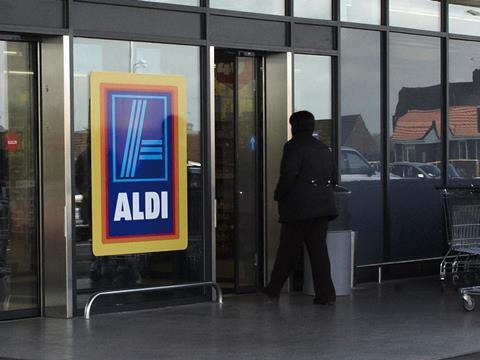 Aldi is to become the highest-paying major supermarket in the UK after announcing a new minimum wage of £8.40 per hour for staff.
The pay rise beats the £8.20 per hour to be paid by rivals Morrisons and Lidl and brings Aldi above the threshold recommended by the Living Wage Foundation.
Staff working in London stores will be paid £9.45 per hour.
"Just as Aldi won't be beaten on the low prices of our products, we are also committed to offering the best pay and benefits in the industry," said Aldi UK & Ireland CEO Matthew Barnes.
"The success of Aldi in the UK and Ireland has been driven by the commitment, hard work and ambition of our employees and we will continue to maintain our leading position on pay."
The new wage comes into effect from 1 February next year and represents an increase of more than 3% for entry-level store assistants at the discounter, and nearly 16% for stock assistants and caretakers.
In the Republic of Ireland, Aldi will raise its minimum hourly rate of pay for all employees to €11.50.
The supermarket has also announced plans to recruit and train more than 600 apprentices over an 18-month period starting January 2016 to support its UK expansion.
"Aldi's bold move demonstrates that paying the Living Wage in retail is achievable; despite other major supermarket chains telling campaigners that higher wages for the lowest paid are simply not possible." said Living Wage Foundation director Sarah Vero.
"We are working with Aldi to encourage them to accredit as a Living Wage employer, which would ensure all directly employed staff as well as sub-contracted staff working on their premises, are paid at least the Living Wage, and in the capital, the higher London Living Wage."
Aldi also confirmed it was on track to achieve its target of 1,000 stores by 2022 with plans to recruit 35,000 more people. It opened its 600th store on 8 October.