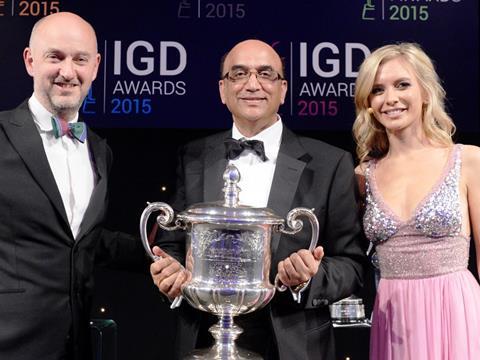 Bestway CEO Zameer Choudrey has won The Grocer Cup at this year's IGD Awards dinner after his assured leadership helped the wholesale giant to increase its profits by almost 50% while pulling off the acquisition of the Co-operative Group's pharmacy business to add to its increasingly diversified stable of operations.
Choudrey fought off strong competition from a shortlist of 10 senior industry leaders including the bosses of Aldi, Lidl, Greggs, Britvic, The Co-op and Müller.
"This award is a real honour for me and for the Bestway Group and was made possible by our excellent performance in 2014, when we recorded an increase in profits of 44.7% to £267m due to the support and dedication of my 34,000 colleagues around the globe and across the various Bestway divisions and I am collecting this award on their behalf," said Choudrey.
"This award also demonstrates the esteem in which Bestway is held and I would like to thank all who have contributed to the Bestway success story and those who took the time to vote for me throughout the selection process," Choudrey added.
The Grocer Cup is voted for by readers of The Grocer.
"Zameer is taking Bestway on a transformational journey, successfully diversifying into new markets, while still having an eye for a deal to boost the core," said Adam Leyland, editor of The Grocer.
"In a sector that has always been a technological backwater, he has also enhanced and modernised its operations with the use of innovative technology.
"And this last year was particularly significant for the acquisition of The Co-op's pharmaceutical business. Zameer secured the deal despite offering a lower price than some of the private equity rivals he was competing against, a tribute to his persuasiveness but also his integrity. This acquisition is a potential gamechanger for Bestway and adds a whole new string to Bestway's bow."