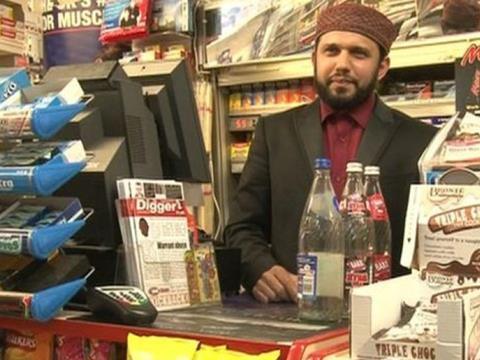 A 32-year-old man has been charged with the murder of Glaswegian shopkeeper Asad Shah.
Tanveer Ahmed from Bradford in Yorkshire is accused of killing the 40-year-old owner of Shah's Newsagents and Convenience Store outside his shop in the south side of Glasgow on Thursday.
Ahmed made no plea at Glasgow Sheriff Court and was remanded in custody.
The incident, which Police Scotland have described as a 'religiously prejudiced attack', left the victim with serious injuries outside his shop on Minard Road, Shawlands.
Shah was then transferred to Queen Elizabeth University Hospital, where he was pronounced dead on arrival.
The incident occurred just hours after Shah posted an Easter message to his customers on his Facebook page.
It read: 'Good Friday and a very happy Easter, especially to my beloved Christian nation x'.
In just four days, over £100,000 has been raised to support the family of the popular shopkeeper.
The GoFundMe page, which was set up by customer Jennifer Bannerman, has attracted donations from more than 5,000 people.
The campaign will go towards funeral expenses, a tribute to his memory and to provide the family with some financial security in the coming months.
The page reads: 'Mr Shah was a popular, well respected and much loved member of our community and his death has devastated many.'
'He was a warm and friendly man and he always went out of his way to make time to talk to you, he was more than just our local shopkeeper. He was a friend to many.'
Another customer, Linda Carlisle, posted: 'I live across the road from Mr Shah's shop and was very saddened to learn of the brutal attack on such a humble, kind, peaceful and loving man.
'When I couldn't open my car door he searched his shop to find the correct battery for my car key. This was the measure of the man. A generous, gentle man who took an interest in and went out of his way for others. RIP Mr Shah.'
NFRN Scottish president David Forbes said he was "shocked and saddened by the death of fellow member Asad Shah".
Chief executive Paul Baxter added: "My thoughts and prayers are with Asad's family and those who knew him as a fantastic friend."