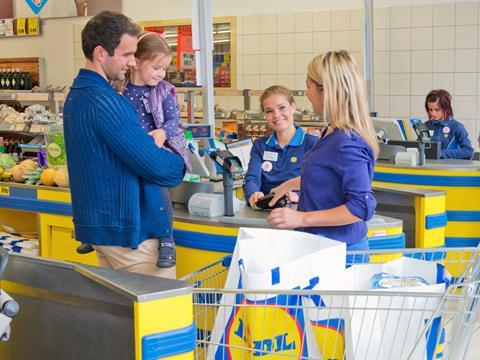 Lidl will become the first British supermarket to pay workers the hourly rate set by the Living Wage Foundation after announcing a pay rise for its 17,000 staff.
From October workers at the discounter's UK stores will be paid a minimum of £8.20 per hour, and £9.35 per hour in London, with an average increase of £1,200 per year. The increase will make Lidl the first of the major grocers to meet the expectations of the Living Wage Foundation, which currently asks companies to pay at least £7.85 per hour and is expected to increase that in November 2015.
Lidl also will begin paying the rate six months before George Osborne's national living wage comes into force, which requires all employers to pay workers a minimum of £7.20 per hour as of April 2016. "We recognise that every employee forms an integral part of team Lidl, and each individual's contribution is valued," said Lidl UK CEO Ronny Gottschlich. "It's therefore only right we show our commitment, in the same way that the team commit to the business and our customers each and every day, by ensuring a wage that supports the cost of living."
The discounter says the pay rise will require a £9m investment and will be applied to workers of all ages, in contrast to the NLW, which is limited to staff 25 and over. They also confirmed the pay rise would have no impact on the number of hours worked by staff.
The announcement makes Lidl the third major supermarket to react following the surprise addition to the government's July budget, after Iceland pushed pay up to the NLW from August, and Sainsbury's announced a 4% rise three weeks ago.