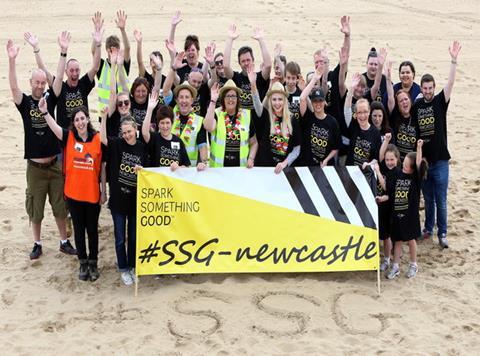 Marks & Spencer has completed the first year of its Spark Something Good initiative with volunteering projects in nine out of its target 24 UK cities completed so far.

The Spark Something Good initiative was launched in London by TV star Joanna Lumley and then CEO Marc Bolland on 29 July 2015 as part of the retailer's Plan A sustainable business programme.

The first day saw 24 community volunteering projects completed in the capital in 24 hours by M&S staff and customers, all of whom had volunteered to take part.

Projects they finished in the one-day period included transformation of an unused central London rooftop into a children's play area, renovation of a community farmyard, providing a new soup kitchen dining room and planting an edible garden.

From there the initiative has continued with a target to complete seven days of volunteering by M&S colleagues and customers in each of 23 further cities during the 24 months to the end of July 2017.

Other cities completed to date include Dublin, Manchester, Leeds, Bradford, Swansea, Newcastle, Bristol and Edinburgh, with Plymouth and Exeter happening in August, and Leicester and Loughborough in September.

The most recently completed city was Newcastle where 373 volunteers spent 2,446 hours and used 310 litres of paint to tackle projects that included creating a school library, decorating a dog and cat shelter, cleaning a beach and transforming several community outdoor spaces.

A total of 858 trees were planted across the city, 941 bags of rubbish collected, and 883 cups of tea drunk. M&S estimated 121,302 people benefited.

The work was organised through seven M&S branches in and around Newcastle comprising M&S Intu Metrocentre, M&S Gosforth Simply Food, M&S Silverlink Simply Food, M&S Kenton Bar, M&S Gateshead Team Valley, M&S Cramlington Simply Food and M&S Newcastle Northumberland Street.

"Spark Something Good has been a real success in Newcastle and beyond, and an incredible experience to be part of," said Newcastle Northumberland Street manager Nikki McKidd.

"Our staff and customers are always keen to get involved and by working together to volunteer at organisations that really matter locally, we know that we have achieved something great.

"The time that was donated totalled over 2,000 hours, which is a fantastic feat. I'd like to thank each and every volunteer who played their part."

Director of Plan A Mike Barry said he was delighted that Newcastle, Spark Something Good's most recent city, was a success.

"There's a tremendous sense of camaraderie when people come together to give something back to their local community and that's exactly what Spark Something Good is all about," he said.