The departing Halfords CEO seems to have a way with people, and that might be exactly what Tesco needs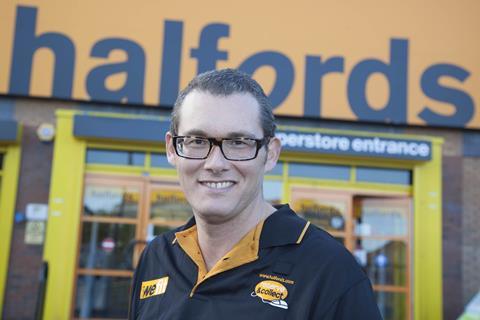 Matt Davies is set to climb down from his saddle as boss of Halfords in June to take up the considerable challenge of overseeing Tesco's business across the UK and Ireland.
The bike and car parts chain's shares plunged by almost 7% this morning following news of the appointment – and continued to slide to past 8% throughout the rest of the day – giving an insight into how well liked he was at Halfords.
Chairman Dennis Millard thanked Davies this morning for his "outstanding contribution to the business" since joining in October 2012.
Analysts across the city reacted positively to the news. Kate Calvert of Investec said the allure of Tesco was understandable but added it was disappointing news for Halfords, calling Davies the "architect" of its turnaround. Bryan Roberts of Kantar Retail said Davies was a "left-field but excellent choice" as new CEO of the UK for the retailer.
I first came across the former Pets At Home chief when reporting regularly on Halfords in a former post at a regional B2B publisher. Halfords was struggling at the time with former CEO David Wild having stepped down a few months earlier following a run of poor trading as sales fell and the company issued a profit warning.
N+1 Singer analyst Matthew McEachran outlined just how low the business had sunk during a chat earlier this morning. "Staff morale was very low, career opportunities were perceived to be very limited and customer service was diabolical, quite frankly," he said.
Davies also had the good fortune to clamber onto his bike at Halfords as the whole of Britain did the same. The country was in the grip of cycling fever after the victories of Bradley Wiggins and Mark Cavendish in the Tour de France and Team GB in the velodrome at the London Olympics. Second quarter figures – announced on the day of Davies appointment – were strong as a result, with total revenue growth of 6.2 per cent.
The new Tesco's chief promised to help Halfords achieve its full potential in the upcoming years, and in May 2013 a three-year growth strategy to boost profitability was launched. The £100m investment programme – called 'Getting Into Gear' – had the aim of delivering sustainable profit growth over the medium term by investing in stores, revamping the head offices, and improving customer service, alongside a range of other measures.
The approach paid dividends with Davies announcing a year later that the retailer was well on the way to its 2016 turnover target of £1bn after hiking sales by almost £70m thanks to a strong year for its cycling offering. Group revenue for the year to 28 March 2014 was £939.7m, compared with £871.3m in the previous 12 months – a 7.9 per cent change and 6.5 per cent on a like-for-like basis.
Its share price also rocketed under his leadership, more than doubling from a low of 191p in July 2012 to almost £5 by November 2014.
McEachran also highlighted Davies track record as a people person – which may be a key strength in helping him unite Tesco as he begins the monumental task of turning the ailing giant around.
"He is very personable and is very good with people. I get the impression with Tesco that with its huge number of problems he will need to get the team behind him. Although it is a very different proposition from Halfords, he does have those characteristics which will help with that."
With Davies at the helm, Halfords scored a place on the Sunday Times' list of the best big companies to work for in the UK in 2014 – his previously employer Pets At Home topped the table in 2013.
With his considerable form at stepping into a challenging environment and succeeding in turning around an ailing business, Davies could well just be the right man for the job at Tesco. What's more, Davies is a trained accountant. That would have come in useful for Tesco last year.