Christian Härtnagel has big plans to drive the fastest growing supermarket in the UK even harder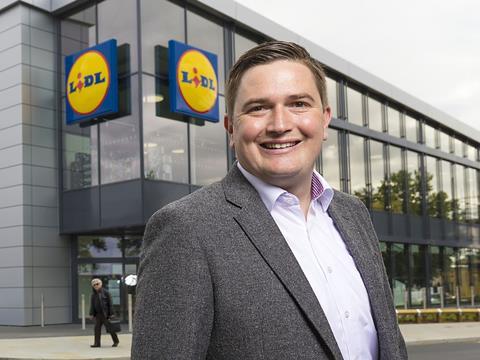 In a heavy German accent, with a touch of Arnie and the merest hint of an Irish lilt, Christian Härtnagel is explaining why, unlike the Terminator, the big four will not be back.

"I don't even know why we are talking about a comeback by certain competitors," says Härtnagel, a Lidl-lifer who joined his local store in Germany as a customer assistant in 2003 and spent two years in Ireland and Austria on his meteoric rise to the top. "I only read about cost reduction programmes and laying off staff. They may be going from negative growth into growth again, but they are still losing market share. And I don't see how you can describe it as a comeback if you lose market share. So there is no comeback. Full stop."

Fighting talk, but Härtnagel was raising eyebrows in the UK even before he opened his mouth. His appointment as Lidl's UK CEO last September was a shocker. Not just because at 34 he is a relative youngster compared with his supermarket CEO peers, but mainly because if any of the UK supermarkets were going to part company with the boss in 2016, it was unlikely to be one of the high-flying discounters.
Snapshot
Status: Lives with partner and three-year-old son in Raynes Park. "I love it, but it has no Lidl"
How do you relax : I play with my son. Getting a smile back from him is fantastic and gives me all the energy I need. And if you live abroad like I do, flying home and seeing friends makes me happy
Last good film: The King's Speech
Car: Tesla Model X. It's a fantastic car
Best career move: After school I didn't really know what to do so I joined Lidl. I started at 6am in my uniform in 2003. Now I am UK CEO. I am extremely proud to be here
What advice would you give any aspiring CEO? Retail is detail. And never lose the connection to your core business. Lidl wouldn't be as good as it is if it didn't know what was happening on the shop floor. That's where we spend a lot of our time talking to people. And be down to earth and treat people how you'd want to be treated
Any online plans? We are looking at the online business. We have a team set up and they are coming back with a lot of ideas. We would be foolish not to look at the options but there are no trials going on at the moment
Is fashion a bit weird for Lidl? Heidi Klum is the opposite of weird! She is absolutely amazing. I am more than delighted to have Heidi on board. She is a perfect fit for two reasons: she is very down to earth like we are, and she is very passionate about making quality fashion affordable to everyone
Nevertheless, Härtnagel arrived in the UK nine months ago ("so busy it feels like I arrived yesterday"), replacing Ronny Gottschlich, whose departure, in typical Lidl style, has remained shrouded in mystery (the biggest rumour was a personality clash with his new boss, Daniel Marasch). Can Härtnagel explain why he left so abruptly?

"Personnel changes are normal things that go on in the business," he says. "I can't talk about the particular circumstances, but I do know we now have the strongest board we have ever had in the UK."
Do you know why he left? "I can't tell you, no."
Because you don't know, or because you do know and you'd rather not say? "I don't know if I know all the details. Ronny steered this company for six years through an extraordinary period of growth and everyone at Lidl is very thankful to Ronny for that. I am here to bring Lidl's business model to the next level."

It wasn't the only high-profile departure around that time. Joint chief operating officers Chris Walker and Martin Bailie also left for Asda and Primark respectively. For a business carving out record sales and market share, to outsiders it felt like a surprising shakeup.

Härtnagel stays on message about personnel changes being a common thing, but does say it was a "big surprise" when he got the call from Lidl's global CEO Sven Seidel, who also departed in February, reportedly due to a clash over strategy with the all-powerful Dieter Schwarz, chairman and ultimate CEO of Lidl - and son of Lidl founder Josef Schwarz.

That call was swiftly followed by a meeting the next day "where this option was put on the table. It was a once in a lifetime opportunity. The UK is the third-biggest Lidl country, behind Germany and France, so from a business progression perspective I wanted it without a shadow of a doubt. But there is always a private life. My girlfriend had just moved from Germany to Austria to start a new job two days before. I am usually a good sleeper but there wasn't much sleep going on that night. We just talked about it. But in the morning we were sure the right thing to do was to pick up the phone and say 'Sven, I am up for it'. And the next day I was landing at Heathrow."

Relaxed and affable, Härtnagel puts a splodge of strawberry jam on a freshly baked Lidl croissant and says his next move was to "get to know the team. I spent a lot of time with individual board members for the first couple of weeks, seeing their daily routine, what sort of person they are. And I got out and about in our stores as well as the competition. It's the most competitive market I've spent time in. That makes it interesting."

Which rival impresses him the most? He won't say, though when we wander around Lidl's latest opening, a gleaming example in Bexleyheath, he says he visited the Sainsbury's down the road earlier on and predicts it's "going to lose market share".
Strategic change
Härtnagel is giving his first interviews to introduce himself, reveal last year's numbers, and lay out a bold expansion plan he says is "the most visible" strategic change he has implemented since taking charge.

First, the figures. Sales for the previous financial year were "£5.3bn, up 13% up on the previous year. That's very healthy and successful for us". Market share has also hit a record 5%, just 0.2% behind Waitrose.
'We are now running at the quickest expansion pace ever. We want to open at least one store a week, 50 or 60 stores a year'
As ever, Lidl clams up on profits ("I'm sure all my peers working for privately owned companies wouldn't share their profits if they didn't have to") but he's keen to discuss expansion.

"We are now running at the quickest expansion pace ever. We want to open at least one store a week, 50 or 60 stores a year. We opened 20 stores in 2015, 35 stores in 2016, and 50% of British households have shopped at Lidl in the last 12 months. That leaves 50% to go. We are doing a fantastic job on quality, so the misconception that low prices means low quality is getting challenged. But they still exist, mainly due to the fact that not everyone has tried us. I am convinced it's because we are not in a convenient location for them."

Since 2013 Lidl has had a non time-specific target of 1,500 stores (it currently has 670) but Härtnagel has quietly scrapped it and makes no predictions to replace it.

"I want to focus on the here and now, everything else is speculation. So 50 to 60 stores a year is a rate we can see for the future. If it's 1,500 at the end, or more, or less, I can't comment. But 50 to 60 stores is incredible, faster than we have ever had. To get the logistics right is vital, we will have to open a new distribution centre once a year to support this growth. And it comes with a price."

Lidl will invest £650m this financial year and £800m over the next financial year. "That's a record high. In 2015 we said we would invest £1.5bn over three years, instead we will do that in two."

The store we are standing in represents his vision of the future. When Lidl arrived in the UK in 1994 its stores were rudimentary and largely remained so until 2013, when a step change took place for new openings in terms of ranging, look and feel. Regular tweaks have been made ever since and Bexleyheath is the latest incarnation of what it's dubbed its '2.0 layout'. "Slick, modern and very appealing," he says. "We are transforming more stores every week to this format."

In terms of layout, 2.0 stores place the emphasis firmly on fresh food. Everything is smarter and lighter, and basics like customer loos and baby changing facilities have been introduced to attract more family shoppers. It's better looking than ever, but the biggest difference is the sense of space. In 2010 a regulation Lidl was a third of the size. Will stores keep getting bigger?

"I don't know what will happen in 10 years but for now the ideal store is 1,300 sq m. We have built bigger stores, we had a couple of 1,700 sq m stores, but we brought it back to 1,300. And we have more products, around 2,000, that's the right amount for us."

In 2010, Lidl only carried 15 fresh meat lines, today it has over 100. Fresh food, all but absent in 1994, now takes more than 50% of sales. About 10% of the range is big brands. Weekend cut price promotions have worked "incredibly well, but as always our normal prices are the lowest in the market."

Are they? "They are the lowest in the market." Cheaper than Aldi? "No, they are on a par with… discounters. Pricing is the easiest exercise if you run a business like ours. We compare across the market and match the lowest price. Lowest doesn't mean to be under the other ones, but to be in line with the competition, whoever that is. So it's quite easy."
Seething rivalry
The seething rivalry between Aldi and Lidl continues, then. Härtnagel is reluctant to say Aldi out loud but can't resist making oblique references to his fellow discounter a week after Kantar showed Lidl nudging ahead of Aldi by 0.1% to become the UK's fastest-growing supermarket, with sales up 18.8% year on year.

"I am not about celebrating being number one. I know it can change in four weeks. But if you look deeper into the data, we opened 35 stores last year, so we are achieving this growth with 35 extra stores, whereas others had more than double that amount and are growing slower. That clearly tells you a story about like-for-likes. Ours are the highest in the market."

Is that still the case if you strip out new stores? "We look at overall growth, which includes new stores, and they perform above the UK average. Like-for-like sales are difficult because in a normal store with normal conditions where nothing is happening around you, like-for-likes are very important to see how many additional customers the team can gain every week. But in some stores, particularly in London, we are happy with like-for-likes going down if it's due to our expansion. Some of our stores are running at or over capacity. If we put a store close by and it eases the pressure off that store, and that store returns a negative like-for-like, we still tick the box. So there is no generic answer, every store needs to be looked at individually."

As for the individual in question, Härtnagel is "quite amused by the attention my age gets in this country. I know that compared to my peers 34 is a little bit young, but my girlfriend tells me every day I am getting older. The other day I was in a bar where I spent a lot of time when I was 25 and I felt really, really old. I have 14 years of Lidl experience. I've worked in different sectors of the business. But it's not even about me, it's about the team. And I am surrounded by 20,000 very capable people."

If he gets his way, soon there will be thousands more. Lidl is on the march. And the young man in charge is not messing about.