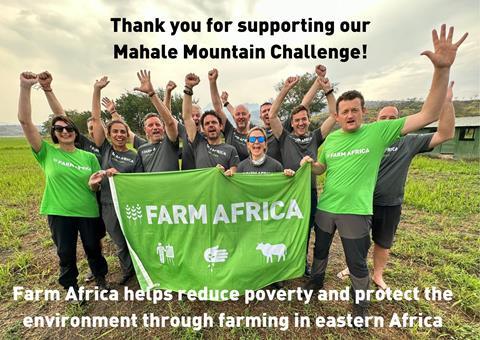 Adam Leyland, The Grocer's editor-in-chief, has smashed his Farm Africa fundraising target after completing a sponsored walk in Tanzania last week.
The "gruelling" trek in the Mahale Mountains, accompanied by 11 senior industry executives from grocery retailers, wholesalers and suppliers, was Farm Africa's first post-pandemic sponsored walk, and Leyland was tasked with raising a minimum of £5,000.
But leaning on industry contacts, as well as friends and family, Leyland has raised over £20,000 – more than four times the target.
Leyland said: "Thank you to the 70 or so individuals and companies who supported me so generously in helping raise money for this important and impressive charity. I have tried to reach out to every one of them privately but I wanted also to thank them publicly, and it also gives me a chance to thank those who donated anonymously. It means a lot to me."
The group also smashed its wider target of £80,000. Julian Marks, team leader, Farm Africa trustee and Barfoots Group CEO said: "Donations have been far and above what we initially expected when we started to plan this challenge nearly three years ago, and our total has reached well over £200k.
"The money raised will be used wisely by Farm Africa to continue its work across eastern Africa."
Farm Africa helps empower smallholder farmers, reducing poverty and hunger, promoting gender equality, fighting climate change and preventing the loss of habitat that comes from the low crop yields from which chronic underinvestment, poverty and climate change have resulted.
The trek entailed a 60-mile hike over six days through remote forest and bushland in the Mahale Mountains on the border of Lake Tanganyika, while the team also learned about the work of Farm Africa and the difference it is making to individuals, families and businesses in east Africa through meetings and representation.
Leyland added that the trek was "gruelling, beautiful, inspiring and humbling – and an incredible bonding exercise in which new friends were made and we each learned more about one another".
On the trip were: Rachel Baldwin (Pilgrim's UK, HR vice president); Rhian Bartlett (Sainsbury's group commercial director); Justin Coleman (Moy Park agriculture director); Richard Crampton (Sainsbury's director of fresh food); Mark Given (Sainsbury's marketing director); David Macaulay (Eden Search MD); Julian Marks (Barfoots group CEO); Anissa Msallem (Farm Africa head of partnerships); Jon Neale (Aldi MD buying); Andrew Thompson (ex Booker commercial director); and Nick von Westenholz (NFU director of trade and business strategy).
William Reed, owner of The Grocer, has supported Farm Africa for many years. CEO Charles Reed, who is a Farm Africa trustee, has previously taken part in three challenges, while retail and manufacturing MD Lorraine Hendle took part in two all-women trips building beehives. This was the first mixed-sex challenge.