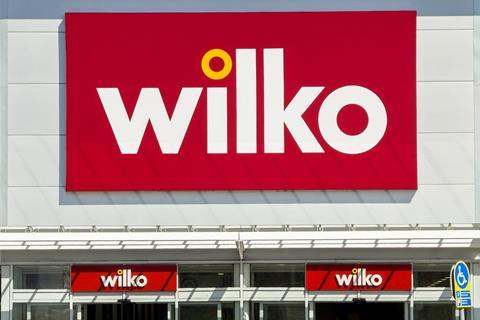 All Wilko stores are to close by early October, administrators for the stricken retailer have said, after a rescue deal of a significant part of the business fell through.
It will result in 9,100 shopworker redundancies, on top of about 1,100 distribution and support centre job losses. Joint administrators at PwC had already announced more than 1,500 Wilko redundancies, made up of 299 in distribution centres, 269 support centre jobs and 1,016 shopworker positions in 52 stores closing this week.
Staff at a further 124 stores were told on Monday their branches would cease trading by 21 September, the administrators said, with timings of the closure of Wilko's remaining 222 shops to be confirmed.
Wilko's two DCs are to close on 15 September, with the majority of warehouse worker redundancies effective from that date. Support centre redundancies are to be made during September and early October as operations wind down.
The administrators said that despite extensive efforts, it had become clear no significant part of Wilko operations could be rescued as a going concern.
HMV owner Doug Putman had been in talks to acquire about 100 Wilko stores, but on Monday told The Sun a deal had not been reached.
"It is with great disappointment that we can no longer continue in the purchase process for Wilko having worked with administrators and suppliers over several weeks to seek a viable way to rescue it as a going concern," he said.
"We had financing in place and received the full support of PwC, Wilko management and staff representatives, which we are deeply thankful for considering what a challenging time it has been for them.
"However, commitment to overhauling the trading framework of the business with partners and the costs of running Wilko's legacy operations infrastructure combined has meant that a stable foundation could not be secured to ensure long-term success for the business and its people in the way that we would have wanted."
Joint administrator Zelf Hussain said on Monday evening: "Despite the significant and intensive efforts of both ourselves and Putman Investments – the remaining party interested in buying a significant part of the business as a going concern – a transaction could not be progressed due to the inability to reduce central infrastructure costs quickly enough to make a deal commercially viable.
"The dedication shown by all team members during this period has been hugely humbling and we are grateful for the patience and understanding they have shown. As with those who have already been given notice of redundancy, we will guide and support those team members impacted over the coming weeks through the redundancy claims process. We also continue to collaborate closely with relevant agencies and engage with any potential employers to help facilitate a quick return into new employment for those impacted.
"We continue to work with potential buyers for different parts of the business and are confident of completing transactions in the coming days."
Wilko entered administration on 10 August, putting about 400 stores and 12,500 jobs at risk.
B&M last week agreed to buy 51 stores, in a deal that does not include Wilko workers.
Wilko's collapse into administration followed months in which the 93-year-old home and garden discount chain sought new investment, having already sold its Worksop distribution centre for £48m and secured a £40m two-year revolving credit facility from lender and Homebase owner Hilco UK. It had also hoped to launch a company voluntary arrangement, a restructuring process involving reduced rents for stores.
Lisa Wilkinson, granddaughter of Wilko founder James Kemsey Wilkinson and major shareholder of the company, stepped aside as chair in January.
The 124 stores to close by 21 September are as follows:
38 to close on Sunday 17 September, with the final day for employees on Tuesday 19 September:
Accrington, Ashington, Blackwood, Bognor Regis, Bradford, Bury St Edmunds, Coalville, Crawley, Droylsden, Ellesmere Port, Falkirk, Ferndown, Hanley, Humberstone, Huyton, Kensington High Street, Kings Heath, Lakeside, Leigh, Letchworth, Maidenhead, Market Harborough, Melton Mowbray, Newport, Orpington, Pontefract, Pontypool, Redruth, Rugeley, Shirley, Southport, Sovereign Harbour, Torquay, Wimbledon, Wombwell, Woodhouse Lane – Leeds, Worcester, Workington.
38 to close on Tuesday 19 September, with the final day for employees on Wednesday 20 September:
Aberdare, Alfreton, Ashby, Barnstaple, Belper, Beverley, Blackheath, Brigg, Byker, Chepstow, Clifton Nottingham, Colindale, Devizes, Didcot, Earlestown, East Ham, Great Bridge, Greenbridge, Grimsby, Hessle Road – Hull, Jarrow, Kimberley, Leighton Buzzard, Long Eaton, Maesteg, Matlock, Middleton, Newton Abbot, Redcar, Ripley, Seaham, Sherwood, Stamford, Stevenage, Swanley, Tamworth, Wrexham, Wythenshawe.
48 on close Thursday 21 September with the final day for employees on Friday 22 September:
Allestree, Andover, Bedford, Beeston, Bicester, Bloxwich, Bolton, Bordon, Bransholme, Bridgend, Bury, Carlton, Clacton on Sea, Cramlington, Crewe, Cwmbran, Cyfarthfa, Denton, Driffield, Droitwich, Edmonton Green, Farnborough, Fort Kinnaird, Fulham, Gateshead, Gorleston, Grays, Greenock, Havant, Hereford, Hillsborough, Holyhead, Newton Aycliffe, Northampton, Orton, Parc Trostre Llanelli, Penge, Peterlee, Pwllheli, Shrewsbury, Slough, Swindon, Tamworth Retail Park, Taunton, Walton on Thames, Wheatley Retail Park, Wigan, Wolverhampton.