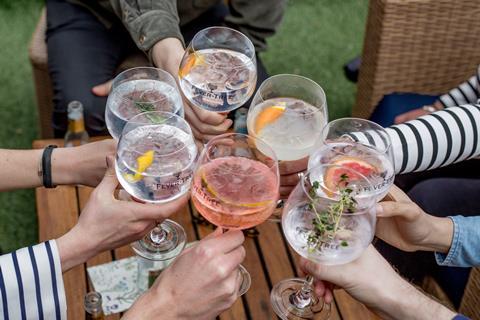 Top story
Fever-Tree's (FEVR) co-founder Charles Rolls has announced he will step down from the company's board in June.
Rolls, who sits on the board as non-executive deputy chairman, will leave at the next annual general meeting on 4 June.
He said he will remain a "great supporter" and "significant shareholder" in Fever-Tree, leaving the business in "robust health" and led by an "inspirational CEO".
"Co-founding and developing the Fever-Tree brand has been the focus for an immensely satisfying 17 years of business life, from the idea, through to selling our first case, and on to the millions we now sell worldwide," he added.
"Fever-Tree deals in a world of best before dates and I am happy to be stepping down before I reach mine."
Tim Warrillow, CEO and co-founder of the mixers brand, added he will miss working alongside his partner, while chairman Bill Ronald thanked Rolls for his "valued contribution".
Ronald said: "As one of the co-founders of FeverTree, Charles's entrepreneurial vision and passion has been integral to the success of the company as it has grown to become the no. 1 premium mixer brand across the globe."
Morning update
Food inflation accelerated to 1.8% in April, up from 1.1% in March, according to April's BRC Nielsen Shop Price Index.
The rise in food inflation puts it above the 12- and 6-month average price increases of 1.5% and 1.5%, respectively and is the highest inflation rate since June 2019.
Fresh Food inflation accelerated to 1.0% in April, up from 0.4% in March. Ambient Food inflation accelerated to 3.0% in April, up from 2.0% in March, which is the highest inflation rate since April 2019.
Overall shop prices fell by 1.7% in April compared to a 0.8% decrease in March, which is the highest rate of decline since January 2017.
Non-Food prices fell sharply by 3.7% in April compared to a decline of 1.9% in March.
BRC CEO Helen Dickinson commented: "Overall, Shop Prices fell in April, with a larger drop in Non-Food prices outweighing the rise in Food inflation. Food retailers offered fewer promotions this April as they worked to discourage the consumer stockpiling of the previous month, pushing food inflation slightly above average.
"Retailers who remain open face rising costs from implementing social distancing measures, protective equipment and rising import prices, yet they continue to deliver great value on their products. With the UK facing months of economic uncertainty and the prospect of rising job losses, many customers have cut right back on spending. A speedy economic recovery is key to rebuilding consumer confidence, but businesses cannot do it alone. The Government has demonstrated great support for the industry and they must be ready to take measures to revive consumer demand after lockdown has lifted."
Mike Watkins, Head of Retailer and Business Insight, Nielsen added: "Across the supermarkets, there has been a reduction of promotions to help availability as well as some supply chain constraints, which has led to a small increase in shop prices primarily in ambient foods. With such a significant disruption to shopping behaviour, the industry continues to do a marvellous job in helping to feed the nation in these difficult times."
The FTSE 100 opened up 0.2% at 5,969.64pts.
Early risers saw SSP Group (SSPG) open 1.7% higher at 288p, Greencore (GNC) up 1.8% at 186.60p and Diageo (DGE) up 0.9% at 2,765p.
Fallers included Bakkavor (BAKK) down 2.9% at 68p, Premier Foods (PFD) down 1.3% at 46p and Britvic (BVIC) down 0.3% at 733.50p.
Yesterday in the City
The FTSE 100 closed up 1.9% at 5,958.50pts.
Rises included British American Tobacco (BATS) up 5.3% at 3,129.50p, Imperial Brands (IMB) up 3.9% at 1,631.50, Marks & Spencer (MKS) up 3.3% at 97.46p and Greggs (GRG) up 2.1% at 1,810p.
Fallers saw FeverTree (FEVR) close down 2.2% at 1801.50p, Reckitt Benkiser (RB) down 1.9% at 6,454p and Sainsbury's (SBRY) down 0.2% at 200.70