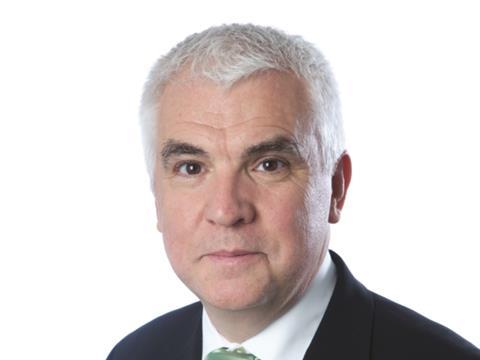 Former FSA CEO Tim Smith has been confirmed as chair of new trade and agriculture commission to advise on post-Brexit agriculture trade policy.
The commission will consider future trade policies the government should adopt to ensure UK farmers do not face unfair competition from abroad, while "advancing and protecting British consumer interests and those of developing countries".
Other members include former trade ministers and food industry representatives.
Smith, a former Tesco technical director, is currently a non-executive director at Cranswick and Pret a Manger. He has spent more than 40 years in the industry, including time as CEO of Arla Foods UK.
"This commission will bring a clear-eyed perspective on what is fair and works for consumers, farmers, food producers and animals," he said.
Minette Batters, NFU president, said Smith's role would be "critical" in ensuring the commission meets "the expectations and ambitions of all the consumers, campaigners and farmers who have demonstrated over recent months how important this issue is."
But the RSPCA, while welcoming Smith's independence, said the commission was a "Trojan horse" that will fail to protect animal welfare.
"We fear this industry-heavy commission will not have animal welfare at its heart and instead will be a tool for deregulation, which represents a real risk to farm animal standards," said CEO Chris Sherwood.
Sarah Williams of Greener UK, an environmental coalition made up of organisations including the National Trust, ClientEarth and Greenpeace, said the commission was "little more than a fig leaf for the government''s continued failure to commit in law to banning substandard imports."
"The body lacks the required transparency and powers to maintain standards in future trade deals, and its membership raises serious questions over its ability to address environmental issues."
The NFU has lobbied government for more than 18 months to establish the commission. It will work for six months before submitting an advisory report to be presented to parliament by trade secretary Liz Truss.
"We are putting British farming first and giving our producers the best opportunity to export their world class food abroad and grow their businesses. Our high food and animal welfare standards won't be compromised," said Truss.
Members include:
Former FSA CEO - Tim Smith (Chair)
NFU England - Nick von Westenholz
NFU Scotland - Andrew McCornick
NFU Cymru - John Davies
Ulster Farmers Union - Victor Chestnutt
The Farmers Union of Wales - Glyn Roberts
Lamb Farmer - Rob Hodgkins
Institute of Economics Affairs - Shanker Singham
Former Chief Veterinary Officer - Nigel Gibbens
British Retail Consortium - Andrew Opie
Former Trade Minister - Lord Price
Trade Out Of Poverty - Tom Pengelly
Former Trade Minister and Agriculture Minister for New Zealand - Sir Lockwood Smith
UKHospitality - Kate Nicholls
Food and Drink Federation - Ian Wright CBE
LEAF - Caroline Drummond