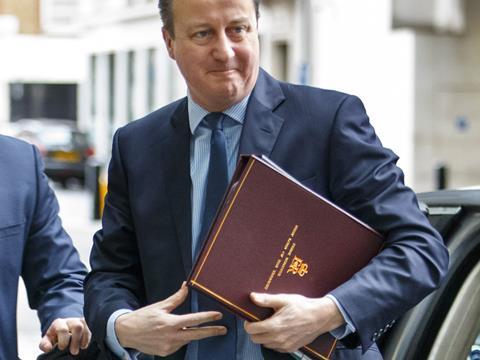 A crunch meeting of the UK's biggest suppliers on Monday will decide if the Food & Drink Federation has a mandate to campaign against Brexit.
The bosses of Unilever, Diageo, Ocado, Nordic Bakery, Asda, Chivas Brothers, Greene King, SAB Miller, Wyke Farms, Dixons Carphone and Mothercare were among 200 signatories in a letter to The Times calling for the UK to 'stay in' after David Cameron set a date for the EU referendum last week.
But with three of the big four retailers choosing not to sign up to the letter – and retail trade body the BRC also choosing to sit on the fence – there is growing pressure on the manufacturing side for suppliers to nail their colours to the EU mast by backing FDF director general Ian Wright's stance.
"There's no excuse now for companies to sit and wait and see any more," said a leading supplier source. "I would expect 85%-90% of British brands to be in favour of staying in Europe. We need to be careful the tail doesn't wag the dog."
At the crunch meeting the FDF executive committee will review the findings of a membership survey it has commissioned on Brexit. Wright hopes the findings will provide a mandate for the federation to campaign to stay in the EU.
If the plan gets the go ahead it will stress the potentially disastrous impact on free trade agreements, exports and the free movement of workers, should the public vote for Brexit in June. Wright has previously predicted 10 years of chaos if it happens.
Around 75% of the 25 leading suppliers represented on the executive committee are UK-owned companies. And the anti-Brexit lobby has also been boosted by the strong support of the US for it staying in Europe.
But campaigners in favour of a Brexit have seized on the decision of Tesco, Sainsbury's and Morrisons not to sign The Times letter as a sign that the powerful food and drink lobby was divided.
And though the BRC said "the direction of travel" in the prime minister's new deal – struck over the weekend – "is the right one", it argues that "it is not for us to say how people should view these different issues. The choice on how to vote is theirs alone."
The BRC defended its position further by arguing that its role in the debate was to inform its members. "It is also clear that many people want more information on the issues at stake and they want to know more about what being in or out of the EU means, as well as what the government would do in the event of Brexit.
Who signed the letter to The Times?
Kasim Ali, Director, Waterloo Tea Limited
Rooney Anand, CEO, Greene King, signing in a personal capacity
Christopher Bailey MBE, CEO, Burberry Group plc
Marc Bolland, CEO, Marks and Spencer, signing in a personal capacity
Ian Breminer, Managing Director, Complete Coffee Ltd
Graham Chipchase, Chief Executive, Rexam, signing in a personal capacity
Alan Clark, CEO, SABMiller
Andy Clarke, Chief Executive, Asda
Neil Clifford, Chief Executive, Kurt Geiger
Rich Clothier, Managing Director, Wyke Farms
Byron Dixon, Chief Executive Officer, Micro-Fresh International
Olivier Dochez, Chief Executive Officer, Two Guys From Brussels
Jacqueline Gold CBE, CEO, Ann Summers
Tom Gosnell, Managing Director, Gosnells Beverages Ltd
John Harries, Proprietor, Three Horseshoes Inn
Allen Hogan, Managing Director, Hogan's Cider Ltd
Seb James, CEO, Dixons Carphone
Laurent Lacassagne, Chairman and CEO, Chivas Brothers
Veronique Laury, CEO, Kingfisher plc
Ivan Menezes, CEO, Diageo
Miisa Mink, Chairperson, Nordic Bakery Limited
Alan Parker CBE, Chairman, Mothercare
Christopher Parker, Managing Director, London and Scottish International Ltd
Stefano Pessina, Executive Vice Chairman and CEO, Walgreens Boots Alliance, signing in a personal capacity
Juliette Polge de Combret, Director, Green Rendez-Vous Ltd
Paul Polman, CEO, Unilever
Richard Reed, Co-Founder, Innocent Drinks and Jam Jar Investments
Lady Ruth Rogers MBE, Owner, The River Café
Stuart Rose, Chairman, Ocado Group
Geeta Sidhu-Robb, CEO and Founder, Nosh Detox
Tim Steiner, CEO, Ocado Group
Charlie Thuillier, Managing Director, Oppo Brothers Limited
Billy Walker, Managing Director, The Benriach Distillery Company Ltd
Paul Walsh, Chairman, Compass Group, signing in a personal capacity